Global demand for electric vehicles is expected to surge during the next few decades. The market was valued at almost USD 103bn in 2015 and expected to be close to USD 400bn by 2024. Sales are growing exponentially and have outpaced expectations, boosted by faster than anticipated battery improvements. World hybrid and electric vehicle (H/EV) sales is anticipated to more than double through 2018, reaching 25.6 million units and accounting for nearly 25% of all new motor vehicles sold. Considering the phenomenal transformation, global car industry is undergoing, it would be typical to expect similar trend in the GCC markets. Especially, since the Middle East's automotive market is ripe for the development and introduction of new 'clean vehicle' technologies, as the tech savvy, city dwelling societies hold a lot of potential for the adoption of future mobility solutions.
However, contrary to this the uptake on electric vehicles (EV) when compared with other markets, has been sluggish in the GCC region. We believe, despite a lot of buzz around the electric cars, their large scale disruptive adoption in the region is not achievable in the immediate future. We highlight some of the prominent reasons for this:
Fuel Price Parity
Hybrid/ Electric (H/EV) cars are attractive alternative in countries with high fuel prices, however, they lack luster in GCC countries as the fuel prices are low. The electric cars are more economical than petrol cars, for instance, in oil importing countries.
Starting Price of Selected Cars in UAE



Source: Drive Arabia, Marmore Research
Tesla Vs Petrol car: Costs Convergence Estimation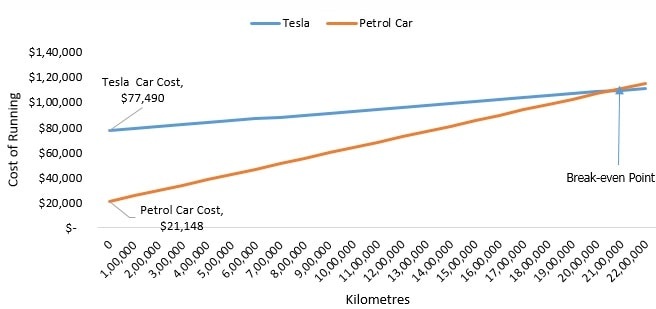 Source: Marmore Research
With Dubai prices for electricity and petrol, it would cost a USD 1.4 to drive a Tesla Model 3 for 100km. In comparison, the same distance in a petrol car would cost USD 4.3. However, some of the top selling cars in UAE costs about one-third as much as the Tesla. Considering the price of the electric cars, and the low fuel prices in the GCC region, the gain from the fuel costs, isn't attractive enough for the buyers to opt for electric cars instead of petrol cars. For instance, based on the savings per 100km and the average price of the cars discussed in the chart above, it would take a UAE driver 2.2 million kms to recover the additional cost incurred. The disparity in pricing is larger, if more economical petrol cars are compared to the Tesla.
Fuel Cost per 100 Km (USD)
| | | | | |
| --- | --- | --- | --- | --- |
| | Electric Car | Petrol Car | Savings from EV | Million KMs to Cover Additional Price of Tesla |
| Kuwait | 0.5 | 2.9 | 2.35 | 2.19 |
| UAE | 1.4 | 4.3 | 2.87 | 2.05 |
| Saudi | 0.9 | 2.0 | 1.09 | 5.80 |
| Qatar | 0.5 | 3.5 | 3.01 | 1.99 |
| Oman | 0.9 | 4.2 | 3.32 | 1.86 |
| Bahrain | 0.9 | 3.5 | 2.58 | 2.29 |
Source: Marmore Research
Absence of Charging Infrastructure
A major reason not to choose an electric vehicle is due to absence of charging infrastructure. The current range for 2018 Nissan Leaf is around 241-257 kilometers (150-160 miles) with full charge of 40 kWh battery, while the Tesla Model 3 is c.354-498 kilometers (220-310 miles) with full charge 75 kWh . Though this range has relatively improved compared to the earlier models, absence of enough charging points to charge their cars and the problem of getting stranded in the middle of nowhere is a major concern. There is almost a complete absence of a public charging network in the GCC region. Amongst the GCC countries, UAE has the most developed charging infrastructure which includes-100 charging stations installed by the Dubai Electricity and Water Authority (Dewa) all over the emirate, each capable of powering 24 cars simultaneously. Additionally, Abu Dhabi National Oil Company plans to raise its 12 charging stations to 20 in the capital. However, this infrastructure is not comforting enough considering the number of petrol stations.
Long recharging – Practical difficulties
There are three different types of chargers: AC Level 1 (slow, such as a wall socket), AC Level 2 (medium, between two and four hours) and DC fast charging (fast, less than 30 minutes). Depending on the type of charger, the time to charge an electric car could be 30 minutes or up to 12 hours. The size of battery and the charging speed are the key factors that determine the time it takes to charge. The long duration to refuel the car which in conventional case would take a few minutes is a major disincentive for the drivers thinking about shifting to H/EV cars.
Time to Charge with Different Charging Points
| | | | |
| --- | --- | --- | --- |
| | 3.7kW Charger | 7kW Charger | 22kW Charger |
| Charging Speed (up to): | 15 miles of range per hour | 30 miles of range per hour | 80 miles of range per hour |
| Required Power Supply: | Single phase | Single phase | Three phase |
| Typically Found in: | Homes | Homes, Workplaces, Public Places | Public Places |
Source: Pod-point
Governments Incentives
Government subsidies and policy support is indispensable for lowering barriers to adoption. A supportive policy environment enables market growth by making vehicles appealing for consumers. As of now, UAE is the only country in the GCC which has taken measures to push for adoption of H/EV. For instance, UAE recently devised an incentive program to encourage motorists to buy new zero-carbon-emissions electric vehicles through green bank loans, green insurance plans and green registration of vehicles. The Roads and Transport Authority (RTA) in Dubai added 50 Tesla cars to Dubai Taxi fleet. Additionally, it has endorsed a contract for procuring 554 environment-friendly hybrid vehicles fitted with a combination of fuel engines and electric motors.
As UAE chases its green plan to be one of the leading sustainable cities by 2020 as part of Dubai's "Vision 2021" plan which focuses on improving the quality of air, preserving water resources, increasing the contribution of clean energy and implementing green growth plans. Dubai has set target for 2020 for 2% of all vehicles to be hybrid or electric, and 10% by 2030. It is more likely that the UAE Government would devise policies incentivizing and facilitating the achievement of its goals. This Governments' support and push for adoption of electric vehicles is non-existent or very marginal in the other GCC countries.
Conclusion
A large share of EV products today meet only the needs of niche consumer segments and miss the true opportunity to serve consumers who want more basic mobility solutions. The premium pricing of the electric vehicles and low petrol prices in the region make it difficult for electric cars to compete. Public awareness and enthusiasm for EVs needs to grow, and this in turn will encourage governments to maintain public subsidies as EV technology matures. This contradicts the efforts by various GCC governments who are currently in the process removing fuel subsidies. Financial incentives and the availability of charging infrastructure were factors that were positively correlated with the growth of electric vehicle market share in other geographies. However, these factors are largely absent in the GCC region. Moreover, the authorities need to ensure robust regulations are in place to support consumers looking to make a smart move to electric vehicles. The picture could certainly become much clearer over the decade as technological advancements bring higher efficiencies and there develops a genuine need for EVs as an economical and environmental solution. For now, disruption is still a long drive ahead!