There are only few pockets of growth available post-Covid. India and UAE can count themselves among these pockets. Both countries have hitherto restricted their trade and investments to normal levels. However, in recent meetings the trade ministers of both countries have set up ambitious targets to take this engagement to next level. For example, the total trade (meaning exports +Imports) dropped by 30% in 2020 due to Covid and is now placed at $42 billion. The aim is to take this number to $115 billion in the next five years, which implies an annual growth rate of 22%. While this may seem ambitious, both countries should focus on their respective strengths to get there. What should UAE tap into to achieve this target?
Improve its share of India's oil imports
Growing tourists' numbers from India (already exceed 1 million)
Vast network of successful Indian Businessmen based in UAE &
Growing Indian economy that has ambition to be a $5 trillion economy (from the present $3 trillion)
The huge 2.75 million Indian diaspora that lives in the Emirates.
What should India tap into?
Growing UAE economy that is set to double in size in the next 10 years.
Attracting FDI from UAE through its huge SWF in several Indian sectors with a technology focus. SWF investments from GCC has been relatively modest in India in the past compared to say China.
Improving remittance from the 2.75 million diaspora to keep its current account balance strong.
Use its IT strengths to capture a pie of the large AI market expected to be created in UAE.
Trade ministers of both UAE and India have stated that trade of goods and services between the two countries will be increased over the next five years, achieving a target of more than USD 115billion in bilateral trade. UAE has taken up active pursuit of trade negotiations with several countries to step up its foreign trade, a key requirement for achieving its economic goals in post COVID-19 era. India on the other side is pursuing an ambitious import export policy to step up its global trade in a big way as part of its economic push. The Emirates aims to double its economic size in the next 10 years. India has ambitions to become a USD 5trillion economy from its current economic size of USD 3trillion.
Both nations are trying to conclude a Comprehensive Economic Partnership Agreement (CEPA) and hope to sign a free trade agreement in March 2022. A new strategic economic agreement is expected to increase bilateral trade in goods to USD 100billion within five years of the signed agreement. The remaining growth can be expected to be generated from trade in services. The agreement is aimed at increasing investments and job opportunities in both the countries, goals that are being actively pursued by the respective governments. Recently, UAE announced its plans to sign comprehensive economic partnership deals with eight countries to consolidate its position as a global gateway for investment and trade. The UAE would bilaterally pursue comprehensive economic accords with the eight countries on trade, foreign direct investment and sectors like tourism. UAE's large Indian community of professionals, more than 2.75 million workers and several successful businessmen is expected to aid achieving the bilateral trade push. India plays an important role in UAE's tourism industry as Indian tourists' visit every year in large numbers - exceeded one million in H1 2019. UAE's sovereign wealth fund has pumped in multibillion-dollar investments into India's telecom and retail businesses through the private sector players boosting the trade relations between the two economies.
According to available data, UAE was India's third largest trading partner with about USD 59.8billion of bilateral trade in 2019 and its second-largest export destination after the U.S with exports valued at about USD 30billion. India is one of the preferred destinations for UAE's crude supplies. Indian work force is one of the largest country contingents among all.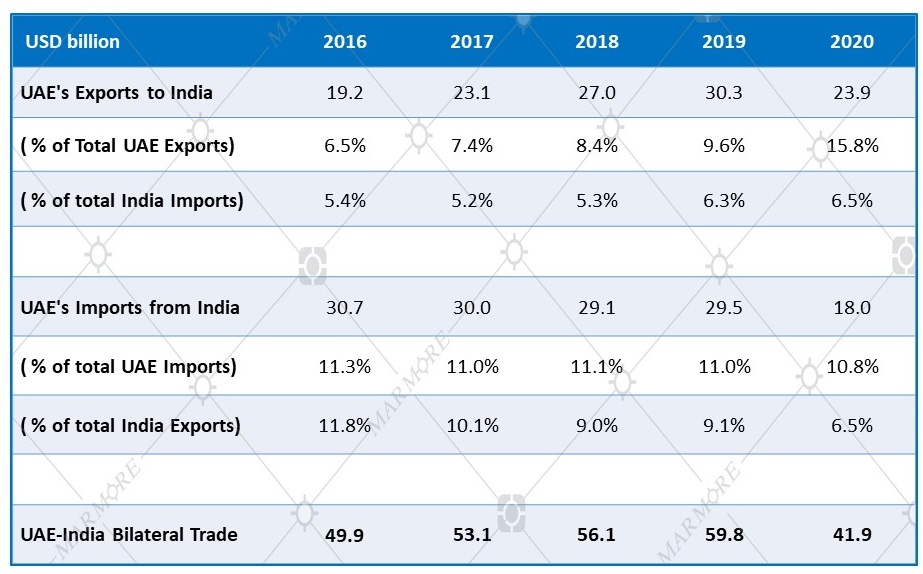 Source: Trademap