Kuwait, in line with the broader GCC market, ended the month in red, fuelled by sharp fall in oil prices. The growing fears over a new COVID-19 variant also led to profit taking at the end of the month.
Market Performance & Key Metrics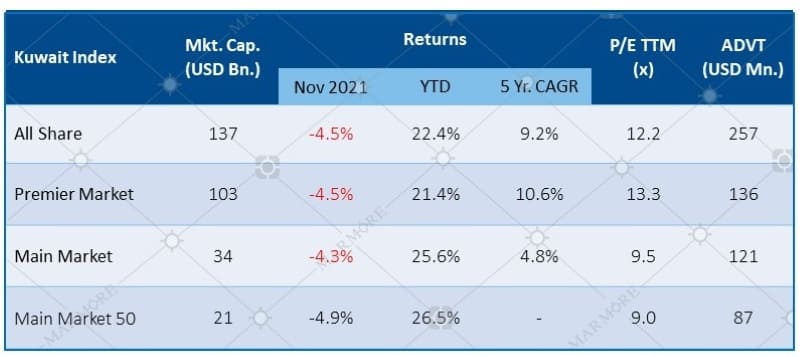 Source: Refinitiv, Boursa Kuwait
All sectors, except Healthcare and Insurance, declined in November. Insurance was the top gainer, rising 7.6% followed by healthcare which recorded modest gains of 1.8%. Basic materials and Industrials sector indices registered the biggest decline, falling 10.4% and 7% respectively, for the month.
Sectoral Performance & Key Metrics
Source: Refinitiv, Boursa Kuwait
Kuwait recorded a deficit of KD 10.8 billion in FY 2020-21, an increase of 174.8%, which is the highest budget deficit in the country's history. In addition to this, the IMF has projected that Kuwait will record the highest non-oil budget deficit among GCC countries at 68.7% in 2021.
On a positive note, Kuwaiti Government agencies have achieved a savings of about 25% of the target for reduction of their expenditures in the current fiscal year budget. The budget deficit for the seven months of FY 2021-22 was lower than expected at KD 1.2 billion vs KD 3.8 billion for the seven months of FY 2020-21, owing to higher oil revenues on the back of increased oil prices.
Domestic credit in Kuwait had increased 4% YoY in 9M 2021 and was driven by an 11% increase in household credit in 9M 2021 vs 9M 2020. Corporate credit has been slow to recover as they still continue to be pressured by the effects of COVID along with factors like high levels of repayments/write offs hindering meaningful growth.
Most Premier market stocks were negative, with the exception of Warba Bank and Integrated Holding, which were flat during November. All listed banks have come out with their Q3 results with aggregate Net interest income in 9M 2021 surpassing the levels of 9M 2020 but are yet to reach pre COVID levels owing to the prevailing low interest rate environment.
Premier Market Stocks' Performance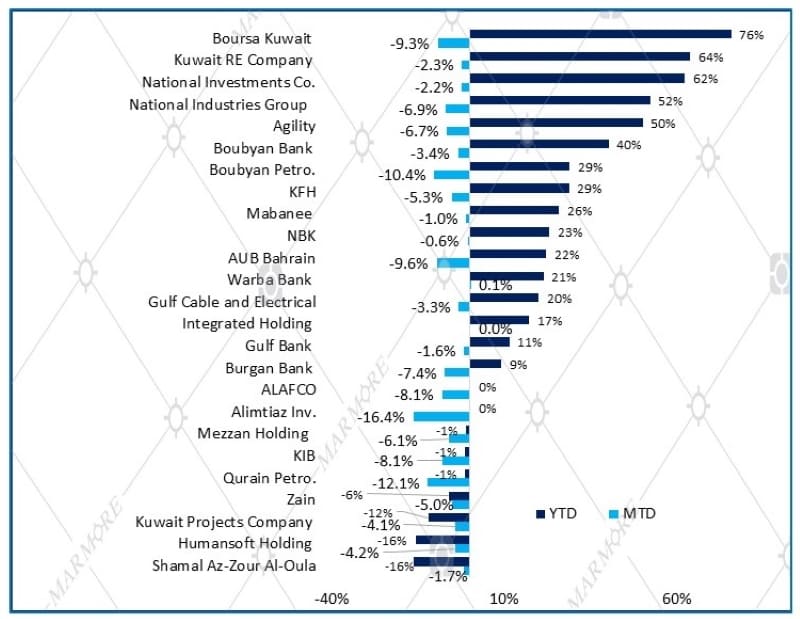 Source: Refinitiv, Boursa Kuwait
Know more about the performance of GCC and Global markets in November in our recent Global & GCC Capital Markets Review. Read more