10 million and counting: COVID -19 breaches a grim milestone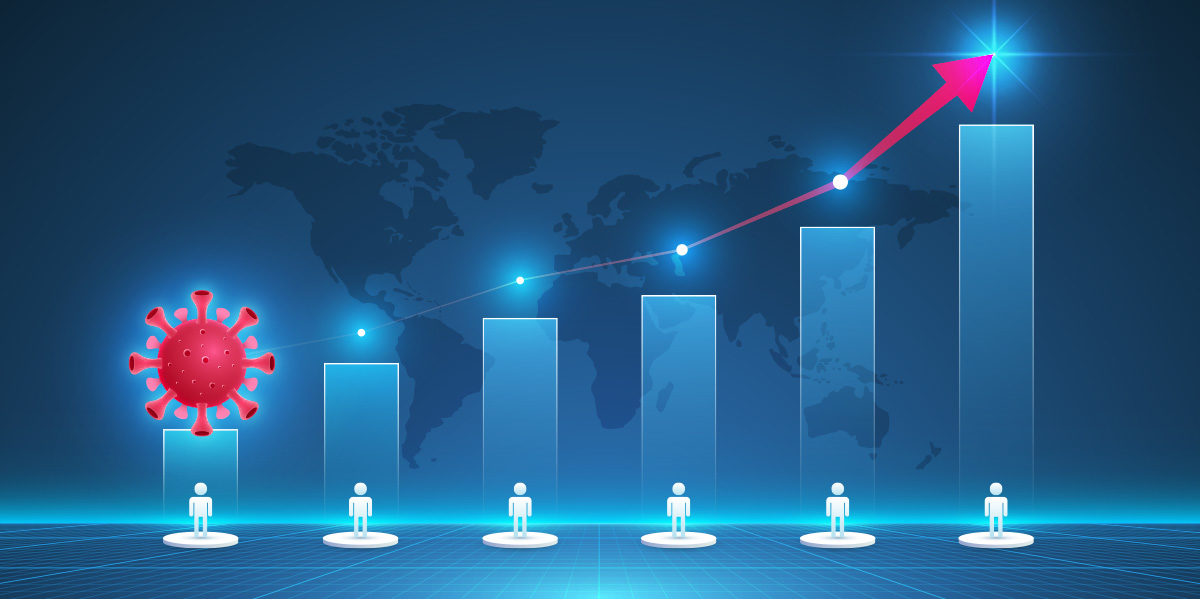 As 2020 began with new hopes, little did the world know about an emerging threat coming out of the most populous country on Earth, a virus which spread like a wildfire in no time. The contagious nature of the virus made it more so difficult to contain it. The World Health Organization (WHO) declared the outbreak a Public Health Emergency of International Concern on 30 January 2020, and a pandemic on 11 March. On 28th June 2020, the global confirmed cases breached a grim milestone of 10 million confirmed cases, out of which about 5.14 million people have recovered and 0.5 million deaths have been reported.
Breakdown of Global Coronavirus statistics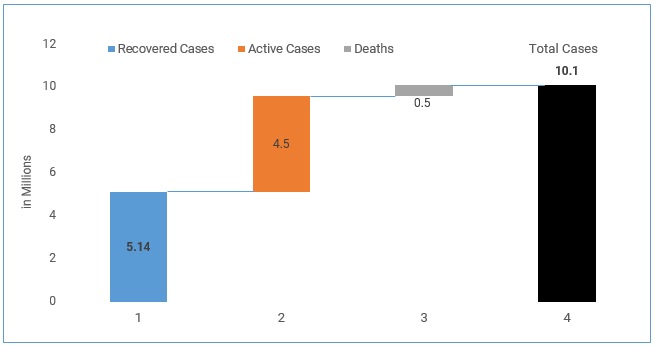 Source: Johns Hopkins University, Marmore | Note: Data as of 29th June 2020
Although China was the first country to report coronavirus cases, it also successfully curbed the spread and re-opened its economy assuming the data is correct. The USA on the contrary, was late in its response to COVID-19 and as a result it leads the world in terms of maximum reported cases. This is also a result of widespread testing across the United States, which may not be as prevalent in other countries. The number of cases reported by each country is a function of testing and contact tracing.
10 Countries have reported confirmed cases greater than China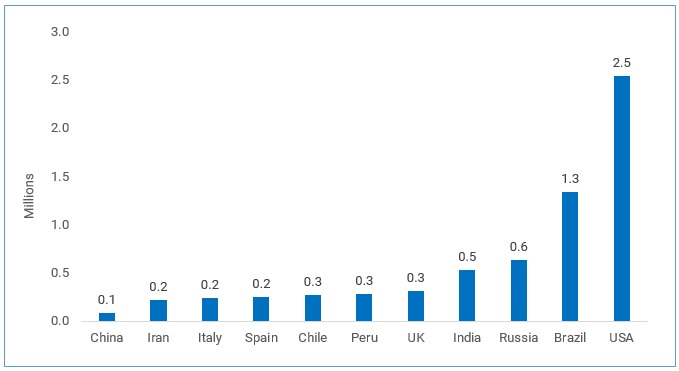 Source: Johns Hopkins University, Marmore

Saudi Arabia leads in GCC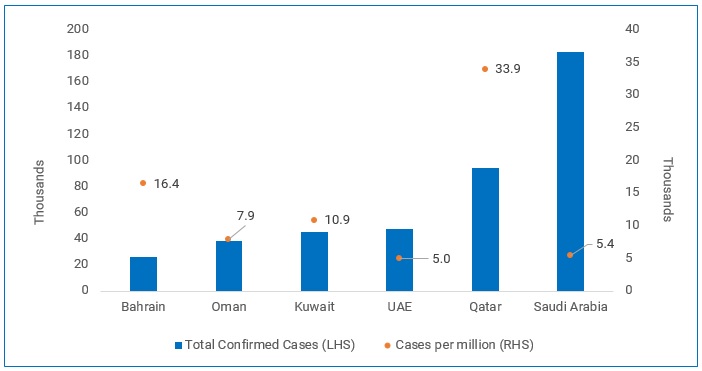 Source: Johns Hopkins University, Marmore

In the GCC region, Dubai was the first to report COVID-19 case in late January, the progression was very slow initially, but from the month of May onwards the number of cases surged. Saudi Arabia leads in terms of total COVID-19 confirmed cases, however on cases per million basis Qatar has reported the maximum number of cases. A closer look into the trend of 'number of days taken to double for GCC' reveals that UAE and Qatar have managed to extend the days to double, which implies their response to COVID has been successful in curbing the pace of spread.

Number of days taken for cases to double for GCC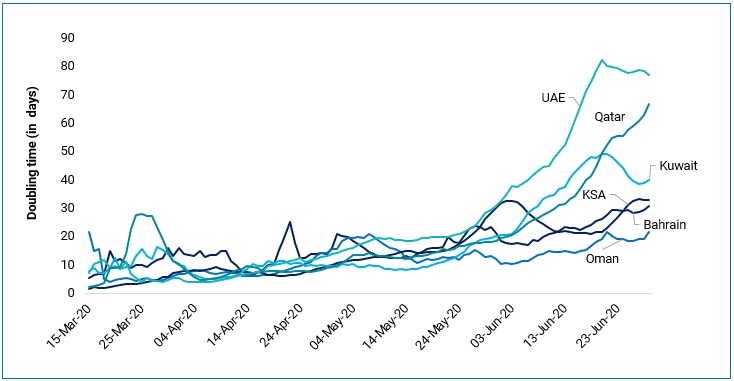 Source: Johns Hopkins, Marmore Calculations
Qatar also fares well in containing the fatality rate, which has been relatively higher for UAE, but the 7 day moving average of daily deaths per million population indicates that Deaths in UAE has already peaked and is steadily declining. On the other hand, Kuwait and Saudi Arabia suffer with reasonably lower number of days to double and high fatality rate.
GCC Doubling time and Fatality rate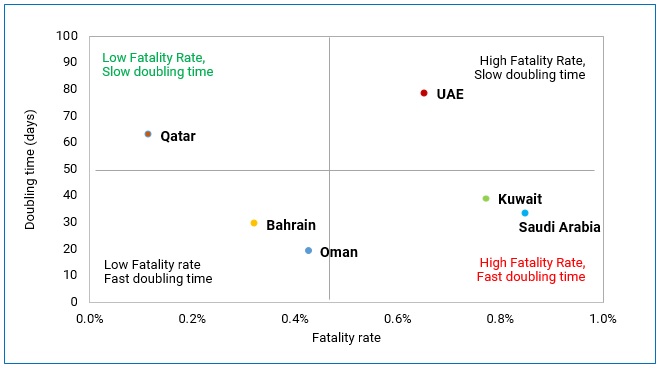 Source: Johns Hopkins University, as of June 28th
7 day moving average of daily deaths per million population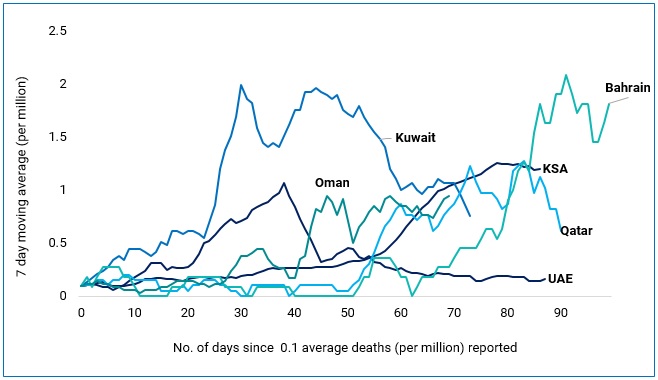 Source: Respective GCC health ministries, World Bank (population)
Policy responses to COVID-19 (IMF)
The pandemic led to social and economic disruption across the globe. Many countries took measures like lockdown and curfews which led to panic buying, supply shortages and postponement or cancellation of sporting, religious, political, and cultural events. Even schools, universities, and colleges were closed. Businesses suffered due to non-operation and lack of revenues. Economies across the globe were virtually put on a standstill. These measures led to job losses and bankruptcies. The USA not happy with the WHO's role in handling the pandemic halted funding.
GCC had to deal with dual challenge of COVID-19 and Oil price crash. Suspension of inbound commercial flights, closing schools and universities, banning public celebrations and gathering, suspension of nonessential work in governmental entities were common across the region.
Post lockdown and curfews, the economic conditions deteriorated across nations, with people struggling to meet ends for living. This prompted re-opening of the economies with certain restrictions. But the damage was already done and to make up for the losses, Governments were forced to introduce economic measures. In terms of policy response, stimulus packages were announced across the board. The US lowered its Federal Fund rates by 150 basis points to 0 – 0.25bp and announced stimulus package of USD3.6 trillion, out which about half of the stimulus are loans to businesses and governments. In the Euro area, the European Central Bank (ECB) has announced robust monetary policy and supervisory measures. Across European Union, in order to contain the fallout of economic activity, the Governments implemented various fiscal measures (BRUEGEL)
Fiscal Stimulus as % of GDP announced by GCC Countries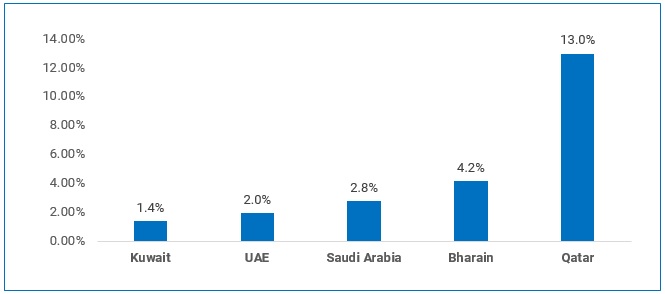 Source: IMF
DO YOU KNOW? Marmore has published over 700 sector / thematic reports on GCC – Learn more
How soon to Re-open or return to normal?
Many nations are still grappling with the pandemic, while few have set examples for others to follow. Countries like China, New Zealand, Singapore and South Korea, were quite effective in controlling the spread and are currently re-opening their economies. Vietnam also stands out for not reporting a single COVID casualty to date. In GCC UAE is leading from the front, as the number of confirmed cases reported is on a fast declining trajectory, and re-opening measures are being adopted commensurately. Kuwait has also entered into its second phase of return to normal life, wherein public and private sectors are allowed to resume work with less than 30% workforce, work in shopping malls, financial sector, construction sector, retail shops, parks, and pick-ups from restaurants and cafes are allowed from 30th June 2020. Saudi Arabia moved with caution towards its final stages of de-escalation as all economic and commercial activities have restarted and about 75% of public employees have resumed office.
There has been instances of re-occurrence in countries like South Korea, New Zealand, China, and Singapore. This reminds that the COVID-19 is here to stay for some more time. To expedite the return to normalcy the world is working on a record pace to come up with a vaccine. According to the data compiled by The New York Times, there are more than 125 preclinical trials underway and 3 trials have reached the phase 3. However, an approval is yet pending for mass immunisation to begin.
Coronavirus Vaccine Tracker



Source: The New York Times
The concept of herd immunity is still a distance away, as it either requires about 70% of the population to get infected and develop immunity towards the virus or most of the population needs to be vaccinated. By not following social distancing and taking corrective actions to curb the spread in order to achieve herd immunity, may lead to overwhelming hospitals and cause more deaths (Johns Hopkins University). Going forward as economies attempt to re-open occurrence of COVID spikes is inevitable, applying caution and taking necessary actions to curb the spread would be the key.
Does recent stock market recovery point to a disconnect between economic realities?
COVID-19 led the global stock markets plunge from all-time high to report the worst losses in over a decade. Developed countries except USA, are still trading at ~15% lower from their levels last seen in January 2020. The USA stock markets has recouped almost all its losses as it had multiple rounds of rally following Fed's intervention, hope of vaccine development, economic stimulus and economy re-opening. A large section believed that the worst is behind us and that the COVID-19 has already peaked, opening the path for resumption of normal life.
GCC markets on the other hand had to deal with twin crisis of COVID-19 and oil price crash. COVID-19 led fall in demand for oil and price war between Saudi Arabia and Russia resulted in the price of West Texas Intermediate (WTI) crude to trade at negative $37 per barrel on 20th April 2020. With an agreement reached at a later stage between Russia and Saudi Arabia for production cuts, the oil has bounced back to certain extent. Recovery in oil prices and re-opening of economies in a phased manner led to recovery in the GCC stock markets, however Dubai, Bahrain and Kuwait are still lagging with YTD returns of worse than -15%.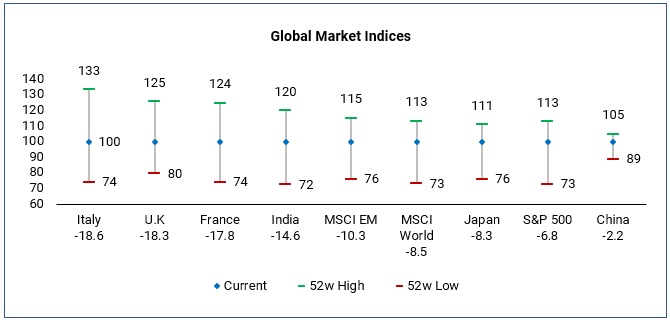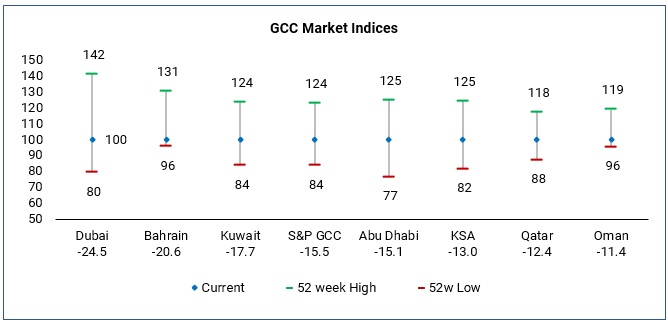 Source: Refinitiv; Note: Current value has been rebased to 100; 52-week high and 52-week low have been exhibited relative to that; YTD performance exhibited on X-axis label
Given the impact that the lockdown measures had on businesses, many sectors are expected to report declining profitability and have announced culling of dividends. In this scenario, the disconnect looks to widen with every bounce of recovery in the stock markets. Overall, although the situation looks to be improving, caution needs to be practised, as experts warn against the second wave of coronavirus, which could spill more troubles for the economies and markets in the near future.
Conclusion
Economies reeling under the COVID crisis needs to take cues from Internationally, acclaimed success stories in terms of lockdown exit options. Among them are countries like South Korea and Taiwan. Some of the common themes emerging from these models include –
– Ramping up testing and deploying technology to better understand local spread or epidemiology, meticulous contact tracing and testing, and collating data to provide tailored insights to communities.
– Greater use of location-specific or cluster-oriented measures instead of blanket lockdowns.
– Methodically following legacy measures such as social distancing, restrictions on mass gatherings, etc., while enforcing sanitation (e.g., use of facemasks in public spaces).

With respect to the GCC, a phased opening may be suitable. A preparatory phase can commence with lockdown de-escalation with minor easing of people movement restrictions, including permitting personal daily walks and physical exercises with prescribed time slots for residents to leave their homes. Then, some businesses can be allowed to reopen, but with appointments only, with people aged over 65 as part of 'vulnerability shielding'.