Amongst a handful of regions with bright economic indicators, the GCC is projected to grow at 3.8% in 2016 according to the IMF. The region, which is highly reliant on oil and gas, is now hedging its bets by diversifying into non-hydrocarbon sectors. (Read: Marmore's report on "Affordable Housing"). Despite its richness, the issue of affordable housing is yet to be addressed thoroughly. What is the scale of this crisis?
KEY QUESTION 1: Why is there a housing problem?
You may be surprised to know that only 48% of UAE's residents own their homes, and in Saudi Arabia this percentage is still lower at 35%. This is mainly due to the growing young population and increasing urbanization. The Economist states that GCC's population grew by more than 50% in the last decade, and is expected to reach 53 million in 2020.
Population in the region as a whole grew by 75.1% from 29.4 million in 2000 to 51.5 million in 2014, and mainly comprises of young people, with more than 30% of the population aged between 15 and 29. The rising young population coupled with increasing GDP growth is the reason behind the rising demand for affordable housing, more prominent in low and middle-income groups in the region.
Fig 1.3 Population growth of GCC countries (CAGR in % during 2008-2014)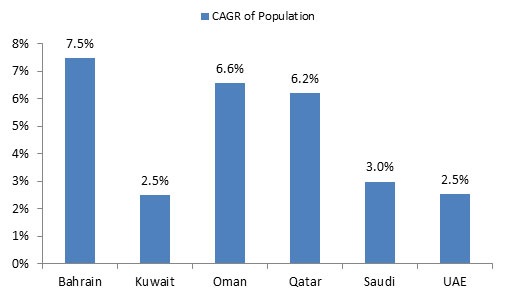 Source: IMF
KEY QUESTION 2: What is the extent of the problem?
In Kuwait, the real estate growth is slow and the waiting list for housing units was over 109,122 in 2014. Housing demand is expected to grow at a CAGR of 2.7 per cent per annum from 2011 to 2022.
In Oman, the waitlist for housing is 6,000, with the demand expected to grow at 3 per cent CAGR over 2011-2022. This expected growth is higher for Qatar at 4.3 per cent, and the country has the highest demand for affordable housing in the region. Private players focusing more on high-end constructions, rather than affordable housing, despite the huge influx of foreign construction workers for the FIFA world cup, is a primary reason for this spurt in demand.
Housing is a costly affair in the region compared to other countries, such as Norway and the US. In Kuwait, for example, price of an average house is 30 times the average gross income of a person aged 25 to 39. This coupled with high youth unemployment rate of 29.8% in the MENA region is making affordable housing a distant dream.
Limited credit facilities from banks and high mortgage rates are another issue. According to IMF, a 10 per cent increase in mortgage rates is associated with a 6 per cent increase in housing prices. In addition, GCC countries have stringent mortgage regulations, and this adds to the woes. The region's Sharia law prohibits banks to forcefully reclaim a person's house even in case of defaults. This discourages banks from giving mortgage loans to all citizens.

KEY QUESTION 3: What are the steps that the government is taking?
Governments of the GCC countries are taking initiatives to solve this problem. Dubai, in a move to alleviate this issue, is planning to introduce compulsory quotas for affordable housing with regard to all new residential constructions. Bahrain has struck a USD 1 billion deal with the private property dealer Diyar, to build 3,100 social homes in the country. It has also started a Social housing Finance initiative for Bahraini citizens.
Similarly, Saudi plans to construct 1 million housing units in addition to the existing ones, and Qatar increased the home loan ceiling to USD 330,000 for its nationals. In addition, GCC governments could focus on construction of residential towns, taking their cues from Singapore's "vibrant towns".
Kuwait in the recent five-year plan (2015-2020), has allocated more funds for the construction of an additional 45,000 housing units. Ministry of housing Affairs quoted that the housing problem will be completely resolved in the next 3-5 years. Similarly, Oman is investing USD 1.6 billion for housing projects. Qatar and Saudi too, have affordable housing development as one of their top priorities.
KEY QUESTION 4: What are the steps that the government can take?
The GCC government can study and implement the Morocco government's public private partnership strategy to eliminate housing shortages. The Morocco Government in a quid pro quo deal has allocated 3,800 hectares of land to private developers. Another area of focus is the lack of credit and mortgage facility. GCC countries could initiate more Social housing finance schemes, along the lines of Bahraini government and focus on protecting the rights of lenders, in case the borrower defaults. This would incentivize banks to extend home loans to the needy.
In addition to allocation of funds, GCC countries could focus on the management of projects. Proper framing of the eligibility criteria, so as to ensure that applications are made genuinely for housing and not for financial gains, is important. Standards of housing should be maintained, and the respective governments of the region could strike deals with private agencies for efficient maintenance of the public housing communities.