Investor's motive to invest in any asset or company is to increase their wealth. Likewise, companies also aim to increase their operating performance, expand their assets, and add value to their shareholders. In GCC markets, top 25 wealth creating companies have added USD 330billion wealth to their shareholders over the last 10-year period (2012-21). The pace of wealth creation of these companies is also robust with a CAGR of 36% compared to S&P GCC Composite Index with a CAGR of 10%. Out of the top 25 wealth-creating companies, in terms of number of companies listed in each countries, majority of them were listed in Abu Dhabi & Saudi Arabia. Companies listed in Dubai and Kuwait followed this. Seven among twenty-five wealth creators are from the financial sector accounting for 30% of wealth generated followed by consumer staples (4) with a contribution of 24% of wealth creation and communication services (2) with a contribution of 18%.
Top five Biggest Wealth Creators (FY 2012-21)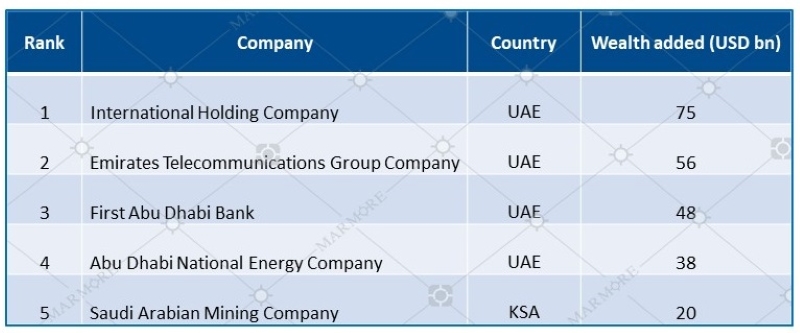 Source: Refinitiv; Marmore Research
The biggest wealth creator in terms of market capitalization during the last decade International Holding Company listed in Abu Dhabi Stock Exchange. The company created $75 billion of wealth since its listing in 2005, followed by Emirates Telecommunication Group Company ($56 billion). The first four of the top five wealth creators are Abu Dhabi-based whereas the fifth one is based out of Saudi Arabia.
Top five Fastest Wealth Creators (FY 2012-21)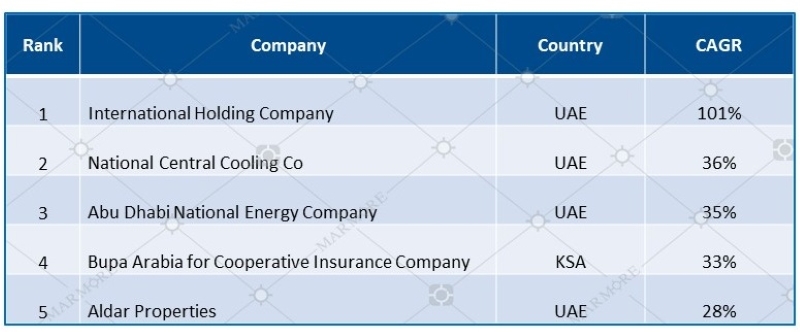 Source: Refinitiv; Marmore Research
The fastest wealth creator in terms of annual growth rate of total return is also Abu Dhabi listed International Holding Company with CAGR of 101% which is more than 10x higher compared to the S&P GCC Composite Index with a CAGR of 10%. The International Holding Company created wealth at a slow pace for the first five years 2012-16 and then it added its wealth enormously with a CAGR of 210% in the last five years 2017-21. The shares have been increasing from 2019, when it was trading at ~AED 1 (its current share price is ~AED 190). The various acquisitions made since the start of 2019 seem to have contributed to the surge in share prices. If the period is further broken into two five-year periods (2012-16 & 2017-22), major changes are observed in wealth-creating companies and sector performances. The wealth creators of 2012-16 are entirely swapped with a new set of companies in 2017-21. The wealth created in 2017-21 by these companies exceeded three times the wealth created in 2012-16. The number of companies in the top 25 wealth creators increased for Abu Dhabi (4 to 6) and Kuwait (1 to 6), remained the same for Saudi Arabia (10), Qatar (1), and Bahrain (1), and decreased for Dubai (8 to 1) in 2017-21 compared to 2012-16. There has been a shift in wealth creation among sectors from real estate to Materials and Industrial sectors between the period 2012-16 and 2017-21. Please write to
enquiry@e-marmore.com
if you need a full deck of slides on this research.