October marked a record-breaking month for cryptocurrencies with Bitcoin touching its all-time high in October. With bitcoin price soaring, the market cap for bitcoin also breached the 1 trillion threshold. The second largest cryptocurrency – Ethereum, also touched its all-time high of USD 4,402 in October, on the back of upward crypto momentum and a recent technical upgrade to the Ethereum network. Ethereum based meme cryptocurrency – Shiba Inu soared 155% in the last week of October and 1,000% over the month, to become the eighth largest cryptocurrency in the world. The increase is said to be driven by huge volumes among retail investors.
Performance and Key Metrics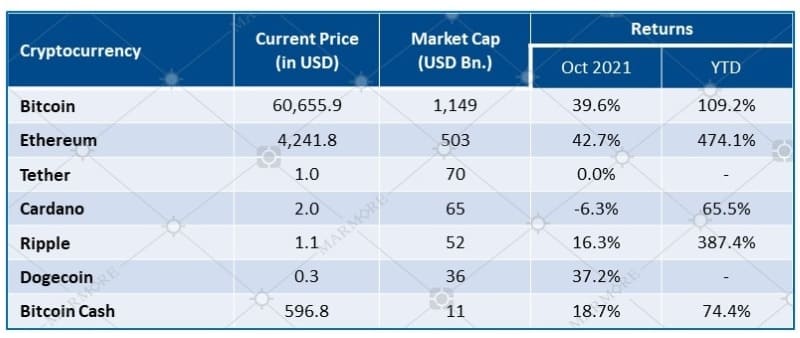 Source: Refinitiv
The upwards momentum is said to be driven by the launch of the first U.S. bitcoin futures-based ETF – ProShares Bitcoin Strategy ETF, which closed 2.59% higher on its debut day, and became the fastest ETF to reach the USD 1billion AUM within two days of its launch. Although analysts reported that, the trading seemed to be influenced by High-Frequency Trading firms and small investors, indicating the lack of institutional investors' participation via large block trades. After touching it's high, Bitcoin marked a slight decline in the closing weeks due to profit booking by various participants.
Along with ProShares ETF, VanEck is set to launch a bitcoin ETF as well. The SEC also approved Valkyrie Investment's Bitcoin futures ETF that started trading from 22 October. Valkyrie has plans to expand further by filling for a leveraged bitcoin futures ETF days later after its ETF started trading.
Block chain ETF Performance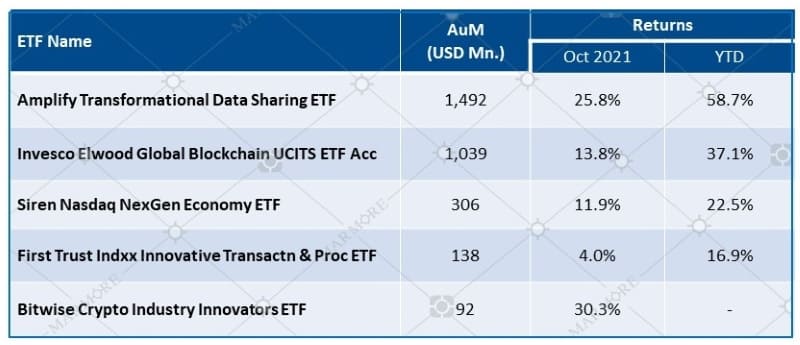 Source: Refinitiv;ETFdb
Total Market Capitalization Distribution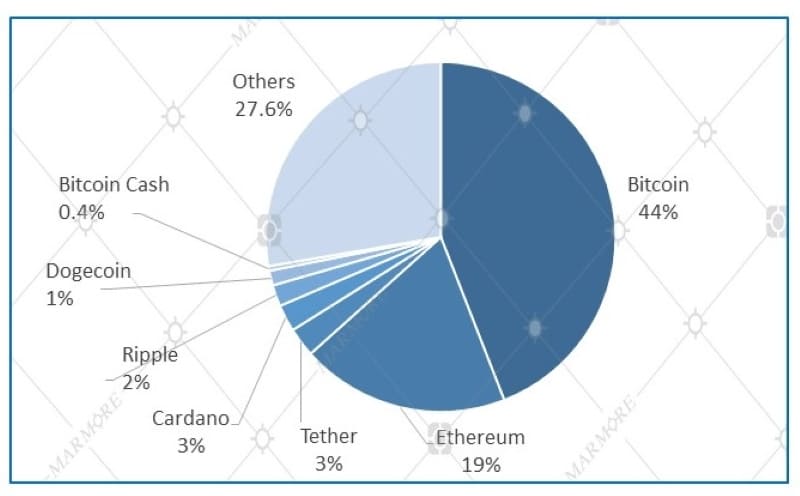 Source: Refinitiv
Riding on the crypto bandwagon, Walmart has announced the installation of 200 bitcoin ATMs in its selected stores spanning across the country. The decision by the retail giant is set to not only improve the access of cryptocurrency to the retail investor but is also set to give boost to the investor confidence.
Know more about the performance of GCC and Global markets in October in our recent Global & GCC Capital Markets Review. Read more