The Delta variant, which the WHO has called the most transmissible variant of the coronavirus, has caused a surge in covid-19 cases around the world. With a rise in cases, comes a rise in restrictions by the governments to curb the transmission. Travel restrictions in different parts of the world, is set to exert downward pressure on the global jet fuel demand.
During the week ending 20th August, Brent crude oil price witnessed its biggest weekly loss this year of 8%, falling to $65.18 bbl, its lowest since April'21. This originates from investor fears over weakening global oil demand in the wake of various travel restrictions, which can potentially put the global economic recovery under pressure.
Among the nations that have put restrictions in place, the world's largest importer of crude oil, China has imposed fresh restrictions and regulations including stricter disinfection at ports, which is not just causing congestion and down-time at the ports but also having an impact on global supply chain, especially in Asia, which is a key demand centre for oil. This uncertainty puts a cap on not just the oil prices but also prices of various other commodities. With the oil demand under pressure, the global oil supply is also steadily increasing, which puts all the more pressure on the oil price.
Despite the weak demand outlook for Asia, other parts of the world continue to open-up, with restrictions being eased on the back of efficient vaccine rollouts. U.S. Department of Transportation reported vehicles' miles travelled on highways in the week of 1st August'21 are similar to the metrics of 2019.
On the supply side, Hurricane Ida swept the U.S. state of Louisiana, temporarily shutting down the refining operations and oil production in the Gulf of Mexico, and putting a constraint on supply, which resulted in driving up the oil prices. OPEC+ in the latest meeting on 1st September maintained its status quo of gradual oil output increase despite the pressure from the White House.
IPE Brent Daily Price Movement in August 2021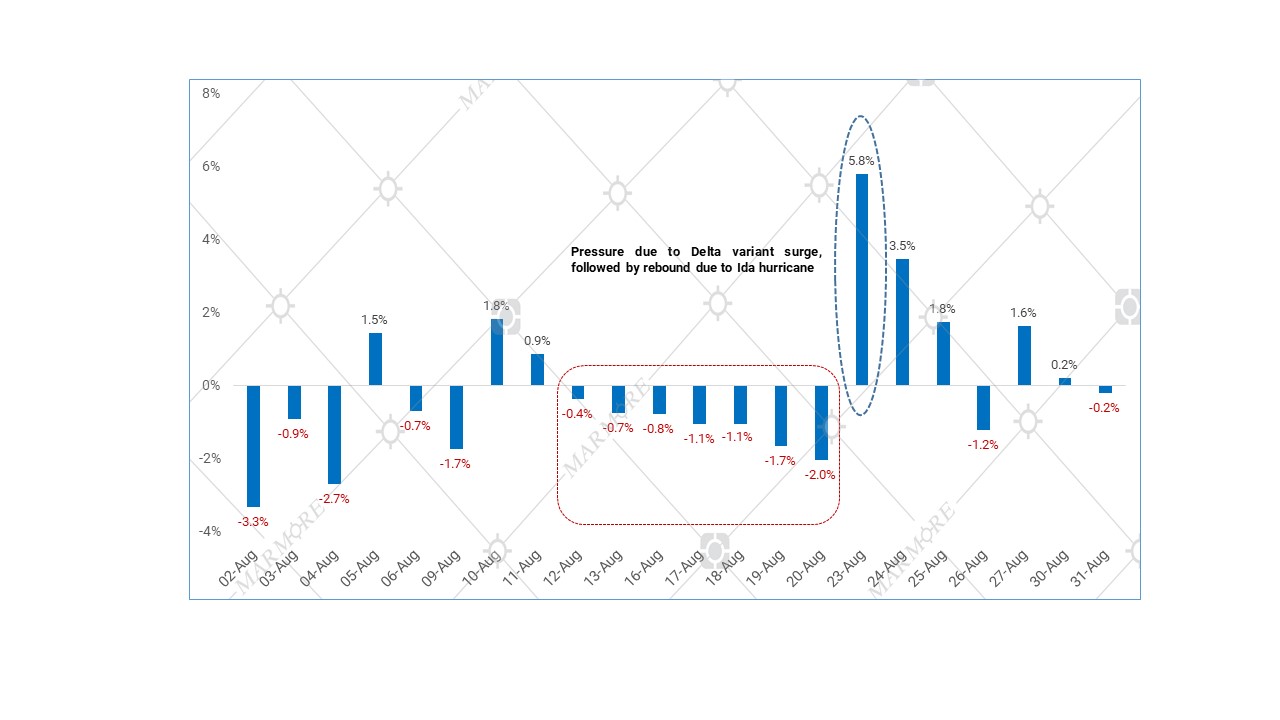 Source: Refinitiv
The article is an excerpt from our "Global & GCC Capital Markets Review: August 2021" report. Read more