GCC economies were hit hard by the pandemic last year with the cumulative GDP of the region falling by 5% in 2020 over that of 2019. However, the IMF estimates all the GCC economies to show positive growth in 2021 with Saudi Arabia expected to grow 2.9%, UAE by 3.1%, Qatar by 2.4%, Kuwait by 0.7%, Oman
GDP Growth in % from 2020-2022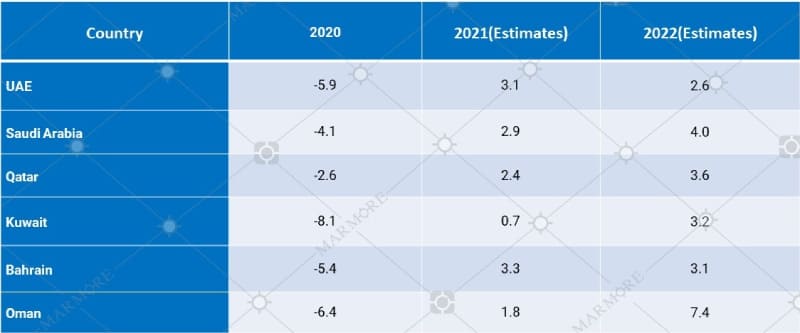 Source: IMF 2021 MECA Regional Outlook
Macro indicators have improved in the GCC
The improved projections are on back of a rebound in oil prices, strong Purchasing Managers' Index (PMI) readings and rapid vaccine rollouts in most countries that will help domestic activity move back towards normality. Saudi Arabia's Composite PMI has been above 50, the level that indicates expansion, for every month since July 2020. Similarly, UAE's PMI has been above 50 for every month since Dec 2020. According to Moody's, the Real GDP of Saudi Arabia is expected to reach pre-pandemic levels (Q4-2019) by Q1-2022, UAE by Q2-2022, Qatar, Oman and Bahrain by Q3-2022 and Kuwait the last to reach by Q3-2023.
Sovereign bond issuances have been on the rise
In 2020, reduced oil revenues had increased the fiscal deficit of all GCC nations which led to a slew of sovereign bond issuances. Sovereign issuances by GCC entities amounted to USD 66.3 billion in 2020, up 25% year-on-year from the USD 52.9 billion raised during 2019. Sovereign issuances this year have seen good interest from investors, with GCC members with poor credit ratings like Oman raising USD 3.2 billion in January and USD 1.75 billion in June. Better borrowing capacity gives room for more government spending on infrastructure development which can create jobs and boost growth.
Emergence of e-commerce industry
A positive story to emerge from the crisis which is likely to have lasting effects is the growth of the e-commerce industry in the region. According to Go-Gulf, a web development company in the UAE, e-commerce profits reached USD 20 billion in the GCC up 214% from 2019 and from USD 5 billion in 2015. Go-Gulf projects the e-commerce market for the entire MENA region to expand even beyond the pandemic and generate USD 48.6 billion in sales by the year 2022.
Conclusion
GCC economies are also in a good position to capitalize on the surge in travel demand when the rest of the world opens up. Events such as Expo 2020 in Dubai and the 2022 FIFA World Cup in Qatar, easing of regional tensions and spending by the Saudi Public Investment Fund (PIF) will also support growth. The hard-hit tourism and real estate industries in the region are expected to benefit from the reopening though the threat of new virus variants causing a surge in infections remains.
The article is an excerpt from our "Global & GCC Capital Markets Review: June 2021" report. Read more