A cloud kitchen is a restaurant kitchen that solely accepts delivery orders and does not have a dining area. Many restaurants have adopted this new business model known as "cloud kitchens," sometimes known as "dark kitchens" or "ghost kitchens." It has several advantages over traditional restaurants. Cloud kitchens are more concerned with deliveries and meal quality than with creating a pleasant atmosphere like traditional restaurants. These restaurants do not have a real dining facility instead; orders are placed online through applications or websites.
rn
Comparing the key differences between a traditional restaurant and a cloud kitchenrn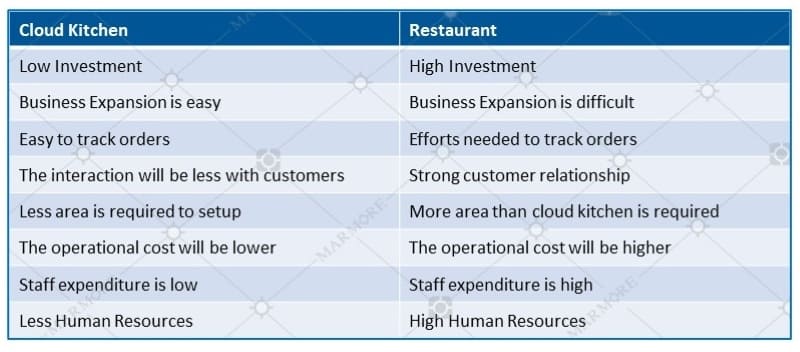 rn
The number of Emirati food companies that have chosen to join the Dark Kitchen ecosystem has kept increasing, particularly in the year 2020 when the COVID pandemic started. Virtual kitchens, ghost kitchens, cloud kitchens, and delivery-only kitchens all function on the same principle, but with different business models, selling meals solely through delivery systems. Several globally recognised F&B brands have opened dark kitchens in the UAE in the last year. For example, Kitopi helped renowned American brands Nathan's Famous and Bondi Sushi get into the market. With the increased penetration of dark kitchens following the COVID pandemic, the UAE online food delivery market is predicted to develop at a CAGR of 23%, based on the research from business consulting company RedSeer, with over 400 brands and more than 80 locations in the UAE, the number of dark kitchen brands and outlets has expanded as well.
rn
In the UAE, the number of Cloud kitchens is increasing with notable brands like Kitopi, Kitch, Kitchen Nation, Kitchen Park etc., Kitopi is one of the most popular cloud kitchen platforms in the UAE. It was launched in Dubai in January 2018 and has since expanded to Kuwait, the United Arab Emirates, and Saudi Arabia. Kitopi manages the whole food manufacturing and delivery process, including sourcing materials, cooking, packaging, and even delivery. Kitopi makes use of cutting-edge technology to ensure that the meal preparation and delivery procedures are as smooth as possible. It expanded its products to include subscription-based meal plans as well as grocery delivery by leveraging its supply chain. The unique Smart Kitchen Operating System accounts for a significant portion of their competitive edge. SKOS is a set of real-time applications that optimise the performance of cloud kitchen operations. By increasing operational efficiency, the solution focuses on providing a great customer experience among numerous brands in a single kitchen. In only three years since its start, SKOS has helped Kitopi grow to 200+ businesses in 60+ locations. Kitopi kitchens were able to double the order volume by minimizing kitchen preparation time by 40% throughout this time.
rn
Kitch is a hybrid cloud kitchen and storefront operator founded in Dubai. It consists of completely optimised and contemporary commercial kitchens, where orders are processed online and presented in each restaurant's station, where the staff prepares and packages the food, and Kitch provides dispatching services.
rn
Running a cloud kitchen is less expensive than running a full-service restaurant, where infrastructure and operational costs are high compared to a full-service restaurant. This enables cloud kitchens in the UAE to increase their profit margins and offer nominally attractive rates, attracting more customers.
rn
Cloud kitchen is a low-risk and high-reward venture. When compared to a brick-and-mortar restaurant, the initial investment necessary to start a cloud kitchen is far lower. As a result, starting a cloud kitchen is a low-risk venture. It allows restaurant owners to experiment while lowering overhead costs, making it a profitable endeavour. In Dubai, cloud kitchens are quickly grabbing the Food and Beverage industry, and the food delivery business is expected to grow in the upcoming years. The growth of cloud kitchen and food delivery platforms is high after the introduction of value-added tax (VAT) in the UAE in January 2018.
rn
Profit Margin comparison of Quick service restaurants and Cloud Kitchens
rn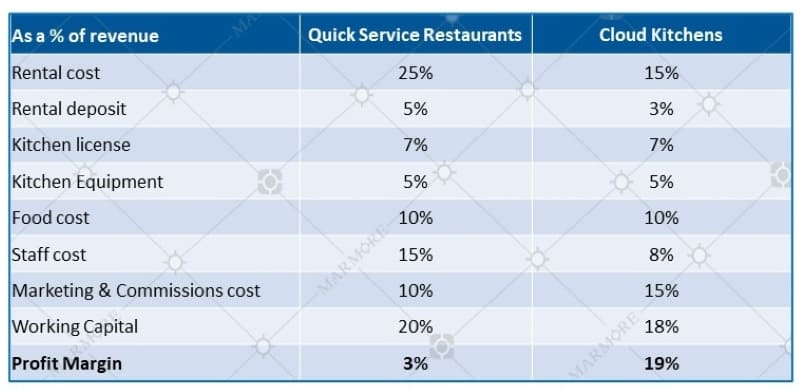 rn
Source: KPMG, Inc42, Marmore ResearchrnNote: In the table, we are comparing the quick-service restaurant which has 2000 square feet of space and the cloud kitchen with less space than 500 square feet. The rental cost is calculated annually and all other components are calculated based on the monthly expense.rn
rn
To learn more about Cloud Kitchens and Food Delivery market, download our full report: Rising popularity of online food delivery platforms and cloud kitchens in the UAE