Why Jazeera entered the Indian aviation industry?
Low oil prices for the past couple of years have generally led to surging profits in aviation industry globally as spending on fuel, the major component of cost structure, dropped sharply. However, it is a game of double-edged sword in the context of Gulf airlines. Lower fuel costs have resulted in some airlines dropping their ticket prices in an attempt to attract more passengers and capture greater market share in the region where aviation industry is experiencing overcapacity. It has led to a race to the bottom in the industry, with plummeting yields. The average yield per seat for Jazeera airways fell to as low as USD 119 in Q1 2017. Jazeera also has significantly lower load factor (measures the capacity utilization) of approximately 75.5% YTD as compared to average of 81% in the Middle East. Thus the slowing economy and the continued overcapacity on the airlines' routes essentially forced the airways to explore opportunities outside the region.
Jazeera Airways Key parameters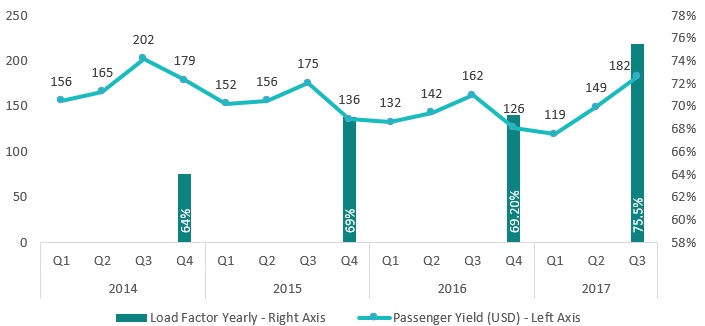 Source: Reuters, Marmore Research
Similar to other Gulf States, Kuwait has a large population of workers from the Indian sub-continent who fulfill a wide range of blue collar and managerial roles. Jazeera is targeting the constant flow of travelers going back and forth for work as well as those traveling as tourists. There are number of airlines that currently operate between Kuwait and India such as Oman Air, Emirates, Etihad Airways, Gulf Air, Fly Dubai etc. In contrary to many airlines providing services on this route, the airlines that provide non-stop flights, that take significantly lesser time, are currently limited to three namely Kuwait Airways, Jet Airways and Air India. It therefore make the route much more attractive to small-haul airlines such as Jazeera Airways which will operate direct flights. As of 16th Oct, 2017 the lowest airfare from Kuwait to India offered by these airlines in the month of December was Kuwait Airways (USD 149), Jet Airways (169) and Air India (USD 211) for a one way trip. In comparison Jazeera Airways is offering fare per passenger as low as USD 94. Jazeera Airways will begin with weekly 7 flights to Hyderabad in November and increasing it to 23 flights to India by the year end.
Comparison of airlines providing Non-stop flights from Kuwait to India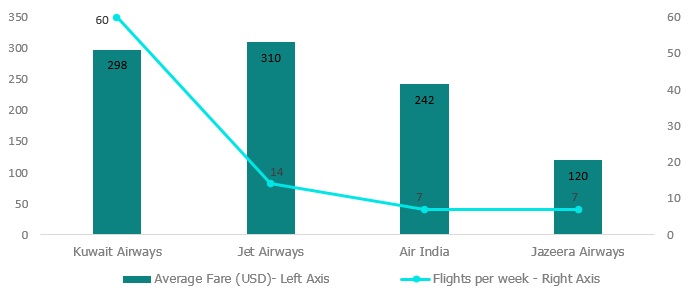 Source: Respective airlines website, Marmore Research
Note: Fares are average values for month of December: as of 16th Oct, 2017
Outlook for Jazeera airways in India
Jazeera has in the past shown the courage to take bold decisions and grab opportunities that presented itself as illustrated by selling its leasing business in 2015 that comprised of 15 aircraft fleet. The decision transformed the firm into an asset-light, debt-free company, allowing it to further grow its profitable airline business.
India is a dynamic business and tourist destination that has shared close ties with Kuwait for many years. Jazeera Airways will target the over 900,000 Indian nationals residing in Kuwait (Ch-avitation). In addition roughly 13,000 tourists from Kuwait traveled to India in 2015 offering more opportunities in this segment and an expected to growth rate of 10% annually (Times of Kuwait). Given the Indian market growth plans, two more aircrafts are scheduled to be introduced by year-end.
The company has introduced long-term parking facility at airport last year. Under its 'Next big thing' value enhancing projects, it has also taken initiatives of exclusive Business Class lounge, in -flight broadband internet. In addition the successful establishment of a dedicated terminal at Kuwait International Airport is expected to be functional by Q1 2018 (Jazeera Airways H1 2017 presentation). It will isolate the passengers traveling on its airplanes from the congested terminals common for rest of the airlines, thus boosting the airlines appeal as compared to competitors.
Overall, the opportunities on the Indian route are lucrative and with limited airlines offering direct flight services, Jazeera stands to gain. The airlines combines several advantages starting from its low cost fares, convenient frequencies and other value added services which will certainly make this move fly.