Global equity markets witnessed a decline in the month of November, as investors took the flight to safety and resorted to safe haven assets, due to uncertainty stirred in the market by the new covid variant – Omicron. In times high uncertainty and vola tility, ESG indices displayed low beta relative to their comparative indices. Despite negative returns, ESG indices outperformed their conventional indices, apart from Japan that underperformed mildly for the month of November.
ESG Indices performance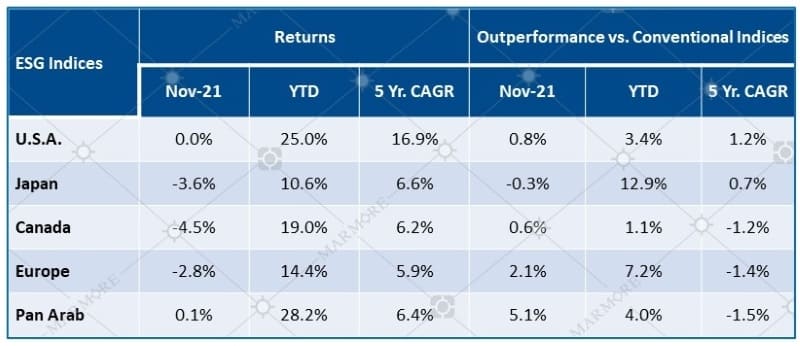 Source: S&P; as of 30th November 2021
Last year ESG funds attracted 51.1 billion in net investments, and the trend looks to continue in the current year. ESG investing to harvest alpha seems prevalent by the YTD returns of the ESG indices relative to their conventional indices, where all the ESG indices outperformed their benchmark. As per the new study conducted by KPMG, CEOs in Saudi Arabia are transitioning their companies to incorporate ESG principles, with 42% of surveyed CEOs expressing their intention to invest more than 10% of their revenues towards sustainable practices. Saudi Arabia also prepares to launch its first green bond that targets at raising billions of dollars to finance projects powered entirely by renewable energy.
The 26th UN Climate Change Conference (COP26) concluded in November, that saw member states reach consensus on a climate deal with an explicit plan to reduce coal, which is identified as a key contributor to global warming. The deal was met with resistance from the coal-reliant countries, and the clause was amended from "phase out" to "phase down" for countries to come to a consensus. The current carbon cuts however are estimated to restrict global warming to 2.4C, far from the target of 1.5C. UAE also announced the launch of a finance facility to tackle climate change. Energy Transition Accelerator Financing is the financing mechanism being set up to assist developing countries to adapt renewable energy. The UAE has committed $400 million in funding to the platform, with a goal to reach a minimum of $1 billion in total funding.
In terms of ESG investing, the information and data reporting is a key issue for asset managers. Limited access to such information might hamper the acceleration of capital towards sustainable countries, especially in emerging economies. In a bid to resolve this issue, asset manager - Arabesque developed a platform named – "ESG Book". The founders also include the World Bank's International Finance Corporation, QUICK, Hong Kong Exchanges & Clearing, Glass Lewis, Bank Islam, Allianz X, Goldbeck and the Climate Bonds Initiative. ESG Book aims at providing real time ESG related data in real-time for free. Increasing transparency and comparability of ESG related reporting can make the ESG Book a gamechanger in the ESG data reporting domain.
For more insights, ESG issues in GCC Report ESG in KSA Blog Global & GCC Capital Markets Review Report