The year 2020 has seen bond issuances totaling USD 42billion so far by GCC governments as they try to raise funds in the market to plug record deficits due to the oil price crash and the COVID-19 crisis. GCC Sovereign yields have come down since the market selloff in March at the height of the crisis. As on October 6, 10-year yields for Kuwait Government bonds stands at 1.48% (a fall from 2.37%, 2020-start) while that of Saudi Arabia, Abu Dhabi and Qatar stand at 1.95%, 1.82% and 1.92% respectively.
Exhibit 1: Yields of 10-year US Dollar Denominated Bonds for GCC and U.S in %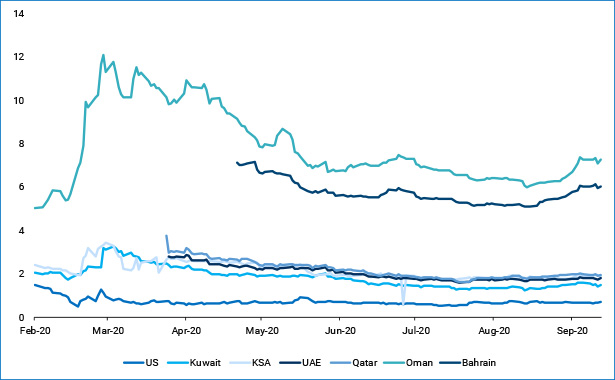 Source: Refinitiv; Note: Qatar issued a 10-year bond on April 13, 2020 that has been used for analysis. Similarly, Bahrain 10-year bond issued on May 11, 2020 that is shown here.
Some GCC nations have been successful in raising debt even during the turmoil. Qatar, Abu Dhabi and Saudi Arabia were able to successfully issue debt in April even when yields where higher than they are right now. They are well placed to issue new debt when the need arises. However, Kuwait has not been able to issue new debt due to the public debt law not being passed by the parliament. After a debut Eurobond issuance in 2017, Kuwait's public-debt law lapsed, rendering the government unable to issue new bonds.
Did You Know?

For Kuwait, Oil accounts for 86% of its total exports – highest among GCC countries.
Saudi Arabia has improved its position the most – surging past 30 countries, in Ease of Doing Business rankings for 2020.
UAE could continue to enjoy surplus trade position in 2020.

Learn more
Bahrain and Oman, the GCC members with below-investment grade ratings have also seen their 10-year yields decrease since March despite multiple downgrades by rating agencies. Oman's yield on its 10-year USD denominated bond came down from 12% on March 19 to 7.06% on October 6. Bahrain's yields decreased from 7.3% on May 11 to 5.9% on October 6.
Following Bahrain's successful USD 1billion sukuk issue and USD 1billion in 12-year bond at 5.45% yield this month, Oman is planning to come up with a USD 3/4billion issuance. Expectation of support from other GCC members have meant that Bahrain and Oman have seen lower yields compared to other countries with similar sovereign ratings and are consequently better placed to issue more debt.
The article is an excerpt from our "GCC Capital Markets Monthly Review: September 2020" report. Read more