Not many people would conjure up the image of the Middle East region when talking about video games and their growth in general. Wars and internal conflicts often overshadow the vibrant and growing market for video games in the region. Video game culture has been an offshoot of such conflicts – many youngsters find it a cathartic experience to win against the forces that have been responsible for wide spread conflicts in the region and admit that it is one of the most preferred form of entertainment for them.
Popularity of video games was driven in the region in large parts by Sony; its PlayStation platform has been instrumental in establishing the popularity of video games in the region. Teenagers and youngsters, especially from the GCC region, took their affection for games to higher levels with the introduction of Sony's Playstation2 (PS2) in the year 2000. The popularity of the platform is still unfazed, it remains as the bestselling console in the Middle East region clocking overall sales of 5.2million units followed by the play station portable (PSP) at 1.5million units.
Another factor that has fuelled the growth of gaming culture has been the regional government's censorship policies and strict religious views; both of these restrict the content that would be available through conventional channels such as TV, movies and theatre. Some of these restrictions have been in place to curb the growing Western influences in the region. While video games are also subjected to the same censorship rules, the implementation remains sketchy as there are conflicts related to the implementation of the ban. Certain video game titles are banned or censored if they are too visibly violating the region's sensitivities towards religion, politics, geo-politics etc. Some of the gaming titles that were banned includes – Battlefield III, God of War, and Call of Duty 4: Modern Warfare and Grand Theft Auto (Series)
Youngsters in the GCC region also have higher purchasing power owing to generous government policies. As a result, lot of them have access to the latest technological gadgets including, mobile phones, tablets, gaming consoles and other high-end gaming accessories. They also spend more time on mediums like YouTube and Facebook and are constantly exposed to the latest news and developments surrounding games released in the Western markets. Studying Saudi Arabia's YouTube viewership patterns provides taste of the regional preferences in these alternative channels. Saudi Arabia is the leader in the region for most video playbacks followed by Egypt, Morocco and finally UAE. There are 167 million video views every day only from the MENA region; Saudi Arabia alone generates 90 Million daily views making it one of the most lucrative markets for YouTube. The heightened viewership from Middle East results in free-flow of ideas on latest fashion trends, gaming lifestyle and western pop culture. Comic con festivals, a staple among the western movies, comics and gaming aficionados came to Dubai in 2012; a sign of large-scale convergence of tastes and preferences among the younger generation.
What is the size of the Middle East video game market?
Currently, there are over 587million online gamers in the Middle East region and the amount of time spent online is definitely starting to affect the gaming sector's revenues from the region. Globally the video games market is a huge business, with estimated revenues of USD 109billion as of 2017 growing by 7.8% YoY. Middle East region alone accounts for 3.2% of that market generating close to USD 4bn in revenues and growing by 25% on a YoY basis. Turkey, Saudi Arabia, Iran and UAE are the top four countries generating revenues to the tune of USD 774million, USD 647mn, USD 431mn and USD 281mn respectively.

Middle East Gaming Market – By revenues (USD Mn)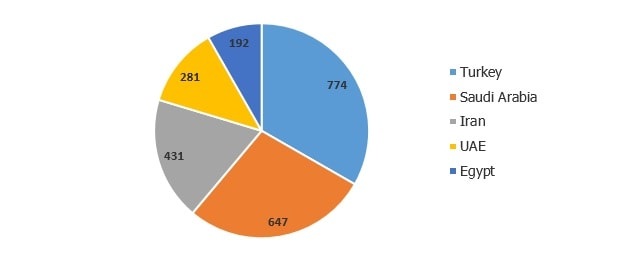 Source: Newzoo
Revenue growth from MENA region is well ahead of markets such as Latin America (13.9%) and APAC (Asia Pacific, 9.2%); it also contrasts with larger markets where growth is stagnating – such as North America (just 4%) and Western Europe (4.8%). Most of growth has been fuelled by the Egypt, the UAE and Saudi Arabia. Growth, especially in Egypt and Saudi Arabia, is largely fuelled by the growth in smartphones. Both these countries have some of the highest smartphone penetration in the world at 80.6% and 65.2% respectively. With such high penetration levels, this region itself has put itself on the radars' of most game developers.
Government and private initiatives fuelling video-game development ecosystem
A cultural ecosystem surrounding gaming development is emerging in the Middle East, which is helping the growth of gaming in the region. Conventions, comic-cons and eSports are now common across the Middle East and they have been very instrumental in promoting the gaming culture in the region. Localization initiatives have also helped the market largely. Big gaming studios such as Sony, Valve and Ubisoft have been the most notable ones to have significant presence in the region.
Gaming events
The last few years has seen a boom of gaming and pop culture events around the Middle East. The events keep getting bigger and more lavish each time, attracting popular artists and celebrities from gaming, movies and TV shows, and are also becoming a hub for some of the biggest eSports tournaments in the region. In recent times, the region has hosted three major events – GAMES Middle East, Dubai World Game Expo and IGN convention Abu Dhabi
GAMES Middle East
GAMES is an alliance between Sony PlayStation Middle East, Microsoft Gulf, Red Entertainment and Pluto Games that provides fans and gamers access to upcoming games and technology, while hosting various tournaments, events and eSports competitions. It's the E3 (Electronic Entertainment Expo) of the Middle East.
Dubai World Game Expo
Dubai World Game Expo (DWGE) is a platform for meeting with interactive entertainment developers, publishers, distributors, service providers, platform providers, localization providers, payment providers, multimedia, telecom operators, investors, government officials, and retailers in the MENA region. DWGE serves as an ideal venue to introduce a wide variety of video games, online games, mobile games, edutainment & infotainment software, game related hardware, and next-generation platforms.
IGN Convention Abu Dhabi
IGN convention is the region's biggest film, video games, technology, and comic's convention that features game enthusiasts and international celebrities. Fans will also get to interact with regional artists in Q&A sessions. This is all in addition to comic book and film events, including a cosplay competition, gaming announcements, discussion panels on movies and games, trivia quizzes, comic book stalls and a video game tournament.
In part two of the series, we would look at the key trends that are emerging in the Middle East region.