The pandemic has changed the lives of billions of global citizens. Businesses have been forced to adopt new ways of functioning. The post pandemic world is expected to be never like before and experts have christened it as the "new-normal". The GCC retail sector is no exemption to this. Being one of the region's important sector for the economy, the retail sector has witnessed one of its worst performance in 2020. GCC retail sector, unlike in other regions, is not just a source of shopping but is a source of entertainment.
While the overall consumer and retail sector has been adversely affected by the pandemic, it has been a mixed of bag of challenges with fewer opportunities for various stakeholders.
It is evident that the COVID-19 pandemic is having an impact of varying degree and magnitude. Some sub-sectors are witnessing an uptick, while some sub-sectors are going through a slump. This is termed as a "K" shaped recovery for the GCC retail sector.
Luxury and Fashion retailing:
Luxury and fashion retailing has been severely impacted by the Covid-19 crisis. For most players, sales were down by 20-50% immediately after the onset of the pandemic and is yet to revive. While malls are reopening slowly in the GCC, visits to malls are yet to reach pre-pandemic levels. Luxury retail – expensive electronics, gems and jewelry – is another sector that is hit hard by the pandemic. Lack of discretionary spending by GCC residents and a steep decline in tourists purchases have led to receding revenues for the segment.
Food and Beverage (F&B):
Dining out –had the severe impact amongst the retail sector. Many restaurants remained closed for a prolonged period during the pandemic. Many companies in the GCC have adopted to food delivery to meet the changing consumer perceptions, but this is not enough to make up for their revenue losses.
Food and Beverages – mainly dine in restaurants are expected to have a long-lasting negative impact. Restaurants are at the heart of social life in big cities of the region and fine dining places are the most impacted by the shutdown. People are still hesitant to visit restaurants. Deep dip in tourist arrivals in the GCC region is another reason for the decline in revenues of the dine in restaurant businesses in the region. Many GCC retailers have witnessed bulk buying – stock keeping by consumers as a trend during the pandemic and thereafter. Working from home has led to an increase in the consumption.
E-commerce/One line retailing is expected to be one of the major benefiters of the COVID-19 pandemic in the GCC. Many e-commerce platforms that cater to the grocery needs in GCC have witnessed ~ 50% increase in app downloads and orders. Carrefour has seen its online marketplace demand multiplied by 6. The pandemic situation and the subsequent cautiousness of shopping physically caused a dramatic shift in the consumption patterns with demand for online retail spiking. With high internet penetration rates and successful adoption of e-payment platforms, the e-commerce industry in the GCC is poised to grow rapidly in the future. AT Kearney predicted that GCC e-commerce would reach a value of over USD 21 billion by the end of 2020. By the end of 2020, the GCC e-commerce reached USD 24 billion – an additional USD 3 billion assisted by the COVID-19 pandemic. GCC's e-commerce market was projected to grow at a compound annual growth rate of 14% in the lead up to 2022, and tail off into a 10% CAGR up until 2025. E-commerce growth in the GCC will have its negative impact on the brick and mortar stores partially, according to AT Kearney. The love for physical shopping and its other attractions such as aquarium, ice skating, fountains, various games etc. had been major draws for GCC's malls for both locals and tourists for over two decades. However, trends are beginning to change with online retail getting a fillip on account of the coronavirus pandemic. Furthermore, deals and discounts offered by online retail players across the year rather than that offered by malls only during festive seasons and special occasions are an attraction to buyers. The e-commerce revolution is expected to have just begun in the region with more players entering the market and providing niche products.
Chart 1: GCC e-commerce market size (in USD billions)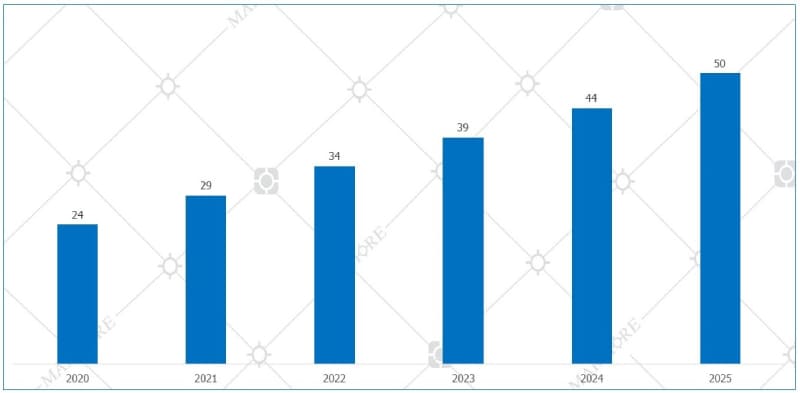 Source: KPMG
Chart 2: Market size of e-commerce sub-segments (In USD Billions)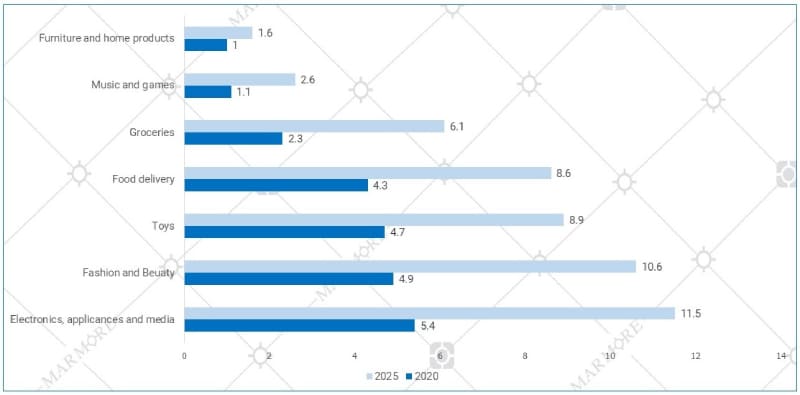 Source: KPMG
Table 1: Estimated e-commerce penetration in GCC retail sub-segments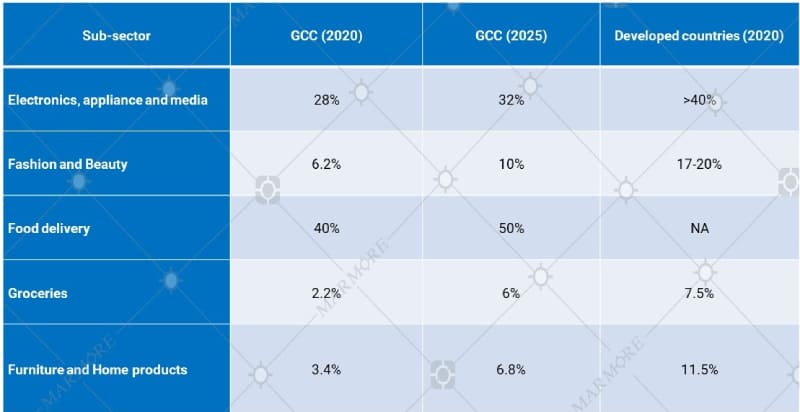 Source: KPMG
Any form of Brick and Mortar (B&M) store has been the most negatively affected segment in the GCC during the pandemic. That said, B&M players have started to embrace the online space too. The convergence of online and physical retail has led to a new format called 'omni-channel retail' where B&M players venture into the online format. Services such as 'buy online – collect in store' and other such related permutations have increased the options for purchasers. Global luxury retailer, Bloomingdale, recently launched its e-commerce platform in the middle east to offer deliveries in UAE, Saudi Arabia and Kuwait. Abu Dhabi's Reem Mall has announced plans to develop the world's first fully enabled offline-to-online shopping centre with connecting all of its 450 stores into an online platform and an aggregated customer app. Majid Al-Futtaim (UAE based real estate and retail conglomerate)has also accelerated the launch of its online platform along with expanding its network of fulfilment centres. Global giant, Carrefour (French multinational retail corporation), has also developed an e-commerce platform to challenge its online rivals.
The post pandemic retail industry in GCC is likely to undergo a paradigm shift with players in the conventional domain competing with e-commerce companies. The retail space will offer more scope for joint ventures and provide appetite for mergers and acquisitions among the traditional brick and mortar players and e-commerce companies. Nevertheless, once vaccinations gather pace and threat of the COVID-19 pandemic recedes, GCC residents are set to return to their mall visits, which also forms a part of recreation. A coexistence between brick and mortar and e-commerce is likely to happen in 2022-23 , with clear advantage set in favour of e-commerce and online retailing in the region.