Did you know that GCC citizens prefer to send their children to public schools? A good reason for that is the low cost of education in these schools. But times are changing. With the winds of globalization now blowing, parents in the GCC are slowly but surely beginning to vote for private schools.

Private schools provide the environment for kids to develop employable skills. Most of these schools offer an international curriculum that is well accepted in top universities like Cambridge and Harvard. To add, they also have great infrastructure, high safety standards, well-qualified teachers and a platter of languages and activities for students. These schools mold a child better.

On the flip side is the issue of affordability. While some schools offer quality education at a low cost, many schools, particularly the American and European (UK) ones, charge up to thrice the amount charged by Asian or Arabic schools. This means that not everyone can have the opportunity to study in these schools.
Levels of education
The levels of education are divided into three: pre-primary for young children, primary and secondary which is class 1 to class 12 and tertiary which includes graduation and post-graduation. The fee structure varies between each level and is different for different types of schools.

The GCC has four types of schoolsi.e, Arabic, Bilingual, American and Asian. By large, Indian schools in the UAE have the highest enrolment given the large number of expatriate population. In contrast, in Oman and Saudi Arabia, public schools are preferred.

The following table indicates the annual fee structure by education level.

Table 1: Indicative private schools annual fee by education level, (USD)
| | | | | |
| --- | --- | --- | --- | --- |
| School type | Pre-primary | Primary | Lower Secondary | Higher Secondary |
| Arabic | 1,632 | 1,785 | 2,244 | 3,060 |
| Bilingual | 2,754 | 3,672 | 4,845 | 5,712 |
| Western | 4,590 | 6,630 | 8,874 | 10,404 |
| Asian | 1,632 | 2,448 | 3,060 | 3,876 |
Source: Markaz research

According to a report on GCC Education by Kuwait Financial Centre "Markaz", Asian and Arabic schools are the cheapest, while Bilingual schools charge about 1.5 times the fees of these schools. Western schools are the most expensive, with pre-primary schools charging USD 4,590 per annum while higher secondary schools cost a bomb at an average of USD 10,404 annually.

If we split it country-wise, Private schools in the UAE are most expensive, with fees ranging from an average of USD 6,000 for Indian schools to USD 13,797 for British schools. Indian school fees are cheapest averaging USD 2,343 per annum, averaging between USD 709 in Saudi Arabia to USD 6,001 in UAE. International curriculum costs the highest at an average of USD 11,166 per annum. Bahrain has only two American schools and they charge a whopping USD 16,761 on an average, while the same costs USD 8,752 in Qatar. UK curriculum schools are cheaper in Bahrain with an average fee of USD 3,744 compared to USD 13,416 in Oman. (See table below)

1: Average fees in GCC countries in USD per annum, Q4 2013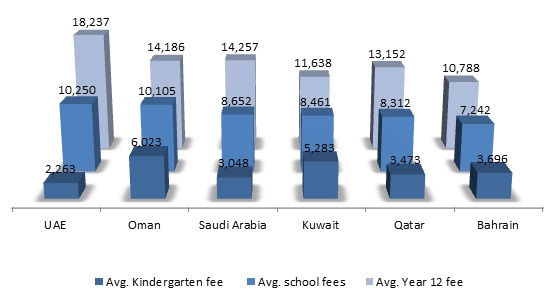 Source: Cost of Living report, Middle East

Unfortunately, such high fees are not welcomed by expatriates, most of whom spend about 30% of their income on their children's education (Source: WhichSchoolAdvisor.com.) The situation is sometimes so bad that they are forced to take education loans. This is particularly true in the UAE, where soaring rents, high cost of living, hikes in school fees and close to stagnant income adds extra burden on their already heavy household budgets. The high fees impact the perceived value of education and studying in lower quality schools would mean that students will be in a less attractive position to garner better management positions after completing education.

Private schools present a different picture. They believe fee hikes are crucial to improve investment. High quality teachers demand high salaries and generally amount to about 60% of total expenses of schools. Many owners of schools have given personal guarantees to banks. Restriction on fees will mean that additional funds will not be available to improve school infrastructure.

On the other hand, the governments are in a way right in restricting fee hikes so that high quality education can be affordable to everyone. Fee hikes by private schools have recently been stayed in Dubai for the benefit of the students and parents.

Figure 2 : Average fees for various curricula in USD per annum, Q4 2013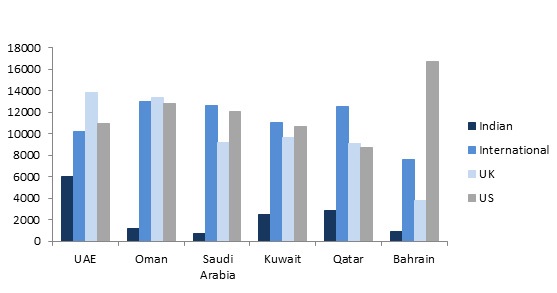 Source: Cost of Living report, Middle East

What ultimately matters is the quality of students churned out of schools and whether they are able to get admitted to good universities and graduate as good quality young professionals, fit to work in the global environment. This is why more people are beginning to prefer private schools to public school education. According to Booz and Co., the number of schools is expected to double from 2 million in 2014 to 4 million by 2020. This sector has a long way to go, and the future depends on the quality and affordability of education in the long run.