As a part of their economic diversification strategy, Gulf countries have been increasingly focussing on the expansion of service sectors such as tourism, business, logistics and financial services. The huge stock of fiscal and foreign reserves in the Arabian Gulf favoured the development of the tourism industry as a core strategy to attract both foreign tourists as well as business travellers.
In 2017, the investment in the Gulf's travel & tourism sector was USD 34.3bn that is expected to rise by 5.5% in 2018 (World Travel and Tourism Council, 2018). Such huge investments along with the liberalisation of visa restrictions and easing of restrictions on foreign land ownership for tourism projects have collectively enhanced the contribution of the travel & tourism sector in the GDP growth as well as employment generation (the industry's contribution to the region's GDP saw an increase of 36% between 2012 and 2017 with an employment of 1,188,000 in 2017) (Ibid ).
The GCC region offers a range of tourism destinations, attracting visitors from all across the world for different purposes such as leisure, business, cultural and religious tourism.
For example, the region's exclusive cultural villages such as Katara Cultural Village (Qatar), Saadiyat Island Cultural District (Abu Dhabi) and Sharjah Cultural Palace and the 12 UNESCO world heritage sites saw a great influx of cultural tourists.
The world class infrastructure, malls, beaches and multiple leisure attractions have attracted many international leisure tourists. The spending by the international tourists, (Chart 1) both for the business and leisure purposes, has increased considerably over the last five years with an annual growth rate of around 10%.
The UAE tops with the number of international tourist arrivals in 2017, totalling 20.7 million (Statista ). Dubai has also topped the list of global cities with the highest international overnight visitor spend, with total international visitor spending of $29.70 billion in 2017.
The Saudi Arabian city Makkah which receives a high number of religious visitors stood next to Dubai with an annual visitor spend of $18.45 billion (Chart 2).
Chart 1: International Tourist Spending- GCC (2012-17 in USD billion)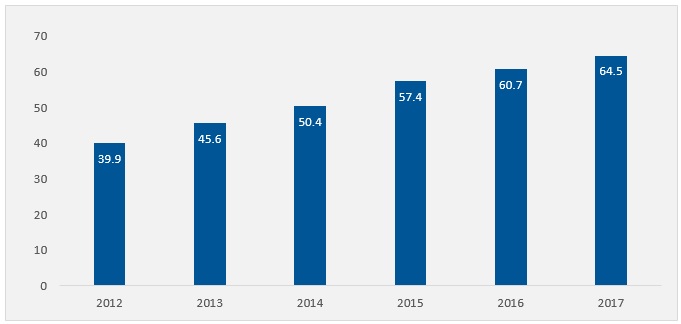 Source: World Travel and Tourism Council, 2018
Chart 2: World's top destinations based on spending- 2017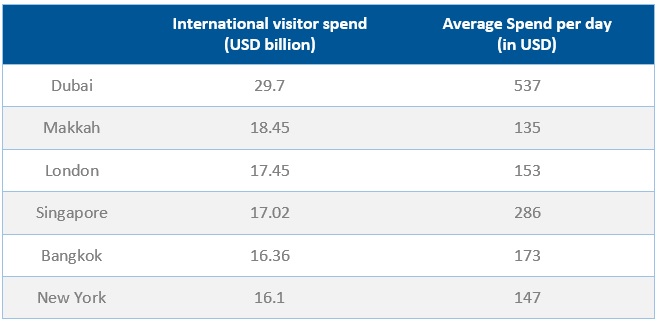 Source: MasterCard's Global Destination cities index, 2018
The GCC governments are also relaxing the norms on visa regulations to increase the tourist arrivals. Saudi Arabia's 30-day general tourist visa, Oman's new short stay visas — ranging from 10 days, one month and one year —are expected to promote tourism and spending in the country.
Qatar has also begun to reform its visa rules, expanding the number of countries it offered visa-free entry to 80 countries and extending the time period of transit visas for passengers wanting to visit the country between flights.
The changing nature of GCC tourism and new product developments
. Though the outlook of the GCC's tourism industry looks positive, there are nevertheless a few challenges which might hamper its further growth.
The improved connectivity through increase in the number of flights(inbound and outbound), especially low cost airlines, intense marketing campaigns and broadening preferences of people to travel have played a greater role in attracting budget travellers and the millennials with limited disposable income.
On the supply side too, a number of hotel brands are shifting towards developing mid-range and budget hotels in recent times.
Moreover, there's a growing trend of business travellers preferring more and more affordable hotel apartments or short-term lease apartments over high-end hotels or resorts. The increased demand for mid-segment properties in this region that traditionally favored luxury hospitality has, in the short to medium term, led to a gap between the mid-market and the luxury hotels.
For example, Dubai's luxury to mid-scale hotels ratio is above 50% whereas in cities such as Paris this ratio is between 20-30% (Radisson hotel groups). The high cost of land, lengthy approval process, relatively less financial aid and lending from banks makes such projects less viable for investors (Arabian Business).
Overall, along with the emerging technology, the tourism industry is also undergoing a digital disruption. Travellers now have greater visibility of their choices such as price, performance, availability and satisfaction.
Mobile technology and social media are facilitating more and more customer-brand interaction or customer engagement that is one of the key growth drivers of the hospitality industry. Dgital marketing strategies, influencer campaigns and promotions are also increasing customer expectations towards more tailored and customized services.
Additionally, the emergence of sharing economy through players such as Airbnb is pushing hoteliers to offer competitive prices. ((The peer-to-peer system is expected to bring significant changes in the industry which is also welcomed by tech savvy millennials??)). Further, the implementation of VAT in Saudi Arabia and UAE on January 1, 2018, may also increase the overall cost of hospitality players as well as impact price-conscious travelers.
Other challenges include the oversupply of rooms which is causing excess pressure on average room rates. Similarly, the increased competition among operators, and the emergence of other competing destinations in Egypt, Jordon, Lebanon and Turkey is also creating further pressure on the sector.
However, going forward, the region is expected to stay firm in the growth trajectory with strong infrastructure spending on tourism-related and other projects and growing popularity of alternative construction methods such as modular construction (3D design printing).
And last, but not the least, the huge boost is coming up from key upcoming events such as Dubai Expo 2020, and Qatar World Cup 2022 would support the sector's further growth.