Global markets witnessed broad-based sell-off and while some markets like the US recovered to some extent, others like Japan and Germany were hit hard. A slew of economic data from CPI numbers to employment figures which released over the month was overshadowed by the recent resurgent pandemic fears.
Market Performance & Key Metrics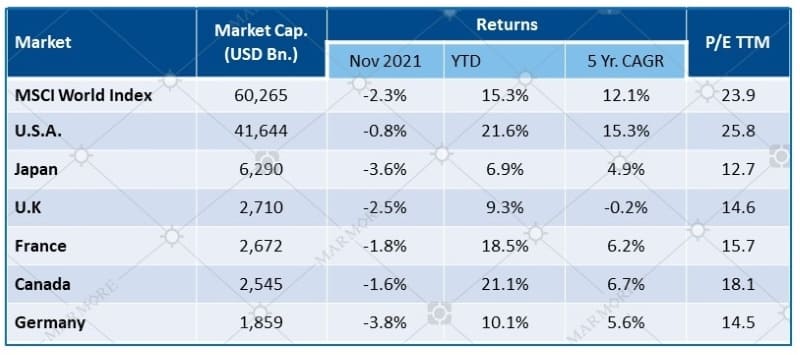 Source: Refinitiv
The S&P 500 ended the month with a slight fall of 0.8%. In a market that is already concerned about the spread of the new variant and efficacy of the vaccinations against it, the recent hawkish comments from the Federal Reserve Chairman prevented them from fully recovering the sell-off. Energy sector stocks had a double blow wherein in addition to falling share prices, oil prices also declined, making them more unattractive.
Sectoral Performance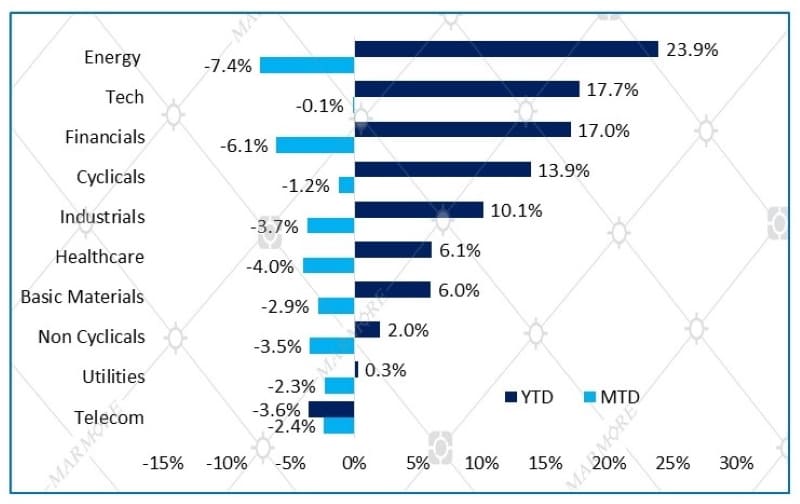 Source: Sector Indices are provided by Refinitiv
Major US Stocks Performance & Key Metrics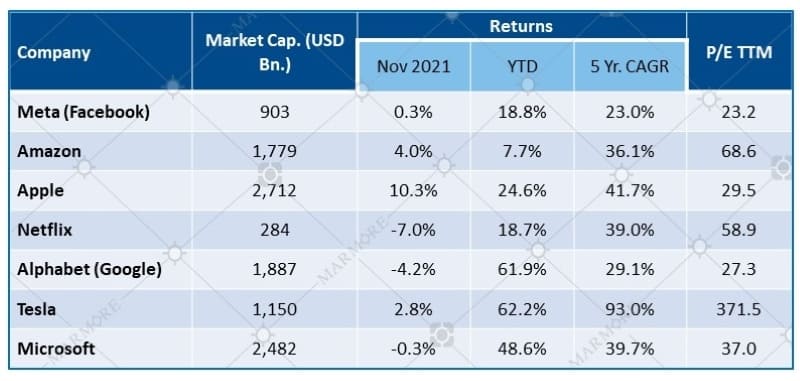 Source: Refinitiv
Apple seems to be the best performer among the FAANG/MANGA stocks which share prices reaching record highs this month. It is said to be accelerating its plans to build self-driving electric cars and other products based on augmented reality. Shares of Alphabet briefly reached the USD 2 trillion market earlier this month.
COVID cases have been rising in Austria, Germany and other parts of Europe with some of these counties reimposing complete lockdowns. Investors fear that these new restrictions might add pressure to the nascent economic recovery and existing supply chain woes.
Japanese stocks continued their losses from last month, with the Japanese Prime minister imposing new travel restrictions baring foreign visitors as a response to the new Omicron variant. The year-to-date returns is the lowest among its developed market peers.
The Canadian markets remained resilient for most part of the month, but fell slightly resulting from macro-economic factors like increasing COVID cases in Europe, spread of the new COVID variant and comments from the US Federal Reserve Chairman suggesting the central banks could remove the stimulus sooner than expected. It still has one of the highest YTD returns at 21%.
Latest Equity Views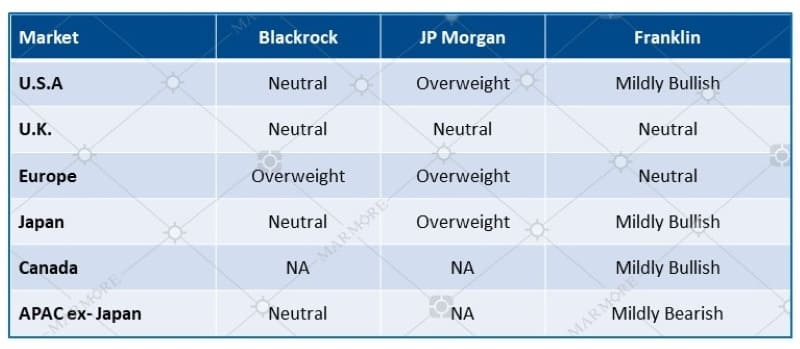 Source: Blackrock, JP Morgan and Franklin
Know more about the performance of GCC and Global markets in November in our recent Global & GCC Capital Markets Review. Read more