Tourism has been one of the focus areas of GCC countries' diversification agenda and aviation sector in the region has been an attendant beneficiary. Closure of borders and travel restrictions were one of the first measures taken by countries around the world to curtail the spread of COVID-19. These measures had brought the aviation industry to standstill.
According to IATA, revenue of airlines in GCC region is expected to decline by 56% in 2020 and while the passenger numbers are expected to drop by 54%. The number of flights in Middle East region had reached their lowest point in April 2020, dropping by 92% relative to early January 2020. As of late July, the number of flights were 70% lower than January 2020, indicating roadblocks in recovery.
Table 1: Estimated Impact for Aviation Sector in GCC countries in 2020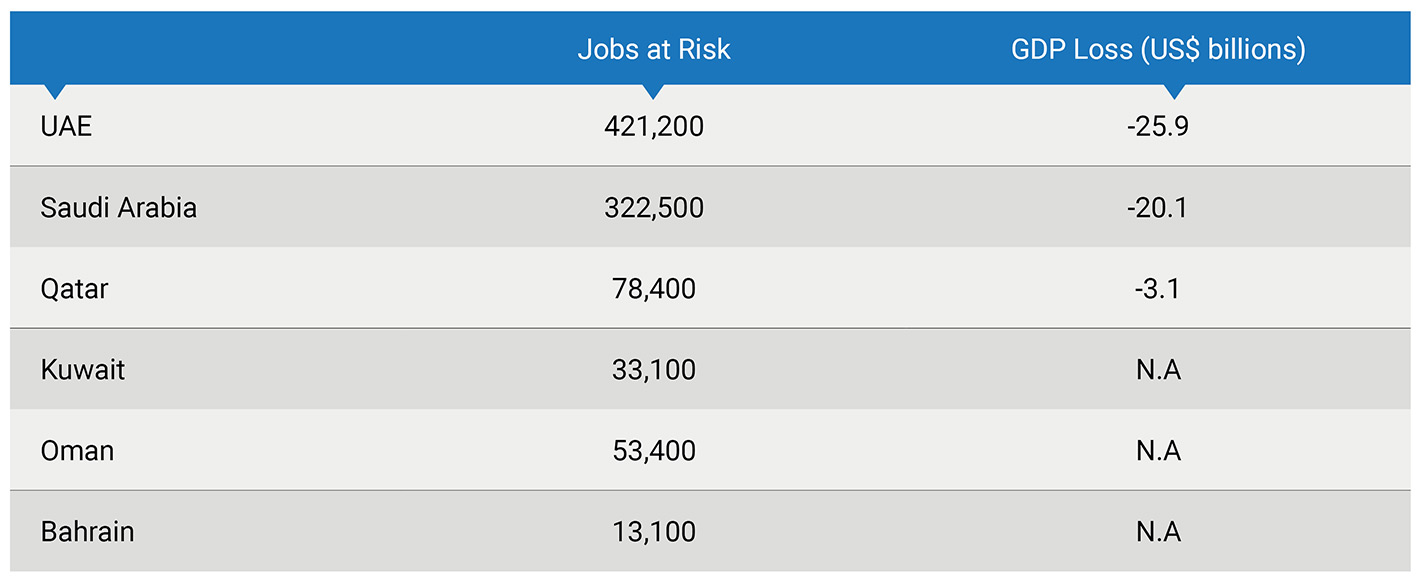 Source: IATA Latest Available Estimates
Table 2: H1 2020 Performance of select airlines in GCC

Note: Public Sources
Did You Know?

Kuwait has the highest reserves among GCC countries, relative to its GDP at 542%.
Saudi Arabia is expected to enjoy the highest credit growth at 5.3% in 2020.
UAE could continue to enjoy surplus trade position in 2020.

Learn more
Persisting travel restrictions particularly in international travel, limited capacity flights, quarantine requirements, hesitation of passengers to travel due to COVID-19 fears would continue to weigh down the industry. The threat of second wave of COVID-19 and subsequent lockdown restrictions remain.
Airlines are resorting to various measures such as reducing workforce numbers, offering unpaid leaves to staff, focusing on cargo transportation etc. to tide over the crisis. For example, Kuwait Airways and Emirates Airlines have trimmed their workforce by 25% and 15% respectively . Etihad Airways is offering COVID-19 insurance for its passengers to boost demand. Government measures to support the industry include capital injection in Qatar Airways and Emirates Airlines by their respective governments and Saudi Arabia's fee waiver for slot-coordinated airports.
Airlines and airports would need to adhere to strict safety procedures that would help restore consumer confidence. Tech enabled processes such as self-service check-in and contactless health screening are likely to become integral part of the check-in process. In parallel, ensuring liquidity through cash preservation and reducing fixed costs are essential for airlines to tide over these tough times.
The article is an excerpt from our "GCC Capital Markets Monthly Review: September 2020" report. Read more