The GCC has seen a number of Real Estate Investment Trusts (REITs) listed in stock exchanges in the past few years. This accelerated after Saudi Arabia's Capital Markets Authority (CMA) approved the listing of REITs in 2016 as a part of the National Transformation Program (NTP) and Saudi Vision 2030. Due to the economic crisis in the wake of the covid-19 pandemic, many of the listed REITs have seen a steep decline in their share prices and market capitalisations. Saudi Arabia's Tadawul REIT Index has fallen 13.5% for 2020 compared to an 18.4% fall for the S&P GCC Composite index. In this article, we examine the impact of Covid-19 on GCC REITs listed on GCC stock exchanges.
Weak Real Estate Sector hits Dubai listed REITs
Dubai real estate market has been oversupplied for many years and hence both prices and rents of apartments, villas and commercial buildings have come down since the peak in 2014 and further deteriorated due to the Covid-19 crisis. According to ValuStrat, sale of apartments and villas declined by 50% (MoM) in April compared to March 2020. This after March 2020 sales was down 42% (YoY) from that of March 2019. While property prices and rents fell by 10% for the first quarter of 2020. The UAE government has also requested property owners to waive rents for commercial and retail tenants who were affected by the lockdown. This has directly impacted REITs listed in Dubai, Emirates REIT and Enbd REIT. Their share prices have fallen by 64% and 28%, respectively for the year till date. The fall has been so drastic that both the Dubai-listed REITs are trading at well below their Net Asset Value. According to their annual reports, Emirates REIT reported a loss of USD 25 million for 2019 and Enbd REIT reported a loss of USD 9.4 million due to the exposure to the UAE real estate market. This indicates that the REITs were in trouble before the Covid-19 crisis hit, which further exacerbated the situation. Both the REITs are also in negotiations with tenants of properties in the portfolio over rent waivers. Both have suspended dividend payments for 2020 due to the weak UAE Real estate market. This has meant that foreign investors have sold both of them in the markets, particularly Emirates REIT leading to its market capitalisation falling to USD 61 million.
Exhibit: Key Financials of Top 5 GCC REITs by Total Assets



Source: Refinitiv; Data as of May 27, 2020.
Saudi Arabia Listed REITs have fared better
Saudi Arabia currently has 16 REITs listed in the Tadawul stock exchanges. Of which, only 2 have seen a fall greater than 20% for 2020. The REIT with the largest market capitalisation, Jadwa REIT Saudi Fund had seen a substantial fall earlier, but has since regained much of the losses and is up 3.4% for the year. This was after an announcement by Jadwa REIT that it was suspending management fees for 2020 and also looking into requests from tenants for temporary rent reductions. Saudi-listed REITs with available data reported profits for 2019 and entered the Covid-19 crisis in a better position than the Dubai-listed REITs. As a result, the fall in stock markets has been less severe but still significant with many trading at close to their 52-week lows.
The Exhibit below compares the current share price of GCC REITs with their 52 Week highs and lows. REITs in Kuwait and other GCC exchanges are not included because they have not been listed in exchanges or traded in the past 52 weeks.
Exhibit: Current Share prices of GCC REITs compared with 52 Week highs and lows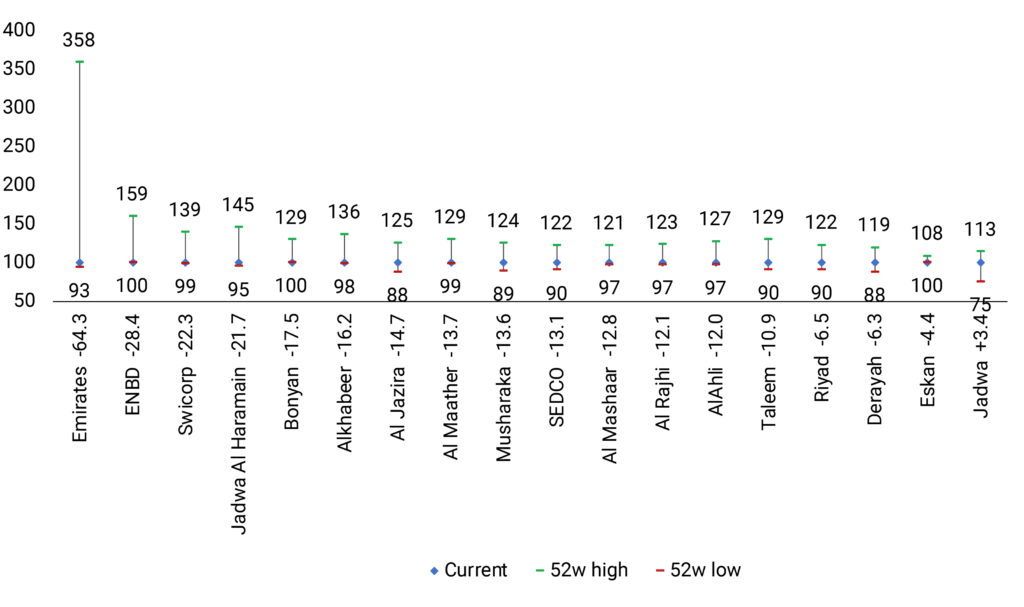 Source: Refinitiv; Data as of May 27, 2020.
Note: Current values rebased to 100. 52 week high and low are shown relative to current price
Year-to-date price performance shown along with X-axis labels
Conclusion
The Real estate industry has been hit hard by the covid-19 crisis which has in turn affected the profitability of REITs. REITs listed in Dubai with exposure to Dubai's real estate sector have been particularly affected. Saudi Arabia listed REITs with better fundamentals like Jadwa REIT have seen interest from investors in recent weeks. However, with the number of Coronavirus cases rising in the GCC, a clear picture can emerge only if the pandemic is controlled to some extent. Until then, GCC REITs are expected to see muted gains.