The aviation industry in UAE contributes roughly 12% to the country's economy, reflecting the country's huge investment in airports and airlines. The aviation industry is a USD 39.4 billion (Dh 145 billion) industry, contributing 28% to Dubai's GDP. The industry provides 250,000 jobs in Dubai and supports 14% of the workforce in UAE. International Air Transport Association (IATA) has predicted that the UAE will be the second fastest growth market for international passenger traffic from 2009 to 2014, second only to China. The UAE aviation is poised to grow dramatically in the coming years with major expansions started and is expected to play a key role in diversifying the economy of the country.
The five major airlines in the UAE aviation market are Emirates Airlines (Dubai), Etihad Airways (Abu Dhabi), Air Arabia (Sharjah), Fly Dubai (Dubai) and RAK Airways (Ras Al Khaimah). The passenger traffic at Dubai International has grown at a CAGR of 13.75% from 15.9 million passengers in 2002 to 57.7 million passengers in 2012, making it the fourth largest airport in the world in terms of international traffic. By 2021, the passenger traffic in Dubai International Airport is expected to reach 100 million.
South Asia has been a huge market for UAE airlines considering the country's favorable geographical position. UAE acts as the connecting point for the west and the east, connecting the Asian countries to Europe and Africa. It is able to connect two thirds of the world population within 8 hours of flying time. UAE has emerged as a favorable tourist destination, which is helped by the political unrest in other MENA countries. UAE has abundant crude oil reserves. This helps in reducing the operating expense leading to cheaper ticket prices. The huge expatriate labor force from South Asian countries like India, Pakistan and Bangladesh who account for 90% of the country's private workforce is the main demand driver for UAE aviation. Also, South Asians account for 58% of the population of UAE. The South Asian markets are attracted by the high quality services provided by Emirates Airlines and Etihad Airways.
Fig 1.1: Expatriate Population in UAE, 2012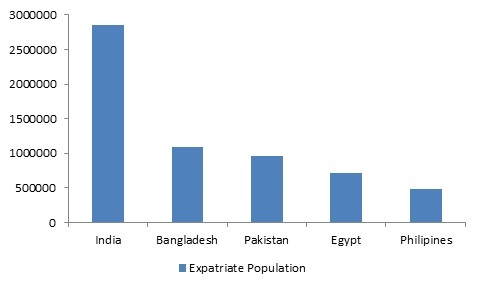 Source: United Nations 2013
India remained Dubai's single largest contributor to passenger traffic, increasing by 7.4% annually to reach 7.34 million passengers in 2012. Delhi and Mumbai were the busiest routes from UAE and India continued to be the top destination with 750,000 passengers out of a total of 6.28 million passengers (March 2014) passing through Dubai airport. India is one of the underserved markets in the world and has vast growth potential in terms of air traffic. UAE has signed an extensive air services agreement (ASA) with the Government of India which will increase the travel opportunities for Indians and increase the number of flights. The Indian Government hiked the number of seats for the India-Dubai route from 18,400 seats in May 2007 to 54,200 seats in March 2010 to facilitate the demand. The cities Dubai and Abu Dhabi share over 100,000 seats every week to and from India and is expected to increase to over 135,000 seats by 2016. According to Civil Aviation Ministry, Dubai also served as a transit point for 2.68 million Indians in 2011.
Fig 1.2: UAE Top 10 country markets in 2011 (Weekly departing seats by airport)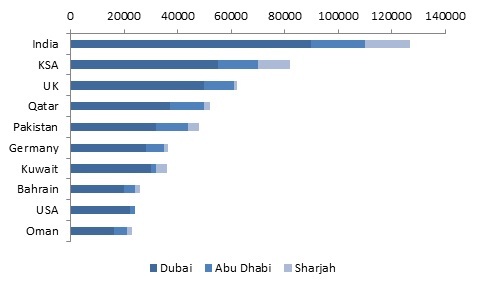 Source: OAG Max online for w/c September 2012
Emirates is the largest international airline carrying Indians overseas and 11% of Emirates global network is deployed in India. Emirates operated 185 flights per week to 10 destinations and 26 million passengers have travelled from 2002-2012. India recorded a high seat factor of 84% in 2012. With more than 800,000 Indian expats in Dubai alone, Emirates garnished a market share of 12.3% of international passenger traffic in 2011. In 2011, Emirates carried 14.4% of India's air freight, and exports to UAE grew by 43.3%.On account of increasing demand due to tourism, Air Arabia is set to announce direct services to Dhaka (Bangladesh), Calicut (India), Peshawar and Lahore (Pakistan) from Ras Al Khaimah. Air Arabia, considering the importance of Nagpur as a growing market, increased the number of flights to four times a week from Nagpur to UAE in 2013. Fly Dubai is launching 10 new flights covering the cities Delhi, Kochi and Trivandrum. With the Government of India permitting overseas carriers to buy stakes up to 49%, new carriers are trying to capitalize on the 1.2 billion population of India. Etihad, the national carrier of UAE, bought 24% stake in Jet Airways to take advantage of the fastest growing market.
Fig 1.3: Emirates Passenger Traffic in India (2002-2011)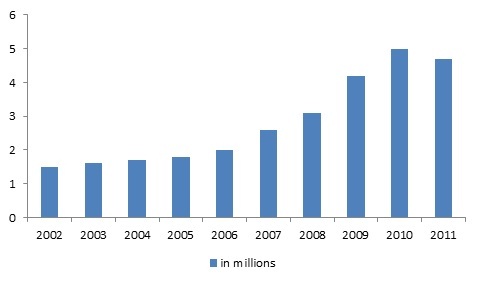 Source: Emirates

Pakistan plays a major role in UAE aviation, which is evident by the growing number of travelers between the countries. Etihad runs daily flights from UAE to Karachi, Islamabad, Lahore and twice a week to Peshawar. Etihad will now offer 37 flights weekly from these four major cities. Emirates offers 39 return flights per week from Pakistan to Dubai including 28 flights from Karachi. In 2009-10 Emirates carried more than 420,000 passengers from Pakistan with a load factor of above 80%. Fly Dubai, a low cost carrier, based out of the UAE started its operations in Pakistan in 2010. With the trade between the two countries crossing 9 billion, increasing Pakistani population in UAE, presently at 0.8 million, and with more than 6,000 Pakistani companies registered in UAE, Pakistan proves a viable market for UAE aviation.
Emirates operates 21 flights a week and with 400 seats per flight from Dhaka, Bangladesh. Migrant workers accounted for 20% of their passengers in 2011. With increasing demand and low quality of domestic airlines, Air Arabia doubled the flights to Dhaka, daily. It operated 12 flights weekly to Dhaka in 2013. Fly Dubai started its daily service from March 2011 connecting Chittagong with Dubai. Air Arabia and Fly Dubai provide low cost carrier service to migrant workers and their relatives and friends who travel from Dhaka to UAE. UAE airlines see good opportunity in Bangladesh with the growing middle class, increasing number of holiday travelers and growth in exports.
Considering the growing economy of South Asian countries, expanding global network, migrating expatriates and high passenger demand, UAE is all set to become the fastest growing aviation market in the world.