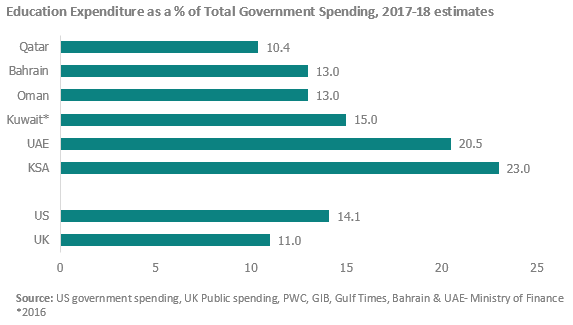 Challenges faced by GCC education industry
Despite the growing government spending on education by gulf countries averaging 15.8% of government expenditure in GCC, the quality of education remain below par to global standards. It is reflected in high level of unemployment among youths with an unemployment rate as high as 27% (World Economic Forum).
While Gulf governments may be eager to prioritize the hiring of nationals particularly in the private sector, a significant gap in skillsets and cultural and structural barriers continue to hinder women's economic inclusion. Women in the Gulf are nearly invisible from workforce in some sectors. Unemployed young women holding higher education indicate an abundance of wealth in human capital that is not being utilized to its full potential. In Saudi Arabia, as much as 80 percent of female job-seekers hold university degrees (Oxford Gulf & Arabian Peninsula Forum). In Qatar even though 60% of graduates are women, they represent less than 37% of the workforce as of 2016.
The shortage of teachers in the region is also the second highest in the world as teaching profession is of less interest to the locals who prefer to work in highly paid public sector jobs. Although region has a lower pupil-teacher ratio of 17 compared to the world average, the countries face challenges in recruiting highly qualified teachers. Growing demand for teachers at international schools in the UAE of at least 14,000 over the next five years and in Saudi Arabia of 183,600 by 2030 will pose further problems. Low availability of highly qualified teacher also result in lower level of knowledge transfer to students, which is clearly visible in poor ranking for GCC countries in skill diversity of graduate category, a component of Competitive index measurement. Effectively addressing these challenges together with tapping into the growth opportunities discussed below highlights the attractiveness of education industry in the region.


Improving the quality of education and increasing institutions offering international curriculum
The GCC governments have been trying to enhance the quality of education through a number of measures like establishing quality assurance authorities, setting up guidelines, and encouraging technology-driven education. The government's commitment to improve the quality of higher education and closing the skill gap between graduates and industry, could open opportunities for more private and foreign universities to come up in GCC.
However, in the past four schools including Oxford English School were closed down by SEC in Qatar as they did not meet the education standards in line with the country's drive to ensure the best learning conditions and levels for students. In addition, few foreign higher education institutions in Qatar and Saudi also had to face a setback due to recruitment challenges and government control in fees structure.
But growing enrollments ratio and government understanding the need of quality private institutions points to much more optimism. Subsequently domestic access to high-quality education will also contain the migration of citizens and expatriates seeking education abroad to an extent. Currently, educational projects worth over USD 50Bn are in different stages of development across GCC nations, with the Saudi Arabia on top of the leaderboard. King Faisal University in Saudi Arabia is the largest project with an estimated value of USD 14.7Bn followed by The Sabah Al-Salem University in Kuwait, worth USD 3.0Bn.The popularity of international schools in the GCC region is also on a rise due to the presence of a large number of expatriates coupled with the desire of the local residents to send their children to institutions offering high-quality education. In 2015, the UAE international schools have generated a revenue of USD 2.5 Bn annually, accounting for 7% of the global tuition fees (The National).
Growing Youth population base and number of Enrollments
The region is experiencing growing base of youth population with people in age group less than 15 years expected to reach 13.5Mn by 2020 representing 23% of the entire population while one third of the population will be below 25 years (United Nations Population Division). The above conditions have translated into enrollment growth across the GCC's education sector, particularly in private enrolments which grew at CAGR of 7% from 2010 to 2015. In 2015, private schools accounted for as much as 70% and 57% of primary and secondary enrolments in UAE and Qatar respectively.
The growth prospects has already attracted significant interest in the education industry investment landscape as the number of announced private equity and M&A transactions has increased to 24 transactions in the period from 2014 to 2016.
Amanat Holdings has acquired a 16 percent stake in the UAE education provider Madaares in 2016, aiming to cash in on the booming sector. Dubai based Gems Education purchased stakes in four academic institutions during 2013-2014. One of the major cross-border deal was the acquisition of National Training Institute in Oman by Babcock International Group of the UK. GEMS Education that runs 88 schools in UAE and abroad, registered a profit of USD 131.5 Mn in 2016, more than doubling the profit from previous year.
Conclusion
Going forward, the rising awareness among parents regarding the importance of quality pre-primary education is going to be the key driver of growth. Saudi Arabia aims to build 1,500 nurseries by 2020 and UAE aims to increase pre-primary gross enrollment ratio to 95% under its Vision 2021. The tertiary segment is another promising segment for which enrolments are forecasted to grow at a CAGR of 5% from 2015-20 to 2.47mn in 2020, with Qatar and UAE expected to grow the fastest at a CAGR of 9% each during the period (GFH). This will subsequently convert into rise in enrollment rates for higher education thus providing huge scope for both private and public institutions.