Kuwait was the best performing GCC market in October, supported by the rise in oil prices. The Boursa Kuwait All Share index registered gains for the eighth consecutive month, gaining 3.5% for the month and extended its yearly gains to 28.2%. Kuwait government had lifted precautionary restriction measures for COVID-19 from Oct 24, with certain conditions.
Kuwait Market Performance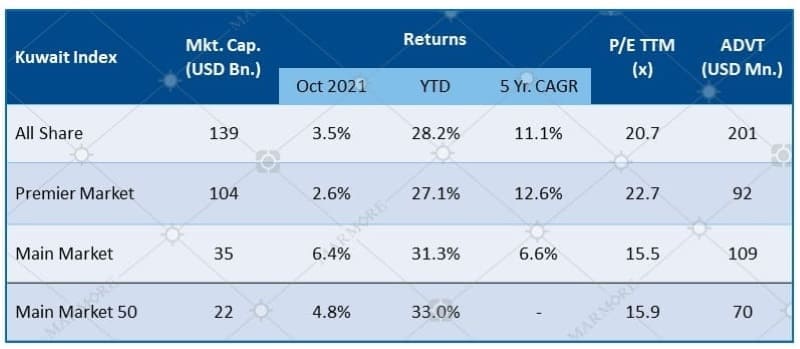 Source: Refinitiv
Among sectors, the Consumer Discretionary was the top gainer, rising 13.1% followed by Financial Services at 9.1%. Utilities sector index registered the biggest decline, falling 1.0% for the month. The banking sector index was up by 2.8% in October.
Sector-wise Performance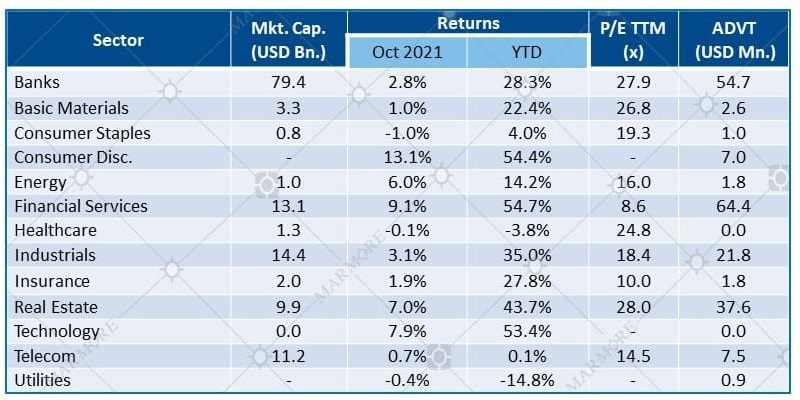 Source: Refinitiv
Among Premier Market stocks, Boursa Kuwait Securities Company and Kuwait Real Estate Company were the top gainers during the month, rising 15.4% and 14.5% respectively. Boursa Kuwait Securities Company extended its yearly gains to 94%.
Premier Market Stocks Performance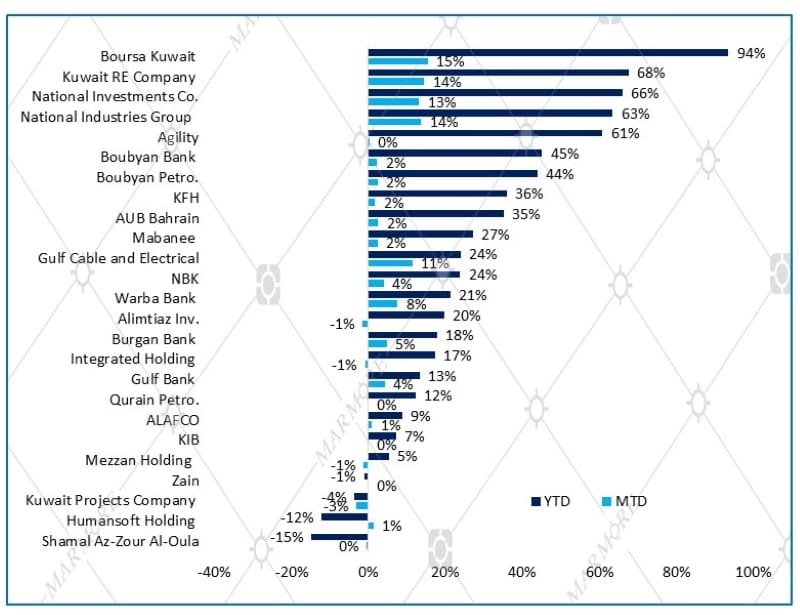 Source: Refinitiv
Inflation in Kuwait is among the highest across GCC countries, primarily driven by soaring prices of food items. According to the IMF's latest estimates in October 2021, Kuwait's average inflation rate for 2021 (y/y change) stood at 3.16%, which is higher than the previous estimate of 2.3% released by the IMF in April 2021.
Central Bank of Kuwait is expected to gradually withdraw the relaxations related to liquidity and the capital adequacy standard for domestic banks. The easing is expected to be implemented in two stages, one at the beginning of 2022 and the other at the beginning of 2023.
Installment loans in Kuwait witnessed an increase during the first eight months of 2021, rising 12.1% in August on a year-on-year basis. The increase was led by the high uptake of housing loans from commercial banks. During the same period, overall private sector credit grew by 3.8%.
Kuwait Finance House and National Bank of Kuwait, the country's leading banks and the largest stocks by market capitalization released their Q3 earnings with 9M 2021 net profits surging 51% and 66% YoY respectively.
Know more about the performance of GCC and Global markets in October in our recent Global & GCC Capital Markets Review. Read more