Kuwait's retail sector is small in absolute terms when compared to regional peers like the UAE or Saudi Arabia. However, Kuwait has one of the highest concentrations of international retailers in the GCC, with the luxury segment proving to be a major draw. The value of Kuwait's retail market was KD 3.5bn or 9.1% of non-oil GDP, as of February 2018 (Oxford Business Group). These figures are expected to grow even further as consumers have shown an increased preference for international brands and shopping experiences. Several factors have led to the success of the retail sector in Kuwait. As of 2018, Kuwait enjoys one of the highest per capita income in the world at USD 34,244 as compared to the global average of USD 11,297 (World Bank 2018 estimates). Moreover, Kuwait has approximately 45% of the population in the 20 to 39 age brackets, and these young consumers have a high inclination towards retail spending in retail malls, and in the purchase of international brands.
Read our latest article: COVID-19 derails traditional Kuwait retailers
Click here
Kuwait Population Split by Nationality (000's)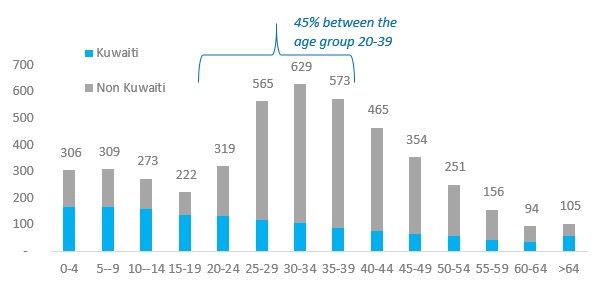 Source: Kuwait Central Statistical Bureau
Kuwait's retail demand remains split between popular community centers, with a focus on food and beverage concepts, as well as larger scale regional shopping centers, which have demonstrated high occupancy rates and stable leasing rates. A new report by the global real estate advisory firm, CBRE indicates that in the second quarter of 2019 there were 702,000 square meters of shopping mall gross leasable area (GLA) in Kuwait, which was categorized as either regional or super regional in scale. The market outlook also reveals buoyant developmental activity across the retail sector with approximately 167,000 square metres of GLA is due between 2020 and 2021. Some of the major retail projects in the pipeline include Tamdeen Development in Al Khairan, Al Manshar renovation, Salhiya Retail Mall in Kuwait City, and a second mall by the Gate Mall Company.
Average mall occupancy levels across existing stock remain strong at 93%, indicating an opportunity for retailer as well as customer-led demand growth moving forward. Regional and super regional retail projects, scheduled to be launched in 2019, are designed to be consistently larger in scale than existing comparable properties with approximately half the operating supply seen to have a GLA of between 10,000 and 40,000 square meters (Zawya). The potential introduction of a 5% value-added tax (VAT) from January 2018 has been delayed until 2021 as higher oil prices have eased pressure on the financials of the Kuwaiti government. The delay in the introduction of VAT has been a welcome relief for retailers and consumers alike.

Rise of Hypermarkets
The penetration of large modern grocery stores in Kuwait have historically remained low, as local players like The Sultan Center and Kuwaiti Union of Cooperative Societies, a government union, still hold the majority of the market share through their stand-alone grocery and convenience stores. Although market penetration of modern supermarkets and hypermarkets remains low in Kuwait at 45%, which is the lowest in the GCC, the situation is changing. Over the years private operators like Lulu and Carrefour are steadily expanding their presence in the country. Revenue generation from supermarkets and hypermarkets is predicted to grow at a strong rate.
With the arrival of hypermarket operators, the industry has started to turn more competitive with increased product offerings at competitive prices, thereby compelling local cooperatives to discount their goods so as to attract consumers. However, competitive pricing and increased product offerings are not the only way these modern supermarket and hypermarket chains are attracting Kuwaiti customers. They are also faster at responding to changing consumer demand. For instance, Kuwaiti supermarket chain Saveco has enjoyed substantial accomplishments, since opening its first store in 2014, targeting locals and mid to high-earning expatriates. Partnering up with global retailers gave the company access to a range of exclusive and health-oriented food products, while its distinctive interior design, has helped to set it apart from local competitors. Moreover, Saveco have also succeeded in engaging effectively with customers online via social media platforms, enabling them to reach a larger customer base.
During the recent period, several large multinational retailers have announced expansion plans in Kuwait.
In March 2018 LG Electronics opened a two-storey premium store in Kuwait City.
2018 also saw some US fast-food restaurant chain Wendy's, ramping up their presence in Kuwait, opening two additional stores in Kuwait International Airport and Al Kout mega-mall.
A host of international brands including NYX Makeup, South Korea's Etude House and H&M Group's Monki, among others, also made their entry into the market in March 2018 with the opening of Phase IV of the USD900m Avenues mall.
Galeries Lafayette, the high-end French department store chain, is set to open a 7500 square metres store in Kuwait City's Assima Mall in 2019.
Kuwait Internet users (% of population)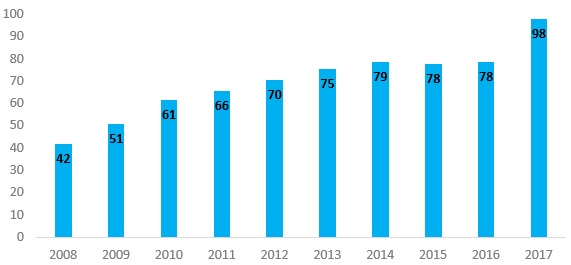 Source: World bank/Kuwait National ICT
The internet penetration in Kuwait is one of the highest in the world at 98% as of 2017. This has helped Kuwait's e-commerce market in expanding rapidly as Kuwaitis and expatriates are shopping online. The value of this subsector was estimated at USD 560Mn in 2014 and is expected to rise to over USD 1bn by the year 2020. There are approximately 2.4mn people actively shopping online in Kuwait, 65% of whom are adults below the age of 40 (Marmore Estimates). Furthermore, Amazon's acquisition of Dubai-based online retailer Souq.com for USD580 million in July 2017 is expected to have a significant impact on the regional retail market. Kuwait is one of the major markets for Souq, and with Amazon reportedly looking for further regional expansion and acquisitions, Kuwait's e-commerce market is likely to become competitive.
Challenges for the Market
Kuwait retail sector remains challenging due to factors like government regulations, import delays, and limitations to the availability of commercial retail and warehousing space. There are very few good opportunities to open new stores and they tend to be very expensive, especially for hypermarkets. Zoning laws in the country are also strict, something which further squeezes the accessibility of retail space. This often impacts smaller firms the most, making it harder for them to increase market share. Moreover, Kuwait has introduced a rather stringent set of rules and policies for its expatriate population so as to address the rising concern among the local population which can have a negative impact on the retail sector. As a step towards Kuwaitization, the social affairs and labour ministry plans to lower expatriate population from 70% in 2018 to 34% by 2025 (Arabian Business – kuwait-considers-reducing-expats-by-15m-in-7-years). Expatriates are increasingly exposed to layoffs, thousands of expatriate contracts being cancelled over the past year. Although there was an increase in total arrivals, the growth was associated with the implementation of new infrastructure and development projects, with the recruitment of blue-collar workers in support of employment figures.
Did You Know? Kuwait has the highest reserves among GCC countries, relative to its GDP at 542%. – Learn more
Outlook
Euromonitor's research reported that Kuwait retail market is set to capitalise on the rise of consumerism due to favourable demographics, a rise in population and a strong growth trajectory in tourism and per capita income. The value of non-store retailing is forecast to increase by 48% in Kuwait between 2018 and 2023. The retail sector in Kuwait will attract considerable attention following the rise in international oil prices after several difficult years. With several supermarkets in the pipeline for 2019, there will be ample opportunity for brick-and-mortar retailers to expand business. Competition from hypermarkets is expected to increase over the years to come as consumers increase demand for foreign brands and lifestyle alternatives. As more and more consumers turn towards online shopping, retailers will need to focus more towards these platforms with increased efforts to integrate them into their customer experience models to avoid losing out on a wide customer base. It is expected that these trends will continue aided by stable macroeconomic fundamentals and government infrastructure programmes towards boosting growth and investment.
This article has also featured in the recently published Monthly Market Review for the month of August. To know more about the developments in the GCC Capital Markets, click the following link: Monthly Market Review (August 2019).