All major Kuwaiti banks reported their financial results for the second quarter of 2021. The Kuwait banking sector reported a healthy growth in net income after taxes for Q2'21 compared to that of Q2'20, mainly due to the reduction in provisions and impairment charges for bad loans that were recorded in the prior quarters due to higher expected credit losses.
Due to historically low interest rates and increased provision for bad debts, profitability of the Kuwait banking sector was impacted negatively, with a 52.8% drop in net profits in 2020. All the banks reported a staggering positive growth with some of them witnessing a 2x increase in earnings in Q2'21 as compared to Q2'20. The banking sector, with a few exceptions, also marked a healthy quarter on quarter growth.
In 2020, a year where the impact of COVID-19 on business was relatively magnified, Kuwait banks in expectations of high credit losses, increased their provisions for bad loans. Not only did these provisions decrease in 2021, with economic recovery, but the banking sector witnessed a growth in operating revenue, operating income and investment income which helped in translating to higher net income.
Kuwait has recently eased on the restrictions with removal of its curfew, resulting in businesses and economy reviving and hitting normalcy again. The Governor of the Kuwait Central Bank cautioned against withdrawing stimulus measures too abruptly as this could lead to borrower's defaults and hinderance to growth in the short-term. With monetary stimulus in place and businesses recovering, the banking sector could see a further growth in operating revenue in the coming quarters.
Kuwait Banks earnings scorecard - Net Income after Taxes (KD million)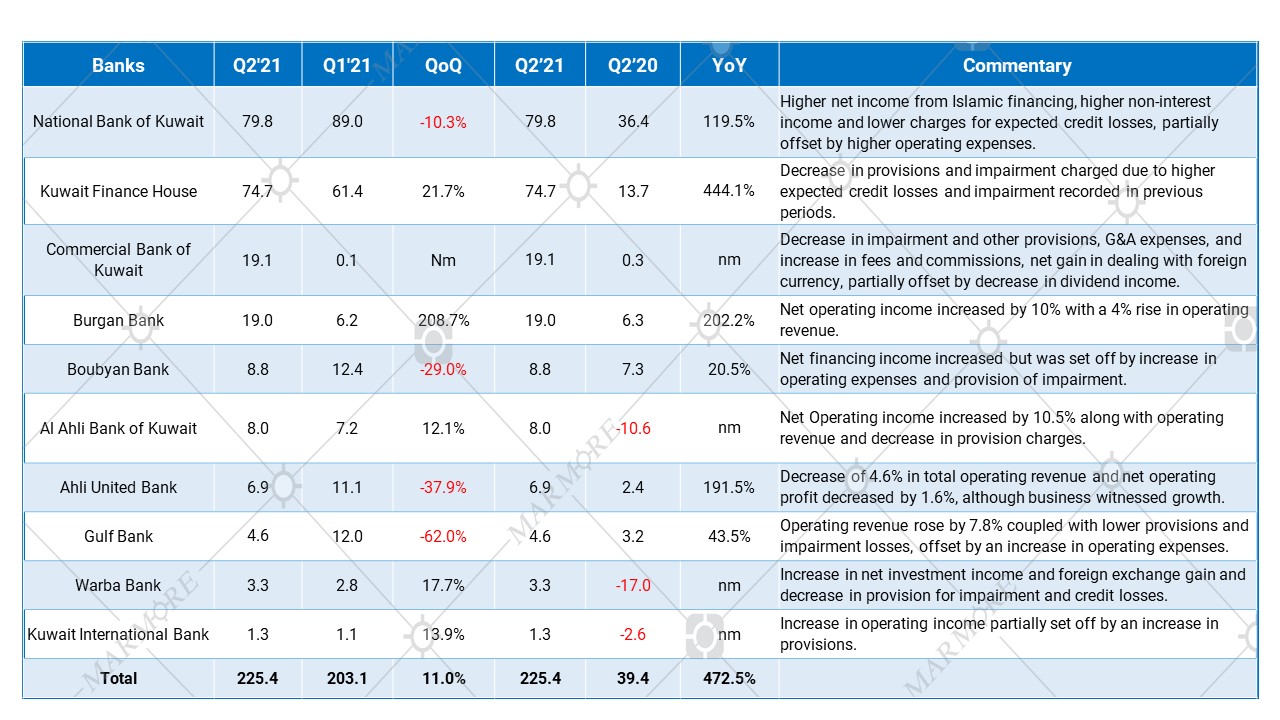 Source: Boursa Kuwait, Refinitiv, Corporate Disclosures
The article is an excerpt from our "Global & GCC Capital Markets Review: August 2021" report. Read more