Kuwait markets ended the year positively, with the recovery in oil prices supporting gains. Kuwait All Share index gained 27.0% in 2021, following a rise of 3.7% in December.
Market Performance & Key Metrics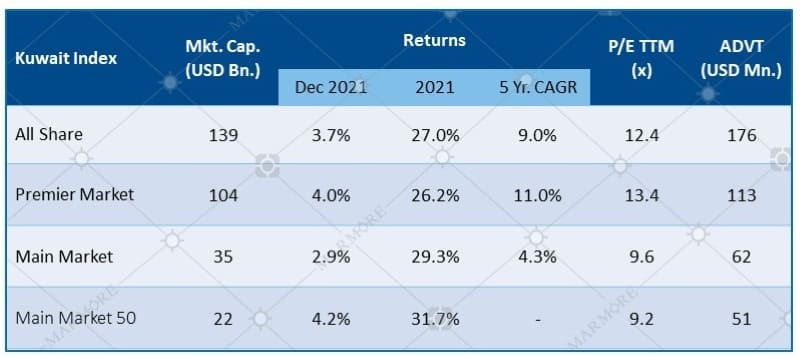 Source: Refinitiv
Among sectors, Boursa Kuwait's Consumer Discretionary sector was the top gainer, rising 9.9% for the month, followed by Financial Services at 5.5%. Technology sector index declined the most, falling 7.8% for the month. Banking sector index was up by 4.2% in December. Kuwait's performance throughout the year has been positive despite concerns pertaining to liquidity after an impasse over the passage of a debt law that allows the state to tap the international debt markets for funding. The sharp recovery in oil prices alleviated these concerns and paved way for the recovery of the economy, which in turn supported the gains in Kuwaiti equities.
Sectoral Performance & Key Metrics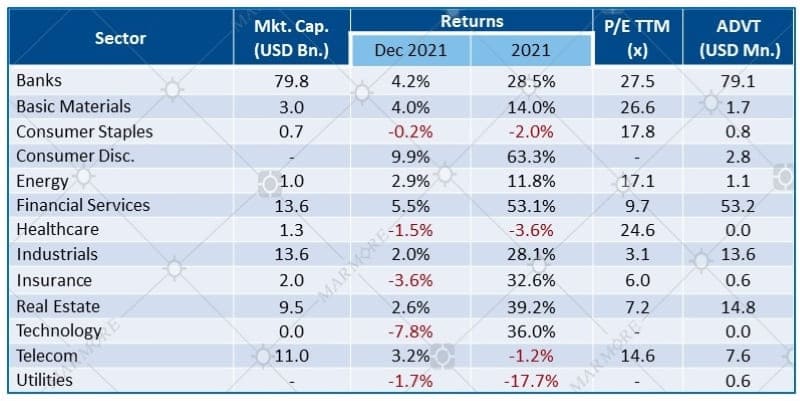 Source: Refinitiv
Kuwait's 9M 2021 corporate earnings indicate that companies are on a path of gradual recovery. However, they have not reached pre-pandemic levels yet in terms of profitability. Banking stocks, which constitutes more than half of Kuwait's listed space by market capitalization, has witnessed their 9M 2021 earnings rebound 72% compared to 9M 2020. However, they are still 16% lower than 9M 2019. Kuwait's real GDP is expected to grow by 4.3% in 2022 supported by higher oil prices during the year according to the IMF. Inflation remains a key worry moving into 2022 due to supply chain shocks and rising global food prices. According to World Bank's lead economist for the Gulf, Kuwait had made least progress among GCC states to reform its wage bill. He has also stated that hiring has increased in recent years with one-third of the Kuwaiti civil service has been recruited in the past five years, making the wage bill unsustainable.
Premier Market Stocks' Performance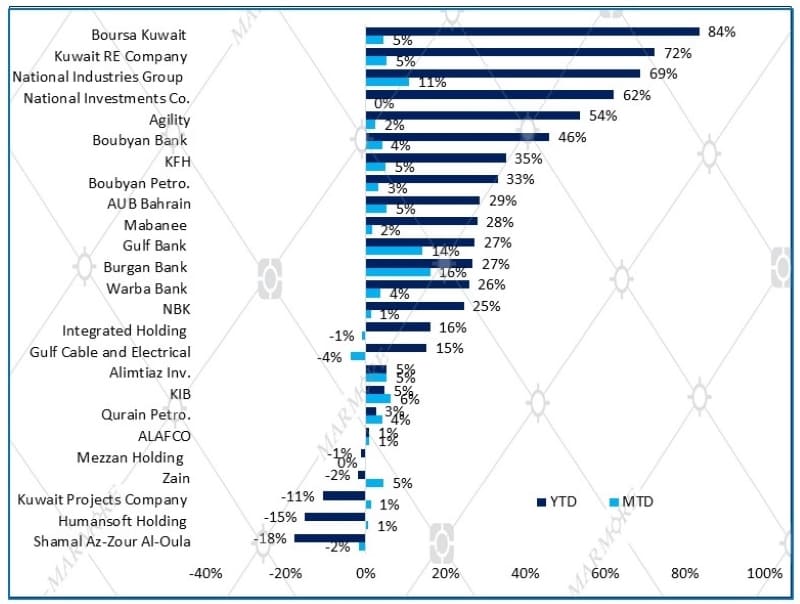 Source: Refinitiv
Among Premier Market stocks, Burgan Bank and Gulf Bank were the top gainers during the month, rising 16.2% and 14.3% respectively. Boursa Kuwait and Kuwait Real Estate Company end the year as the top gainers among Premier Market stocks in 2021.
Know more about the performance of GCC and Global markets in December in our recent Global & GCC Capital Markets Review. Read more