Most cryptocurrencies declined in November on the back of concerns over the new COVID-19 variant, tax-reporting requirement in the U.S infrastructure bill and China's increasing clampdown on cryptocurrencies.
Performance and Key Metrics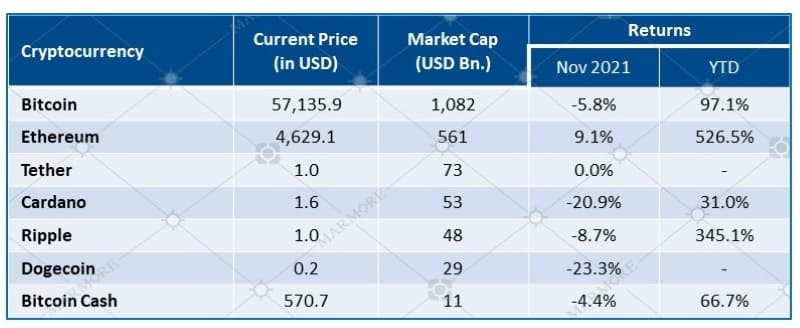 Source: Refinitiv
U.S' USD 1 trillion infrastructure bill includes a provision for brokers to report information on crypto traders transacting an amount of over $10,000 to the Internal Revenue Services (IRS). The lack of clarity in the bill on the term 'broker' raised doubts about the new regulations requiring compliance from market participants such as miners, causing weakness in the crypto markets. However, a bipartisan group of U.S House representatives have introduced a bill that would provide more clarity and would define the term 'broker', such that software developers without the required customer information are not bound by the new provisions.
Block chain ETF Performance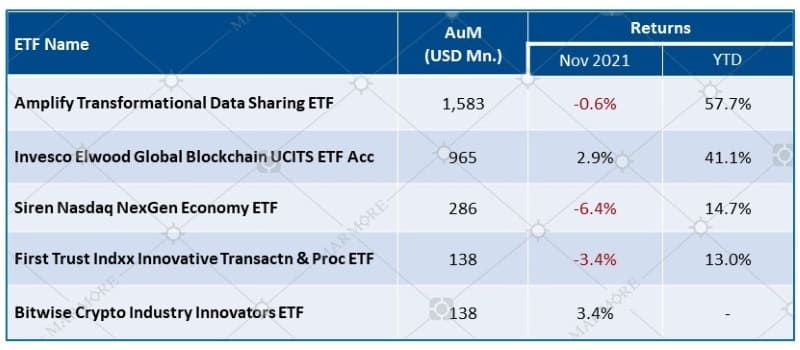 Source: Refinitiv; ETFdb
Total Market Capitalization Distribution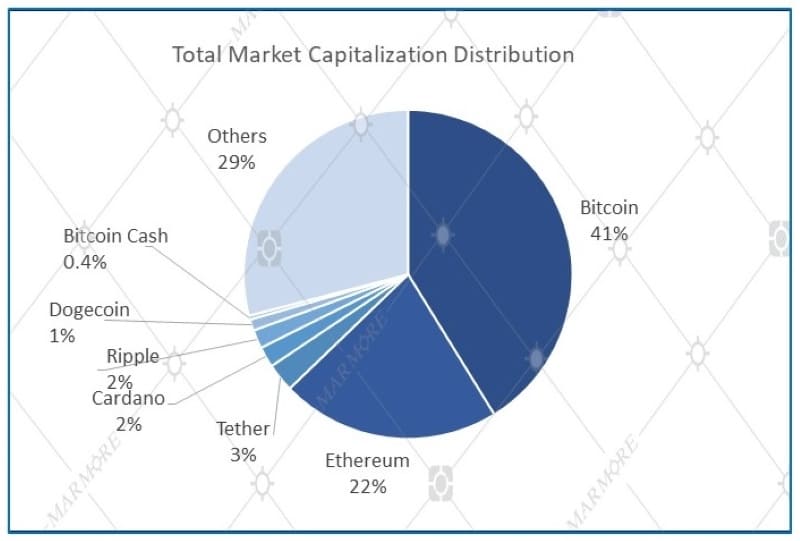 Source: Refinitiv
The digital asset has also been seeing increasing regulatory pressure. China's National Development and Reform Commission plans to crack down on industrial-scale bitcoin mining as well as the involvement of state firms in mining of cryptocurrencies. India would be introducing a bill to regulate cryptocurrencies. The bill would seek to create a facilitative framework for an official digital currency while prohibiting all private cryptocurrencies. IMF has cautioned against El Savador's adoption of cryptocurrency as legal tender given the significant risks that the move poses for consumer protection, financial integrity, and financial stability.
U.S banking regulators intend to clarify in 2022 what role traditional banks can legally play in the cryptocurrency market. This would include holding it on their balance sheets, issuing stablecoins and holding crypto assets and facilitating crypto trading on behalf of customers. Bitcoin's AUM has reportedly fallen by 9.5% to $48.7 billion in November, marking the year's largest month-on-month pullback since July.
Know more about the performance of GCC and Global markets in November in our recent Global & GCC Capital Markets Review. Read more