ESG is no longer driven by altruism. As we can see from the table, ESG index has mostly outperformed its parent index in countries like US, Japan and Canada. These attractive returns are luring investors towards instruments and institutions having higher ESG scores. One reason could be that higher ESG rated companies tend to perform well in the long term on account of better governance and are more sustainable.
ESG Indices - Performance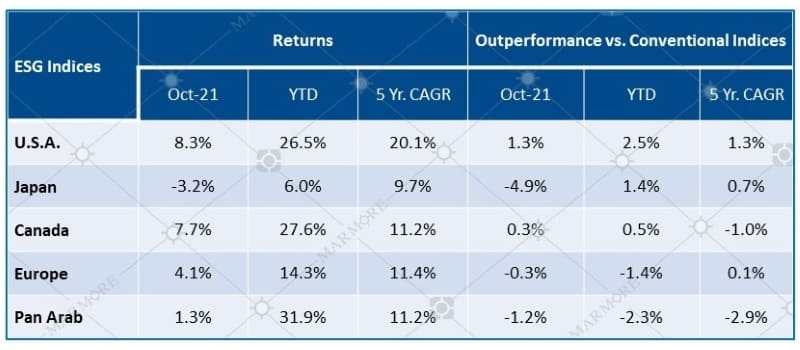 Source: Refinitiv
Not only equities, the issue of sustainable debt and ESG linked bonds have been on the rise. They often have lower interest rates compared to conventional bonds. Countries in GCC, with a view to expand their investor base and take advantage of the low rates, are coming up with ESG frameworks and reporting guidance to improve their scores.
Significant GCC issuances in October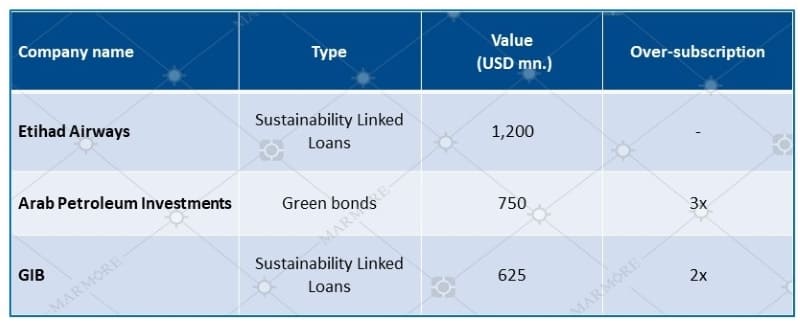 Source: Refinitiv
In the third quarter, Green, social, sustainability and sustainability-linked (GSSS) bond issuance reached USD 217bn and is poised to reach USD 1tn for FY21 (vs USD 614bn issued in 2020) as per a recent Moody's report. Companies look at funding alternatives for their ESG transition plans and banks want to increase their share of impact financing, leading to the recent increase in ESG linked loans.
The 26th UN Climate Change Conference (COP26) commenced on Oct 31st and might provide more clarity on various issues related with ESG. World leaders will try to decide on steeper emission cuts to curb rising temperatures around the world.
Closer to home, Saudi Arabia has recently announced its plans to have net zero emissions by 2060 with Aramco having a goal to reach it a decade early. This has been extensively criticised as they don't include the emissions coming from the customers burning the fuels. Also, the KSA continues to invest in expanding its production capacity.
The oversubscription of loans issued by GIB & Arab petroleum act as a testament to the growing demand for ESG instruments like SLLs (Sustainability Linked Loan). Qatar energy (previously Qatar petroleum) is also said to be working on an ESG framework to sell green bonds.
For more insights, ESG issues in GCC Report ESG in KSA Blog Global & GCC Capital Markets Review Report