Morgan Stanley Capital International (MSCI), the world's largest index provider, reclassified Kuwait to 'Emerging Markets' status from 'Frontier Markets'. The inclusion to the Emerging Market Index took place on Nov. 30, 2020 after market close, while the deletion of Kuwaiti securities from the Frontier Markets 100 index will be phased over five successive index reviews. The implementation was originally slated to take place in May 2020 but was delayed because of the COVID-19 pandemic. Seven Kuwaiti Stocks have been added to the MSCI Emerging Markets Index at an aggregate weight of 0.58%. The list of stocks are listed below:
Exhibit 1: Kuwait Stocks to be included in MSCI Emerging Markets Index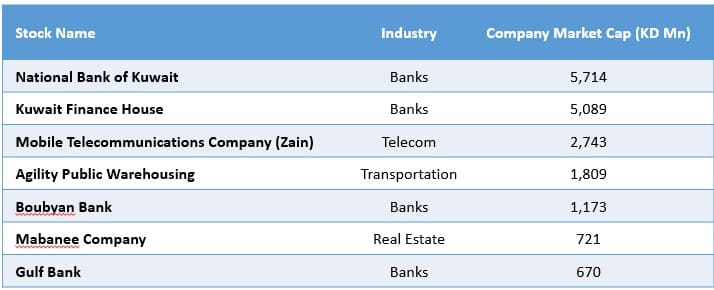 Source: Refinitiv; Data as of November 29, 2020
According to Reuters, the move is expected to bring in at least USD 2billion in passive investment flows into Kuwait equity markets. Assets worth approximately USD 1.8 trillion track the MSCI Emerging Markets (EM) index and such passive investors would be mandated to invest in Kuwaiti stocks based on their weightage. MSCI had granted conditional approval for the inclusion of Kuwait in the EM index as part of MSCI's 2019 Annual Market Classification Review held on June 25, 2019, paving the way for increased participation from foreign investors in Kuwait's capital market and driving significant capital inflows to the country. As a part of the inclusion, Kuwaiti had instituted reforms like removal of foreign ownership restrictions for listed banks, change in the settlement cycle to T+3 for foreign and local investors. etc. As the Kuwaiti capital markets move more towards international standards, the outlook of foreign investors towards the country could also become positive. Greater inflows into the markets and the economy would encourage other domestic companies to list their companies on the stock exchange.
The article is an excerpt from our "Global & GCC Capital Markets Review: November 2020" report. Read more