Oil prices declined steeply in November, marking its largest monthly decline since March 2020. The fall follows the multi-year high prices posted by the commodity in October. Concerns over lower demand on account of new COVID-19 variant, Omicron, and expectation of increase in supply due to release of Strategic Petroleum Reserves by the U.S pressured prices during the month.
Performance of Oil
Source: Refinitiv
U.S plans to release about 50 million barrels of oil from its reserves. China, Japan, India, South Korea and U.K would also be releasing oil from their reserves in coordination with the U.S to contain oil prices and in turn inflation. According to IEA, this would be the fourth such coordinated move since the agency's inception in 1974. European countries have tightened COVID-19 restrictions and imposed lockdowns on account of surge in cases. Identification of new COVID-19 variant in South Africa and concerns over its spread across countries weighed on oil prices. The commodity dropped as much as USD 10/bbl on Nov 27th, its largest daily drop since April 2020.
Oil Demand and Supply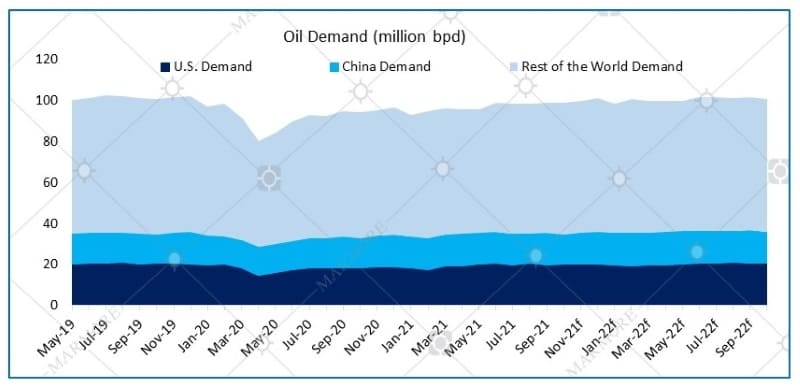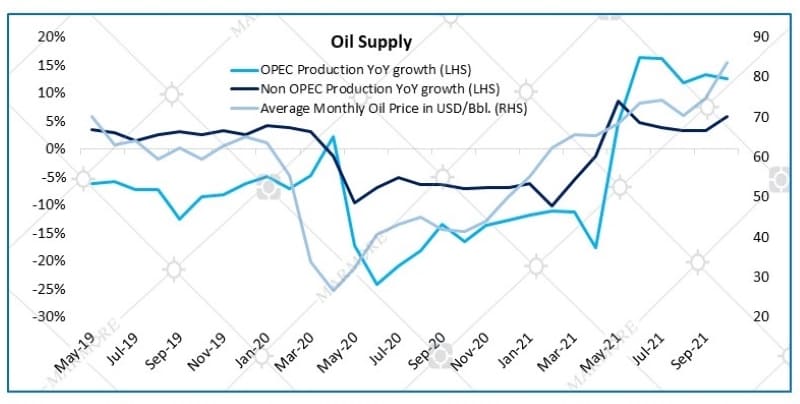 Source: EIA
OPEC has reduced its Q4 2021 demand forecast for oil by 330,000 bpd citing slower economic recovery due to higher energy prices. Morgan Stanley has revised downwards its Q1 2022 oil price forecast from USD 95/bbl to USD 82.5/bbl citing lower demand due to Omicron COVID-19 variant. IEA has revised upwards its average Brent crude oil price assumption for 2022 by USD 2.60/bbl to USD79.40. However, it expects the recent rally in prices to ease off as three-year high price levels seen in October would incentivize global production. EIA expects oil prices to decline in 2022, with Brent crude averaging at USD 66/bbl in December 2022, on account of rising production from OPEC+ and U.S and slowdown in growth in oil demand. Price of Natural Gas declined for the month on increasing production and expectation of a warmer winter. Approval of Nord Stream 2 pipeline which would carry natural gas from Russia to Germany was delayed by German regulator citing non-submission of necessary paperwork. EIA expects U.S natural gas production to reach record high in 2021, with LNG production expected to be at 9.81 bcfd in 2021 and 11.49 bcfd in 2022, up from 6.53 bcfd in 2020.
Know more about the performance of GCC and Global markets in November in our recent Global & GCC Capital Markets Review. Read more