Oil prices in October hovered over their highest since 2014, with demand pressures exceeding supply. Expectation of higher natural gas prices encouraging a switch to oil and continued relaxation of travel restrictions supported prices. Supply is also expected to be tighter with Saudi Arabia's oil minister dismissing calls for a steeper increase in output. IEA expects current energy crunch to boost oil demand by 500,000 bpd. It estimates the resulting supply gap to be at 700,000 bpd until OPEC+ increases supply as planned in January 2022. The White House is set to remove travel restrictions for fully vaccinated foreign nationals from 8th November that is expected to raise the jet fuel demand.
Performance of Oil

Source: Refinitiv
Oil prices closed at a high of USD 84.4 per barrel at the end of the month. The rise in prices for crude oil witnessed a slowdown with positive inventory reports from the American Petroleum Institute, reporting 2.32-million-barrel crude oil stockpiles but bounced back and closed on a high with expectations of OPEC and its allies sticking to their production stance.
OPEC's meeting in October concluded with members maintaining status quo in supply policy, and increasing demand monthly as agreed in the prior meetings, despite pressures from the oil biggest consuming countries. OPEC has also trimmed the outlook for growth in world oil demand to 5.8 million barrels per day in 2021 compared to the earlier forecast of 5.96 million barrels. The U.S. EIA increased their Brent price forecasts to USD 71.38 and USD 71.91 per barrel for 2021 and 2022 from USD 68.1 and USD 66.4 respectively.
Oil Demand and Supply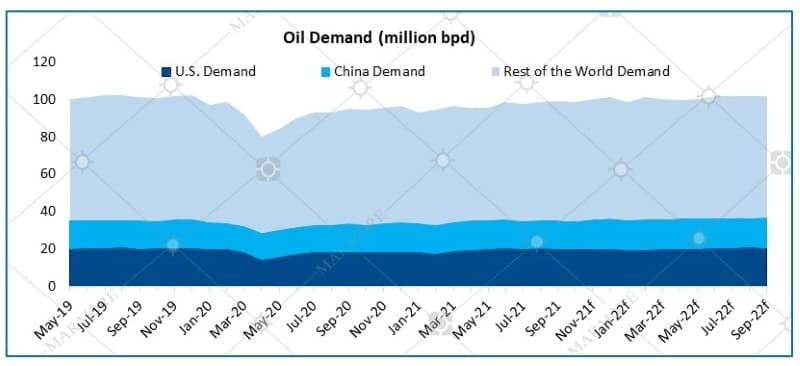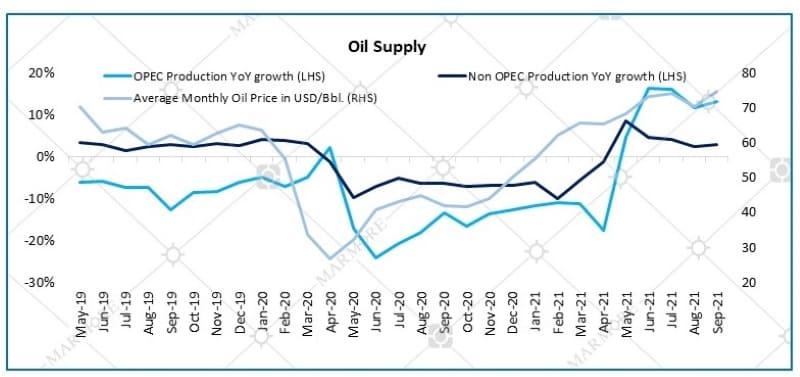 Source: EIA
The World Bank in their semi-annual report highlighted the risk of inflation for developing countries with a rise in oil prices. The World Bank has also increased their forecast for average oil price to $74 from $72 per barrel for 2022. The International Monetary Fund predicts a rise of 5.3% in oil sector in 2021 for exporting countries of Middle east and Central Asia with a rise in oil output by 4.4% in 2022
Know more about the performance of GCC and Global markets in October in our recent Global & GCC Capital Markets Review. Read more