Oil markets were hit hard by Covid-19 pandemic and suffered losses of 21.5% in 2020. US Oil prices even went negative for a brief period in April. However, the markets initially staged a 'relief rally' from the lows in April/May as Oil producing countries together announced cuts in productions. Oil prices then began a period of 'cyclical consolidation' with prices around the USD 40/barrel mark until November. Then began the stage of 'structural repricing' aided by various factors. Vaccine announcements, oil market deficits, continued stimulus and weakness in USD have aided the rally in oil prices to around USD 50/barrel by the end of 2020. As countries continue to open up their economies and administer COVID-19 vaccines, oil prices are expected to rise again and reach period of 'structural repricing' in which prices reach levels of USD 60/barrel and beyond by the end of 2021.
Exhibit 1: Oil Performance since Jan 2020 and outlook for 2021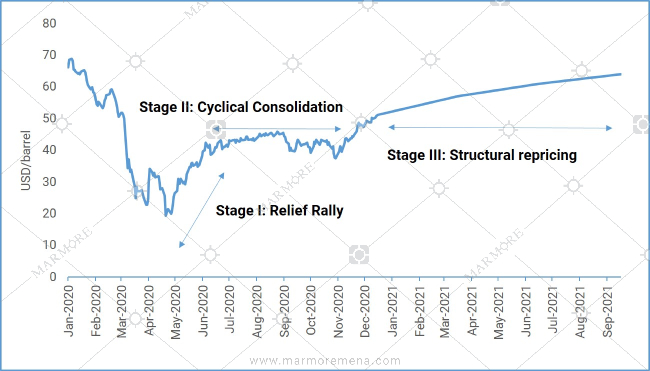 Source: Refinitiv, MUFG Research

Ad: Marmore Research Report
The exhibit below has estimates for Brent crude oil prices given by various banks and institutions for 2021.
Exhibit 2: Oil Price Calls for 2021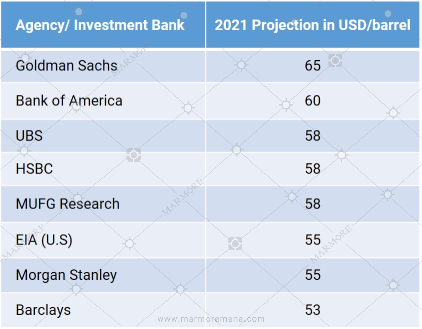 Oil Demand/Supply Projections for 2021
Global consumption of petroleum and liquid fuels will average 92.4 million b/d for all of 2020, which is down by 8.8 million b/d from 2019, before increasing by 5.8 million b/d in 2021. The EIA expects oil demand to fall by 8.8 million barrels per day this year from 2019 levels. Global oil demand will recover more slowly than expected next year mainly because of lower expectations of jet fuel & transportation demand next year. OPEC+ group initially planned to raise production by 2.0 million barrels per day (b/d) in January 2021 but will instead raise production by 0.5 million b/d.
Exhibit 3: Oil Net Deficit/Surplus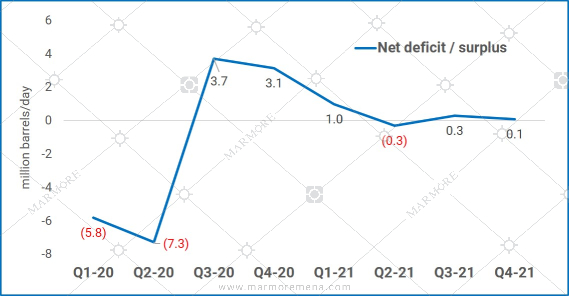 Source: EIA
The article is an excerpt from our "GCC Capital Markets Annual Review: 2020" report. Read more

Ad: Marmore Research Report