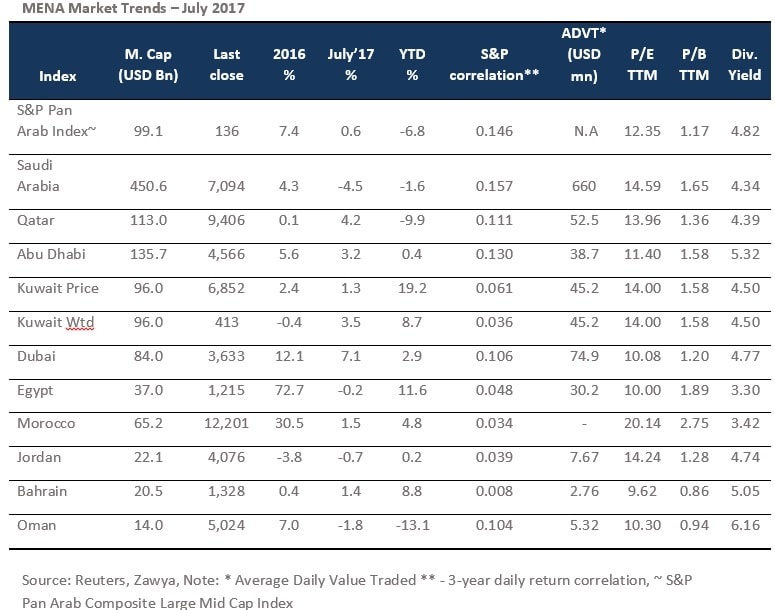 Value traded in July reflected the positive sentiments in the market, with volume traded increasing by 8% while the turnover in the market increased by 10%. All MENA markets, barring Abu Dhabi, Qatar and Egypt, witnessed gain in liquidity. Kuwait and Bahrain bourses evidenced 89% and 52% increase in value traded. The increase in liquidity attributed to the base-effect, especially due to poor trading activity in the previous month of Ramadan. In terms of valuation, P/E of Morocco (20.1x), Saudi Arabia (14.5x), and Kuwait (14x) indices were at premium, while the markets of Bahrain and Dubai trading at 10x and 9.6x were relatively cheap among MENA markets.
Blue chips were mostly positive, except the Blue chips from Saudi, which performed negatively in July. Saudi Arabia's stock market declined on the back of weak second-quarter corporate earnings. KFH (10.8%), DP World (9.9%) and QNB (8.7%) were the top performers. Kuwait Food, Al Rajhi and Saudi Electric Company plunged by 14.3%, 10.5% and 6.5% respectively.
Developments in the Saudi Debt Markets
Issuance of Domestic Debt
Saudi Arabia is emerging as a prominent player in the region for debt issuances and making significant strides in developing the domestic capital market. Last month, Saudi Arabia's government made its first offer of riyal-denominated Islamic bonds to domestic investors. The yields for the domestic issuance were kept in-line with the yields on the USD 9 billion of sukuk issued in the international markets. Aligning the two yields was imperative to create a deep market in tradable government debt, a long-term objective of Saudi Arabia's economic reforms.
Moody's Gets Approval to Rate Saudi's Corporates
Another significant development related to the Saudi's capital market was that of Moody's obtaining a license to operate rating activities in the Kingdom. With the approval of Moody's all three major rating agencies – Fitch, Standard & Poor's and Moody's now operate in Saudi. The granting of approval highlights Saudi Arabia's Capital Markets Authority (CMA) efforts to develop its corporate debt markets.
Oil Market Review
IPE Brent crude gained 9.9% this month, making it the best performing month this year. Several series of events contributed to the rally of the oil price. Saudi Arabia's vow to cut exports in August helped kick off the rally, while a sharp drop in U.S. crude and fuel stockpiles kept the momentum going. OPEC also has announced that some of its prominent members including Saudi and Russia are planning to meet in early August to discuss ways to improve compliance with a deal to limit output.