The Paris Accord, hailed as one of the biggest environmental treaties ever negotiated has now hit a roadblock as the U.S has stated its intention to withdraw from the agreement. In terms of size, the agreement supersedes the Kyoto protocol of 1997 signed by 41 nations that set emission targets for the participating nations. Despite countries meeting the expected target, it failed to make the desired impact as China and U.S, the world's largest emitters of greenhouse gases were not bound by the agreement. Now with the introduction of the Paris Climate Accord, we analyze what it means for the GCC region and their stance on the deal in the aftermath of U.S pullout.
What is the Paris Climate Accord?
The Paris Agreement is a historic breakthrough for world nations with all countries penning down their compliance to the agreement in a bid to combat climate change, which remains as one of the key global issues. Signatory nations are required to take steps to ensure that the Earth's temperature doesn't rise above 2 degree Celsius. The highlight of the deal is that it gives freedom for the ratifying countries to independently decide on their emission targets and the course they wish to take to achieve them. This is in contrast to previous attempts that had common denominator judge individual nations without considering the economic, geographic and cultural differences between them.
The deal primarily hinges on voluntary commitments from signatory countries to reduce the emission of greenhouse gases and aims to bestow economic incentives for developing nations in order to invest in cleaner technology as cost could be a key barrier for them in migrating from conventional sources of energy that are already in place. Despite being a landmark deal in many ways, it fell short in certain areas like having mandatory emission cuts for individual countries and did not enforce any mandatory donations from participating countries to the fund. But the shortcomings were expected as it took several years to shape up a deal that was palatable enough to be agreed upon by all countries worldwide.
Why did U.S pull out?
One of the notable talking points apart from the deal itself was U.S pullout from the agreement under the Trump administration. The U.S, which houses 4.3% of the world's population, is responsible for about 15.5% of the world's total CO2 emissions and the decision to back-out from the agreement has drawn criticism from within and outside the country. Despite the criticism on several fronts, U.S justification towards the move was based on economic reasons as compliance to the agreement would have a direct impact on their manufacturing and fossil fuel industries. It was also stated by the U.S President that the agreement would cost America a sum of USD 3 trillion and deprive Americans of 6.5 million jobs in the industrial and manufacturing sector. This came amidst the support from several U.S and international oil companies such as Royal Dutch Shell, ExxonMobil and BP towards the Paris agreement stating that climate change would be a threat to their business.
Combating climate change in the GCC – Are they on course?
Due to heavy reliance of GCC economies on hydrocarbon revenues, combating climate change and pollution have remained a persistent challenge. Oil drilling, infrastructure development and rapid urbanization have been the primary causes for air pollution in the region. Qatar ranks 1st in the world in terms of CO2 emission per capita and contributes to 0.25% of the world's total CO2 emissions while housing only 0.031% of the world's population. Domestic energy consumption has also been higher in the GCC countries compared to others with Bahrain consuming more than 20,000 KWh of electricity per capita in 2015. Such high levels of consumption puts pressure on energy generation which in turn has negative effects on the environment.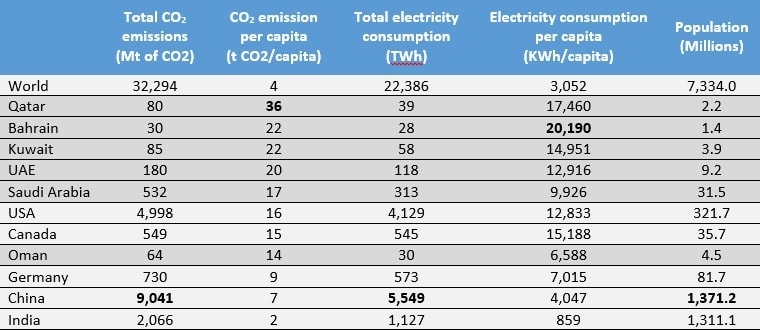 Source: IEA
However, GCC countries are being increasingly aware about the situation at hand and have taken measures to comply with global emission standards. They have incorporated climate change as a key focus area in their future vision plans and have set short and long term renewable energy targets. The move to diversify the source of revenue away from Oil due to the drop in prices is also expected to have environmental benefits as it would mean that emissions could be greatly reduced. Compared to 2014, all GCC countries have improved in terms of diversification of revenues with Qatar having the least share of hydrocarbon revenues as part of total revenues in 2017.
The UAE has been taking substantial steps in addressing the issue of climate change. In 2016, it expanded the role of its environment ministry to encompass climate change and renamed it to the Ministry of Climate Change and Environment thereby signaling it's commitment towards the cause. As per the UAE Energy Strategy 2050, the UAE targets to 27% of its total energy through clean sources by 2021 and 50% by 2050. With ambitious projects such as the 1,177MW Noor Abu Dhabi Solar Plant and the 5,000MW Mohammad Bin Rashid Al Maktoum Solar Park taking shape, UAE's position towards climate change looks evident. Saudi Arabia as part of its Saudi Vision 2030 has been implementing measures to protect the environment which also aligns with its agenda of economic diversification. By 2040, Saudi Arabia has targeted to achieve 30% share of renewables as part of its total energy mix. Other GCC countries have also stepped foot on a similar path to achieve economic diversification in an environmentally sustainable manner.
Which side will GCC lean towards?
All GCC countries have penned down their compliance to the Paris Agreement and submitted their Intended Determined Contributions (INDCs) which outline their mitigation strategies to tackle climate change. However, it is to be seen how things would fare amidst the ongoing diplomatic crisis.
Remaining a part of the Paris Agreement also has economic benefits for GCC countries in addition to the inherent environmental benefits. Putting constraints on the usage of fossil fuels helps in cutting down the supply thereby triggering an increase in price. Due to the exit of U.S, EU-China is expected to take lead in the quest for climate change mitigation. So co-operation with EU-China, who are among the main trade partners of GCC countries, is expected to help them in future relations. Considering all above factors, there is more to gain from the Paris Agreement for GCC countries and it is expected to sway them towards compliance to the deal for the greater good.