Urbanisation and rising disposable income has resulted in many of the younger citizens adopting a "Western Lifestyle" which is characterized by an aversion to exercise and consumption of processed foods leading to increasing instances of diseases such as diabetes, coronary problems and other obesity related illness that were not prevalent in the region previously.
Dubai is gaining popularity as a medical tourism destination due to its low cost, English speaking medical staff and virtually no queues for treatment. According to Marmore's UAE Healthcare report, Medical tourism is a highly profitable business and UAE attracts attention owing to its proximity to Europe and Africa.
Mandatory health insurance was first introduced in the country in Abu Dhabi in 2007 in a pilot project and it was followed by Dubai which introduced mandatory health insurance in 2014. Across the region mandatory health insurance is expected to be a major driver of expansion and investment in the healthcare sector. While the mandatory health insurance in Abu Dhabi is fully implemented, Dubai's mandatory health insurance scheme is expected to be completely rolled out in 2016. There are also talks of similar mandatory insurance programme to be implemented in the Northern Emirates of the country. Insurance has played an important role in attracting the private healthcare providers to the market.
The UAE pharmaceutical market is a relatively well-developed market in the GCC region. According to Marmore's UAE Healthcare report, UAE Pharmaceutical market size is projected to rise from USD 2.4 billion in 2013 to USD 3.7 billion in 2020 at a rate of 5.3% (Source: Click here). The UAE market continues to lure manufacturers and traders to the region and Dubai has experienced a strong growth in pharmaceutical trade. Currently the UAE market is driven primarily by branded medicines, with generic medicine consumption at only about 20 per cent. Since the cost of branded medicines tend to be on the higher side the federal government of UAE introduced price controls in a phased manner since 2011. By seeking to reduce the medical cost inflation the ministry of health has brought down prices of 8,000 drugs since 2011.
Information Technology in healthcare in the UAE remains as one of the most promising as well as challenging growth area. IT infrastructure in the UAE is currently run by independent healthcare systems with little integration among each other. UAE's government is aware of the issue and has initiated few integration programmes in areas such as Data management, Disease screening and Medicine registry.
Healthcare sector in UAE is regulated by a number of different organizations at the federal and the Emirate level. All of these organizations are unified by a central authority, The Ministry of Health (MoH). Insurance in the country is currently regulated by the Ministry of Finance (MoF) while a standalone organization the FHIA (The Federal health Insurance Authority) is being setup.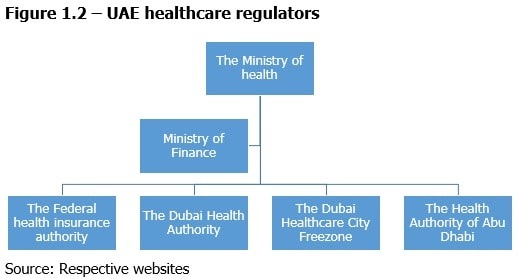 Historically, healthcare in the UAE market has been perceived to be of lower quality than many developed countries. According to Marmore's UAE Healthcare report, UAE nationals typically use these systems for performing initial diagnosis and basic services. For performing major surgery and treating serious disorders, such as cancer, heart and renal diseases expatriates return home while Emirati nationals usually go to the West (Germany, Switzerland and the US). Emiratis have expressed a preference for getting treatment from outside the country.
UAE's healthcare infrastructure has been recognized as on par with international standards driven by the strong push by the government and its business friendly regulations. In the recent years the shift to a market model is evident given the introduction of mandatory health insurance in Abu Dhabi and Dubai. It is also rapidly increasing its efforts to treat its patients inside the country rather than sending them abroad for receiving advanced treatments. In order to deal with future challenges, UAE is also ramping up its investments in IT, supply chain, equipment management etc., While operating in UAE healthcare market is not without its challenges, recent collaborations with international healthcare brands such as Cleveland Clinic and John Hopkins increase the confidence of potential investors entering into the market.