Saudi Arabian Oil Company (Saudi Aramco) raised USD 12 Billion with the help of its first ever-international bond issuance in the month of April. Aramco marketed a U.S. dollar-denominated debt issue split into five tranches with maturities ranging from three to thirty years. The bond received overwhelming demand from investors, as the company recorded orders of over USD 100 Billion. Demand for the bond was the largest ever recorded for any emerging market bond, surpassing order book value of more than USD 52 Billion for Qatar's $12 billion deal in 2018, USD 67 Billion for Saudi Arabia's first international sovereign bond offer in 2016 and USD 69 Billion orders for Argentina's USD 16.5 Billion sovereign bond in 2016 (Reuters).
It displayed a significant vote of confidence from market participants, as the company was able to issue their bonds at a final price that was lower than that of Saudi Arabia' sovereign bond yields. Not only that, but the yield provided by the company at the time of issuance was 20bps lower across all maturities than what had been initially intended.
Did You Know? Saudi Arabia is expected to enjoy the highest credit growth at 5.3% in 2020 – Learn more
Saudi Aramco Bond Yield across maturities (%)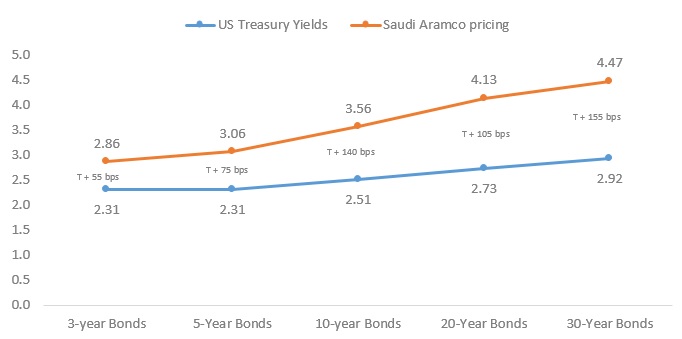 Source: Reuters; Bloomberg (as on April 9th)
Rating agency Fitch has rated Saudi Aramco A+, stating that Saudi Aramco's rating is constrained by that of Saudi Arabia's sovereign rating of A+/Stable. However, on a standalone basis, Fitch has rated Saudi Aramco at AA+. To show case its independence from the government, Aramco's bond prospectus stated the Saudi government would not guarantee Aramco's notes and was under no obligation to extend financial support to the company.
The issue follows Aramco's planned acquisition of SABIC from the Saudi sovereign wealth fund. Earlier in March 2019, Saudi Aramco announced the signing of a share purchase agreement to acquire a 70% majority stake in Saudi Basic Industries Corporation (SABIC) from the Public Investment Fund, in a private transaction for USD 69 Billion. The deal advances Saudi Aramco's integrated refining and petrochemicals business, and provides SABIC with a strategic energy industry shareholder, thereby, expanding the overall growth opportunities.
A key question market participants asked during the course of the bond issuance was the need for Saudi Aramco to raise money from the market when it already has significant cash holding in its balance sheet (USD 48.8 Billion as of Dec 2018). Some industry experts cited the SABIC acquisition as one of the potential reasons for the bond issuance by Aramco (Arab Times). Others see this as a relationship building exercise with international investors ahead of its planned initial public offering aimed at raising money for the government as Saudi Arabia looks to cut its budget deficit and diversify its economy away from hydrocarbons.
On the day of issuance, the bonds did rise modestly in early trading hours, however, Aramco's longest-dated tranche eventually faded and was last trading at 96.5 cents on the dollar, below the issue price of 98.5.