Food Security Index Ranking 2016
| | | | | |
| --- | --- | --- | --- | --- |
| Country | Affordability | Availability | Quality & Safety | Overall Rank |
| US | 3 | 1 | 3 | 1 |
| UK | 11 | 5 | 22 | 8 |
| Qatar | 1 | 43 | 25 | 20 |
| Japan | 23 | 23 | 19 | 22 |
| Oman | 32 | 21 | 25 | 26 |
| Kuwait | 6 | 40 | 34 | 27 |
| UAE | 3 | 49 | 43 | 30 |
| KSA | 27 | 36 | 44 | 32 |
| Bahrain | 20 | 38 | 51 | 33 |
| China | 51 | 32 | 40 | 42 |
| Egypt | 74 | 37 | 58 | 57 |
Source: GFSI
Dependency on imports in GCC
Food security is a perennial issue for the GCC due to the scarcity of arable land and water forcing GCC to rely on import for around 80 percent of its food requirement (The National). Food consumption in the GCC stood at 39 million metric tons (MMT) in 2014 and is expected to rise at a CAGR of 4.5 per cent until 2019 (Wealth Monitor) due to growing population and increase in tourists. These factors will continue to drive the demand for imports in the future. High dependency on imports put forward crucial challenges like fluctuation in global food price and geopolitical rifts for GCC nations to tackle.
GCC Food Imports in USD BN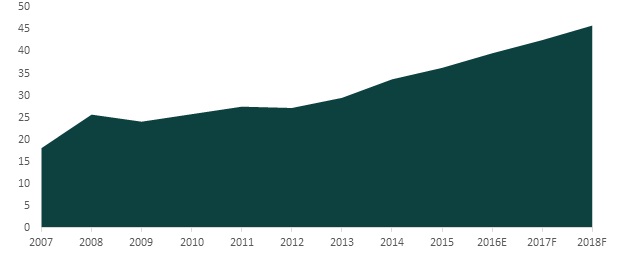 Source: EIU
Exposure to Volatility in Food Price
Risk to global food price fluctuation was already showcased in 2008 when a global food shortage forced many countries to halt exports due to domestic constraints, causing the price of staples to surge almost 59 per cent (Gulf Business) in the region. Government in GCC have previously insulated the consumer from global food price volatility by providing subsidies and fixed price for certain products as the Gulf nations had huge fiscal buffers from oil revenue. But in the current scenario where nation states are facing fiscal deficit due to oil price crisis, it is no longer a viable solution.
Frequent Geopolitical Rifts in the region
The greatest threat to food-importing countries in the region comes from reliance on global trade chokepoints; maritime straits, ports and inland transport networks critical to the global grain trade (Chatham House). 80% of total wheat imports to GCC comes through Suez Canal while same amount of rice is imported through Strait of Hormuz. Over a third of grain imports to the MENA region pass through at least one maritime chokepoint for which there is no alternative route.
The governments have long assumed that agricultural production can be outsourced and domestic demand can be met through investment and acquisitions in neighboring countries. However, the Gulf crisis has shed the light on the reality of chokepoint exposure in the region where a geopolitical crisis can turn into a food security emergency. Qatar that imports roughly 40 percent (BBC) of its food overland through Saudi Arabia, and most of the rest via shipping routes that pass through the UAE ports to refuel revealed such vulnerability.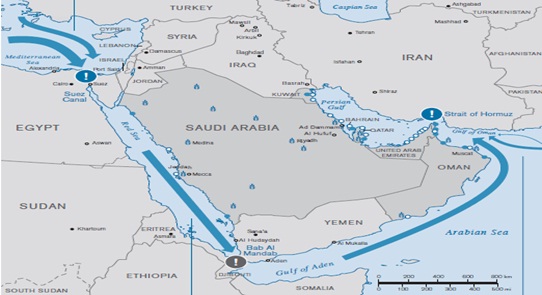 How can GCC attain sustainable food security?
Investments in Farmlands Abroad
GCC nations have previously explored various strategies to protect them from vulnerability to food imports. Investing in foreign farmland is one of the most convenient option. Most of the land investments from GCC are focused towards countries like Sudan, Egypt, Ethiopia, Morocco, Philippines and Indonesia. The UAE and Saudi Arabia are among the top investors in land abroad (Land Matrix).
Gulf countries investment in Ethiopia hit USD 3bn between 2010 and 2015. The Philippines hosts agriculture and farmland investments from all six members of the GCC. Saudi Arabia (imports more than 60% of its annual food supply) has entered into a joint venture with a Filipino company on about 5,000 ha of land. Bahrain, too, currently produces bananas on 1,000 ha of land in the Philippines, and Kuwaiti investors are looking at 400 ha for rice cultivation.
Indonesia hosts investors from the UAE and Qatar, Cambodia from Qatar and Kuwait, Vietnam from Qatar, and Laos from Kuwait. The Kuwaiti government is reported to have offered Cambodia loans totaling USD 546Mn for dams and roads in return for 50,000 ha of farmland, possibly on a 99-year lease, to grow crops. However, getting big projects off the ground in places that lack infrastructure is tricky while Gulf States who fund them have sometimes been accused of being neocolonial.
Expansion of Storage Capacity
Going forward, one of the most viable solution to safeguard supply from volatility in food prices and geopolitical risks would be to significantly boost the warehouse storage capacities. The costs of infrastructure development and storage in this region will be lesser than the cost of increasing domestic production. The government should aim at expanding their storage capacity to at least a year's consumption to ensure a more sustainable management of resources that would contain these risk to an extent.
For example, Saudi Arabia Grains Organization (SAGO) owns and operates silo complexes in major cities around the Kingdom. The organization had total combined wheat storage capacity of 3.2 MMT (equivalent to approximately 10 months of consumption) at the end of 2016 and has signed contracts to build five additional silos that will increase the total storage capacity to 3.7 MMT by the end of 2017 (USDA).
In early 2016, a strategic grain storage terminal called "Etihad Mills" opened within the Fujairah Free Zone to help ensure food security within the UAE. It operates 20 silos and has a total storage capacity of roughly 2.7 TMT.
Recently in 2017, Qatar has also planned to build USD 440Mn strategic food security facilities and warehouses at Hamad Port having capacity of providing stockpile of processed and stored food for 3 million people for two years.
Along with expansion of food storage capacity, GCC government should also focus on simultaneously containing the social expenditures, diversify their economies and broaden their revenue base to lower their exposure from petroleum sector. Thus decent food security ranking may be psychologically satisfying, GCC countries have a challenging road ahead to transform the dream of sustainable food security into reality.