All GCC equity markets ended the month in green as oil prices jumped by 27% for the month after pharmaceutical firms Pfizer, Moderna and AstraZeneca announced favorable news on COVID-19 vaccine development that rose investor hopes of quick recovery.
Kuwait stock markets rose for the month with the Kuwait Main Market index registering a gain of 1.6%. Kuwait All Share index gained of 0.3% while its index PE ratio stood at 20, a premium of 33% compared to S&P GCC index. Market liquidity in November as indicated by the average daily traded value increased by 64% over previous month to USD 323million.
Among Kuwait sectors, we witnessed investors rotating their positions from defensives to cyclicals underpinned by hopes of economic recovery. Oil & Gas was the top gainer, rising 7%, while Consumer Goods index saw the biggest decline, down 5.2% for the month. Among blue chips, Kuwait Finance House gained the most at 2.7%, while Agility Public Warehousing lost 3.5% for the month.
Regionally, the S&P GCC composite index gained 8.2%, with all markets ending the month in positive territory. Both Saudi Arabia (Tadawul) and Dubai equity markets gained 10.6% in November followed by Abu Dhabi and Qatar, which gained 6.5% and 5.9% respectively. All GCC Sectors were in the green with Healthcare index gaining the most at 11.4% for November followed by Basic Materials with a gain of 9.8%. Regionally, the S&P GCC composite index gained 8.2%, with all markets ending the month in positive territory.
The performance of global equity markets was also positive, with the MSCI World Index gaining 12.7% in November. U.S. market (S&P 500) gained 10.8%, the U.K (FTSE 100) markets gained 12.4% and the MSCI Emerging markets index increased by 9.2% for the month as investors were optimistic of investing in riskier assets due to vaccine development and continued monetary easing measures by central banks in the U.S and Europe.
Oil prices closed at USD 47.6 per barrel at the end of November 2020, posting a monthly gain of 27%. Oil markets were buoyed by favorable results in COVID-19 vaccine trials.
The above Market Commentary featured in our latest report - Global & GCC Capital Markets Review: November 2020. A monthly publication that covers the performance of GCC and global stock markets, provides economic commentary and captures the happenings in GCC. Click the link below to download the full report.
Download the report
The month that was: October 2020 Chart bank: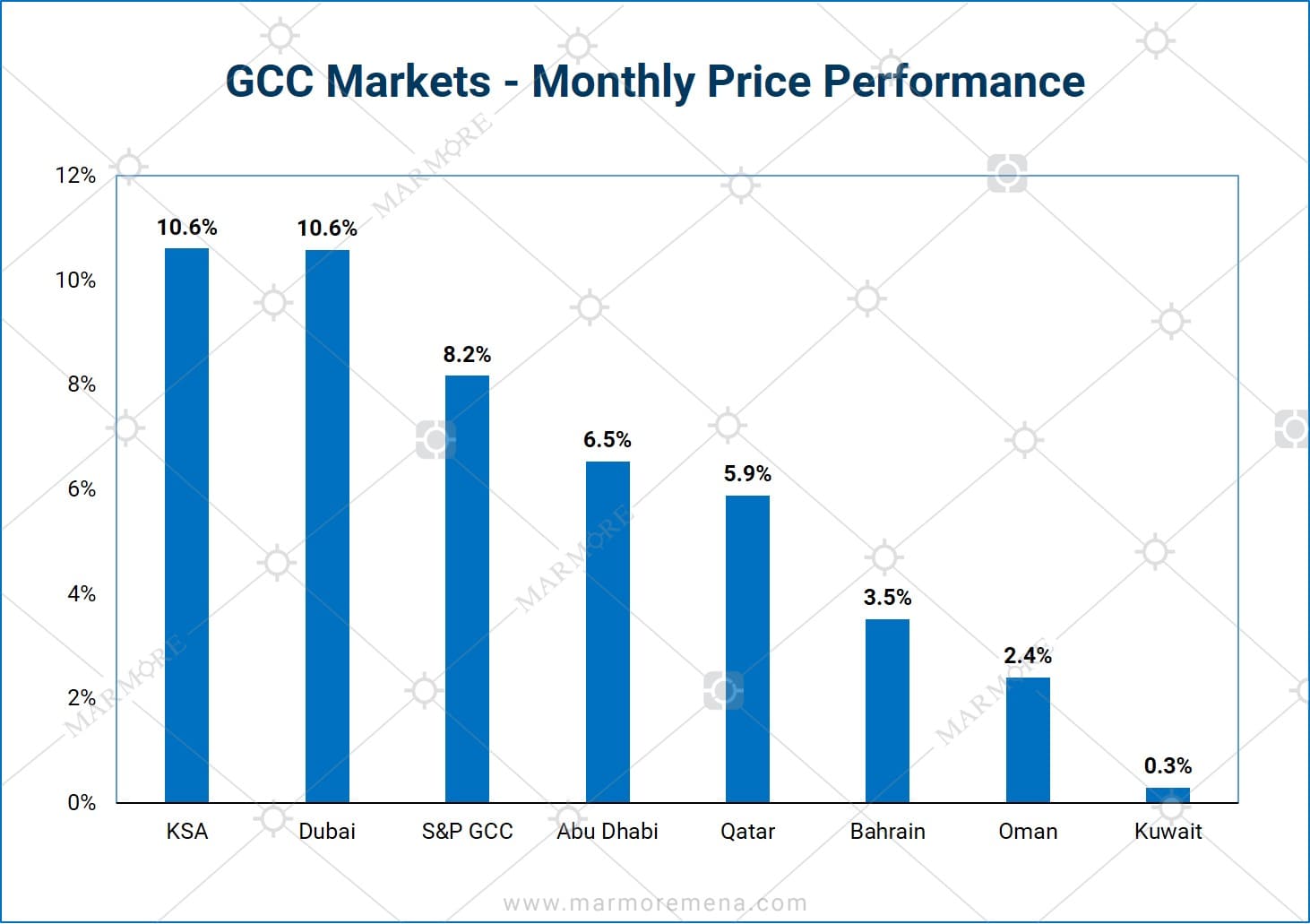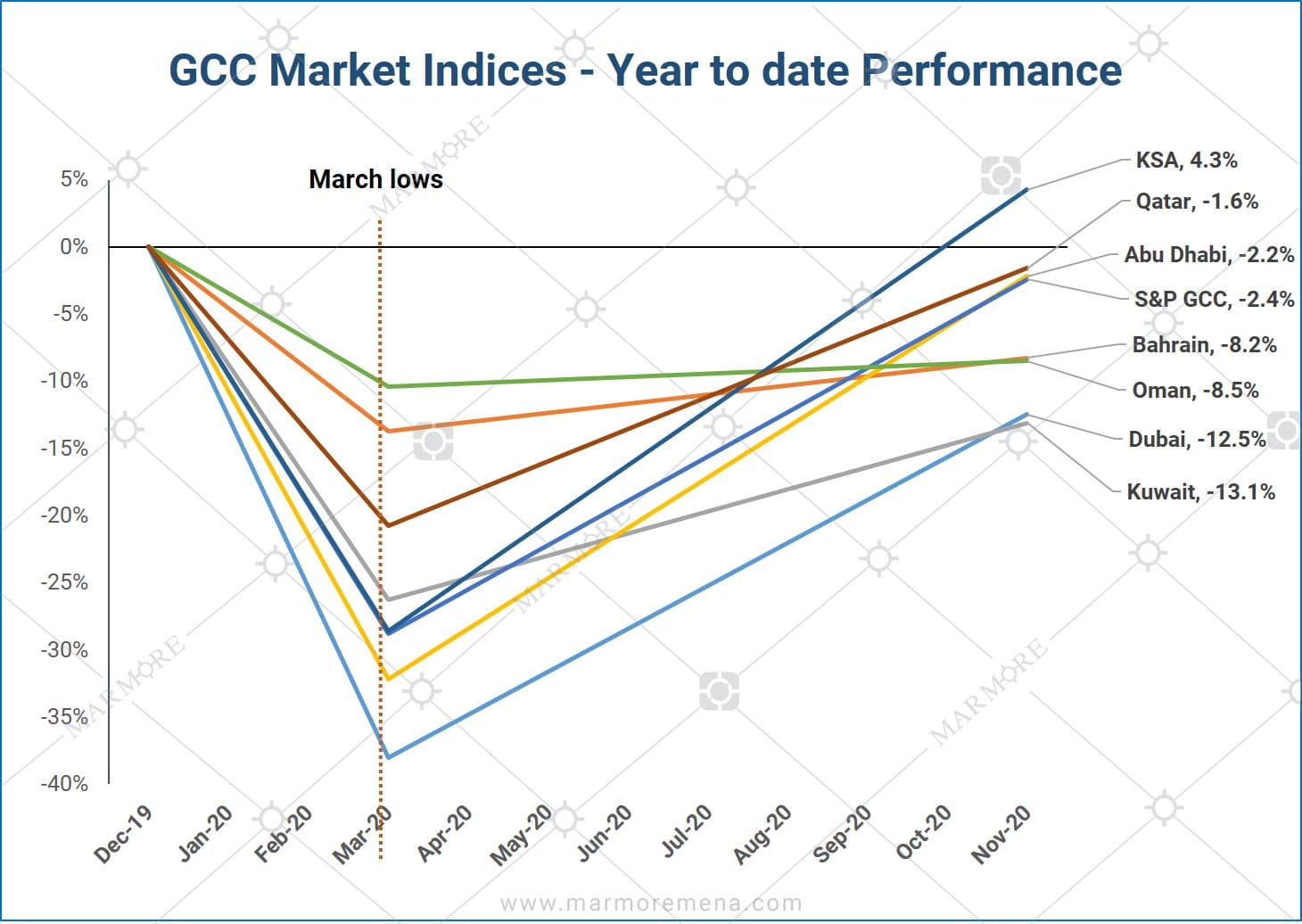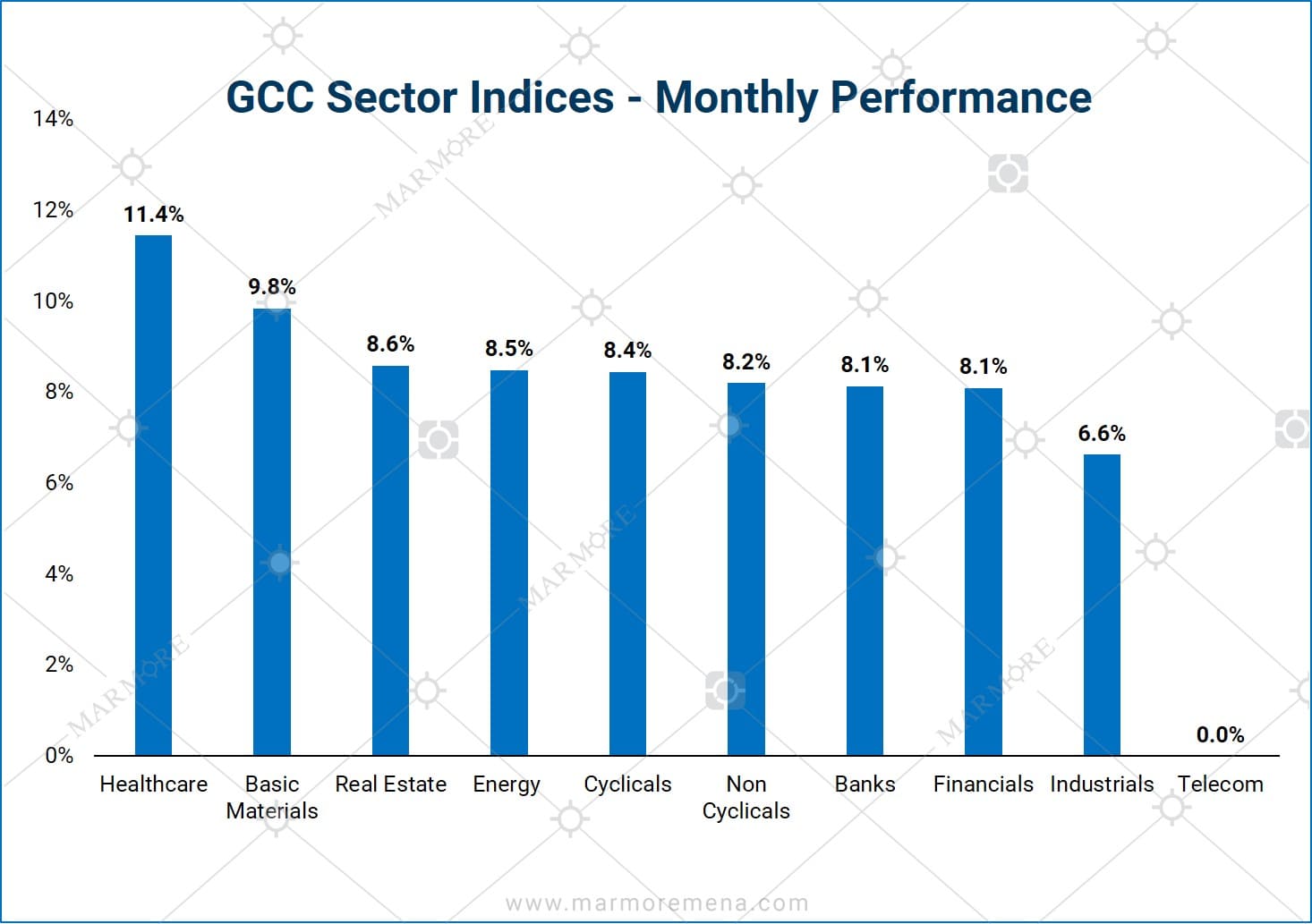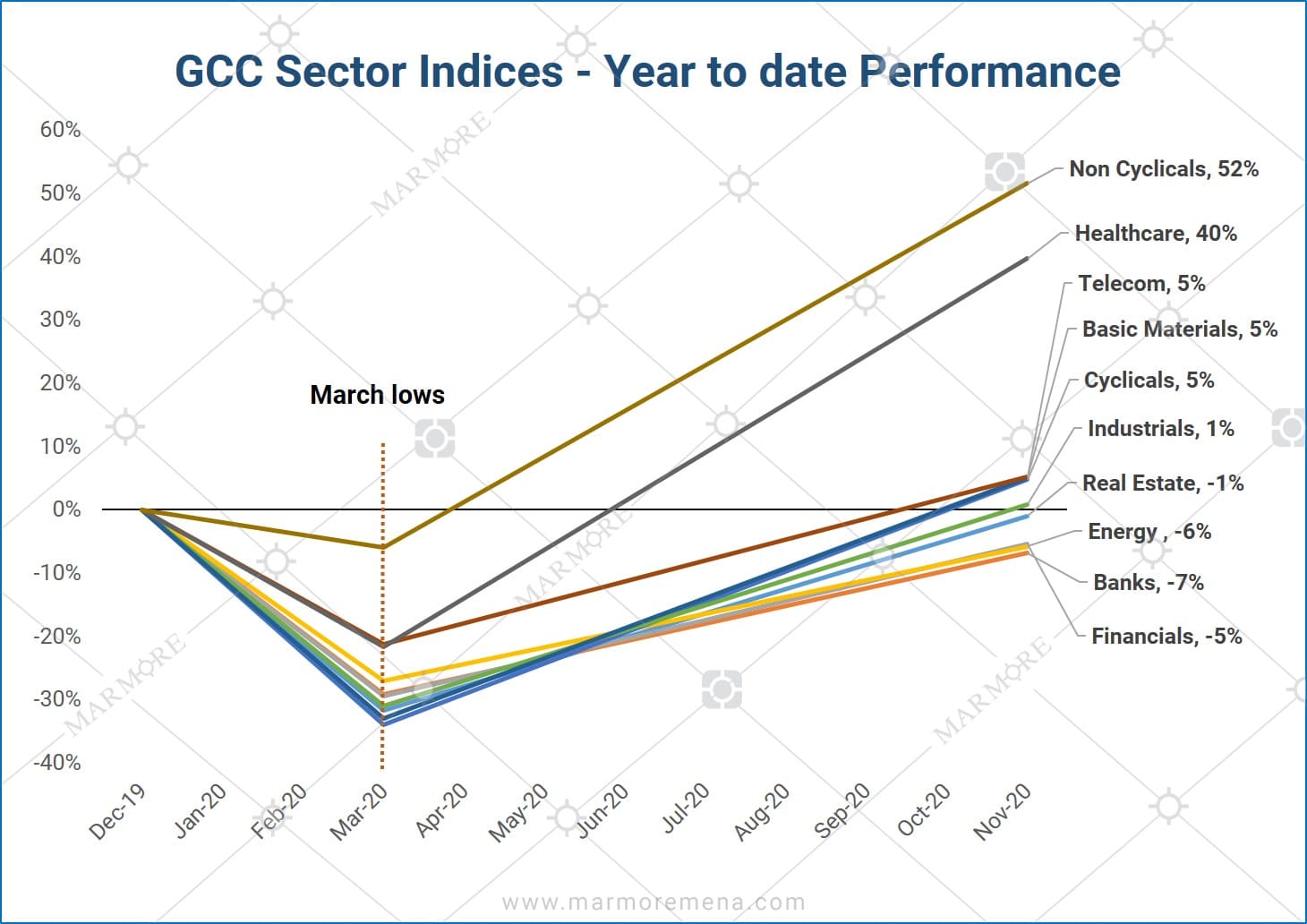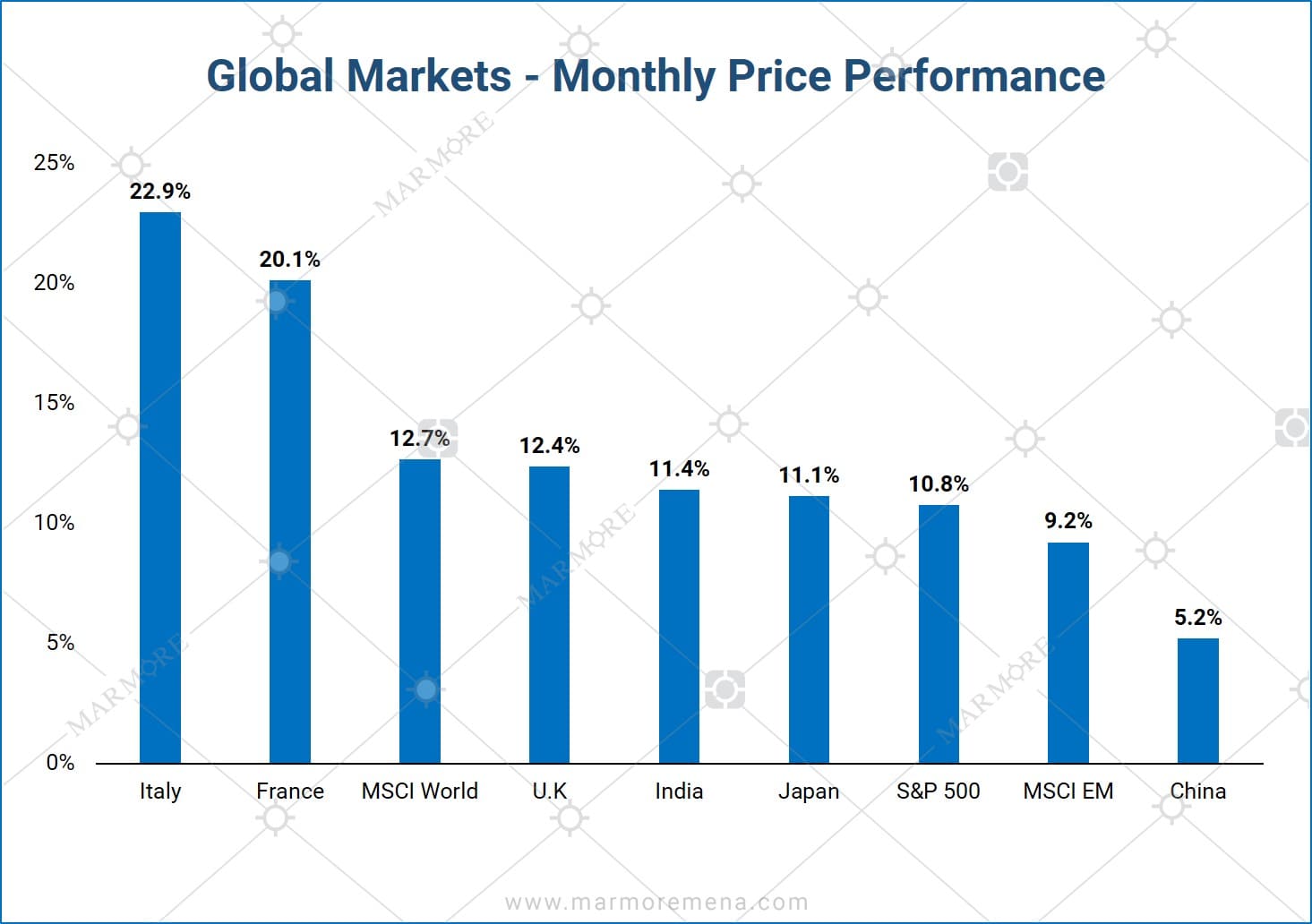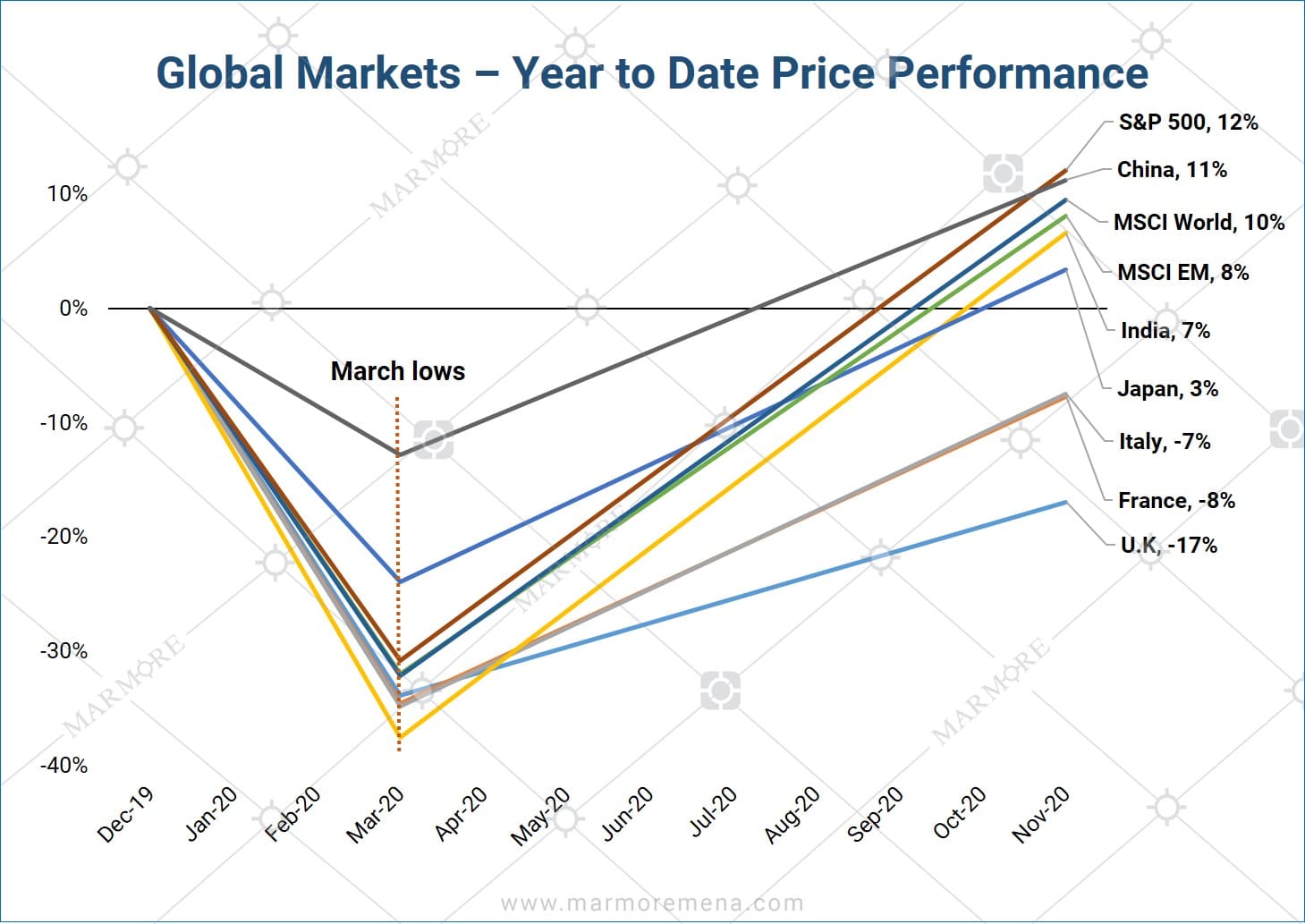 Did You Know?

Kuwait banks have the highest provision coverage among GCC banks, at 230% of NPLs
Saudi Arabia has improved its position the most – surging past 30 countries, in Ease of Doing Business rankings for 2020.
Qatar enjoys the lowest break-even oil price at USD 53/bbl.

Learn more