GCC markets were also down, as evidenced by the S&P GCC composite index, which fell 5.0% for November. Weakness in Oil prices derailed the rally of GCC markets barring the UAE, with the Abu Dhabi (8.7%) and Dubai (7.3%) indices remaining resilient due to reforms announced by the government. Saudi Arabia and Qatar equity indices fell 8.1% and 3.2% respectively, as Saudi markets were affected by the sharp cuts in oil prices.
rn
Market Performance & Key Metricsrn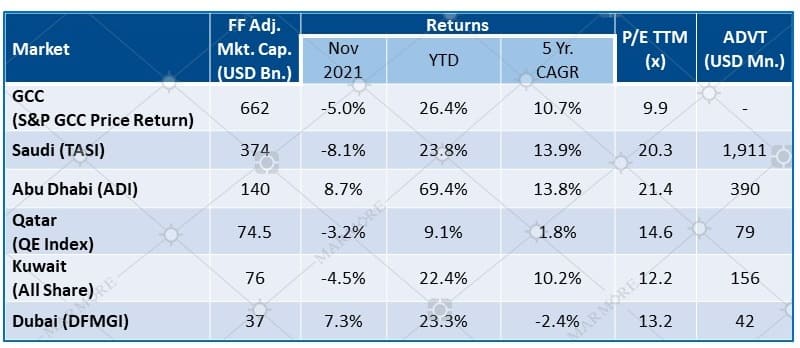 rnSource: Refinitiv; ADVT – Average Daily Value Traded, TTM – Trailing 12 months, FF Adj. Mkt. Cap. – Free Float Adjusted Market Capitalization
rn
Dubai markets remained resilient despite the turbulence in oil markets as investors were enthused by the recent reforms undertaken by the government. Dubai unveiled plans to list utility company DEWA, which would be one among 10 government entities to be listed in the local stock exchange in the coming months. The move was followed by the decision to overhaul the board of the stock exchange.
rn
The Abu Dhabi Index has had one of the greatest performing years with YTD gains amounting to 69%. It has launched a derivatives market, where investors can trade in single equity futures of some of the bourse's companies. The exchange has also proposed a regulatory framework enabling the listing of special-purpose acquisition companies (SPACs).
rn
Performance of S&P GCC Total Return Indexrn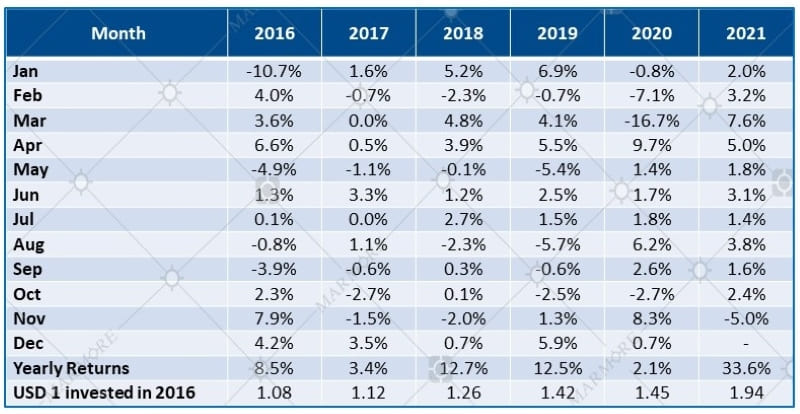 rnSource: Refinitiv
rn
The increase in oil prices during the third quarter enabled KSA to post a small surplus of SAR 6.7 billion in Q3 2021, the first since 2019.
rn
Rating agency Moody's stated that the sovereign creditworthiness of GCC countries is expected to be stable in the upcoming 12 to 18 months due to supportive oil prices and higher production.
rn
Key Economic Forecasts - 2022f (IMF Oct 2021)rn

rnSource: IMF
rn
Among the GCC blue chip companies, the best performer was Emirates Telecommunications (Etisalat), which gained 24.8% during the month, followed by Abu Dhabi National Energy Company, which gained 14.6%. The rally in Etisalat was triggered by the positive Q3 2021 results in terms of revenue and subscriber base, which led to the company revising its guidance upwards for the full-year 2021.
rnrn
Know more about the performance of GCC and Global markets in November in our recent Global & GCC Capital Markets Review. Read more