GCC stocks staged a strong recovery towards the end of the year after seeing a sharp fall in March and April due to oil prices crashing and fears of sharp economic slowdown due to Covid-19. The benchmark S&P GCC Composite index recovered from the lows and ended the year with a fall of just 1.7%.
GCC markets rose in November after pharmaceutical firms Pfizer, Moderna and AstraZeneca announced favorable news on COVID-19 vaccine development. Subsequently, several governments including many GCC countries approved the vaccines. These developments raised investor hopes of a quick recovery in global economic growth in 2021 and helped stock markets recover their losses.
The gains continued in December despite news of a new strain of the coronavirus being detected in the U.K. Saudi Tadawul index and Qatar regained all prior losses during the year and ended 2020 up 3.6% and 0.1%, respectively for the year. Kuwait, Abu Dhabi, Bahrain, Dubai and Oman stocks ended the year with losses of 11.7%, 0.6%, 7.5%, 9.9% and 8.1% respectively.
Among Saudi Blue chips, Al-Rajhi Bank was the biggest gainer in 2020 making gains of 13.3%. Other GCC Blue chips with big yearly gains include UAE's Abu Dhabi National Energy Company (TAQA), which rose 170% this year, Qatar's Ezdan Holding that rose 191%. Among Kuwait premier stocks, Human Soft Holding Company was the top gainer with a yearly gain of 24%.
Exhibit 1: GCC Stock market performance - 2020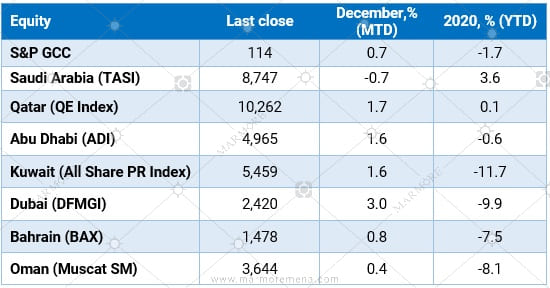 Source: Refinitiv

Ad: Marmore Research Report
Defensive Stocks, Healthcare emerged as big winners in 2020
Defensive stocks in the GCC significantly outperformed the benchmark S&P GCC Composite index by nearly 50% this year. Defensive stocks are those, which perform well during periods of crisis. Their businesses tend to provide products or services that are in demand even during downturns. Examples of such sectors are consumer staples, consumer discretionary and utilities.
Exhibit 2: Performance of GCC Sectors in 2020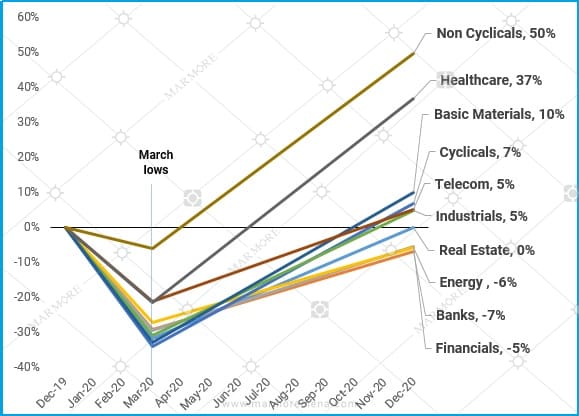 Source: Refinitiv; Data as of December 31, 2020
The GCC Non-Cyclicals index that consists mainly of consumer-oriented stocks, has gained 50% in 2020. The resilient business model and expectations of robust future growth due to increased spending underpinned by growing population are further reasons for the sector's outperformance.
Another index to significantly outperform the benchmark is the GCC Healthcare index that is up 37% in 2020. The pandemic has seen an increased investor focus on the healthcare sector in the near term. GCC Healthcare stocks have benefited from the global rally in pharmaceutical stocks as governments around the world are expected to spend billions on acquiring vaccines in the next few years. This along with increasing hospitalizations due to COVID-19 has seen healthcare and pharma stocks outperform the S&P GCC composite index. The long-term prospects for the sector also look good, as the GCC governments are likely to increase healthcare spending even after the pandemic ends.
Improving Geopolitical situation in the MENA region likely to help in the economic recovery
One of the year's important developments in the political front with economic implications were the Abraham accords which refers to the normalization agreements between Israel and UAE first and then between Israel and Bahrain, both of which was brokered by the U.S. The agreements marked the first normalization of relations between an Arab country and Israel since that of Egypt in 1979 and Jordan in 1994.

Ad: Marmore Research Report
The agreement is expected to strengthen economic ties between the respective nations. Abu Dhabi Investment Office (ADIO) has said that it plans to open a network of foreign offices, beginning with its first one in Tel Aviv, Israel. The areas of possible collaboration between the two countries include advanced technology and R&D across sectors such as agri-tech, biomedicine and advanced manufacturing.
Another important development was the beginning of talks between Qatar and Saudi Arabia towards ending the diplomatic conflict between Qatar and Saudi Arabia, UAE and Bahrain. The talks are being mediated by Kuwait with a major role played by the Foreign Minister Sheikh Ahmed Nasser Al Mohammad Al Sabah. Consequently, Qatar and Dubai stocks rallied in December with Qatar's QE index rising 1.7% and Dubai's DFM general index rising 3%.
The article is an excerpt from our "GCC Capital Markets Annual Review: 2020" report. Read more