S&P GCC composite index rose by 1.5%, with Qatar and Saudi Arabia leading the gainers. Qatar's main index rose 3.5% for the month, while Abu Dhabi ended the month mildly positive. Dubai markets gave up some of the sharp gains witnessed in the month of August, closing 2.0% down for the current month.
Abu Dhabi continues to be the top performer for the year, supported by the rise in oil prices, strong earnings and favourable valuations. Despite the run-up in Abu Dhabi markets, the Price to Earnings multiples remain lower than Saudi markets.
Corporate Earnings in the GCC during H1 2021 have surpassed H1 2019 levels, with commodity related stocks rebounding strongly due to the rise in oil prices in the first half of 2021. Profitability of banking stocks remain under pressure due to higher precautionary provisioning.
The Central Bank of UAE (CBUAE) decided to gradually unwind stimulus measures introduced to mitigate the economic slowdown caused by COVID-19 after its positive assessment of the UAE's financial system. CBUAE will begin the withdrawal of its Targeted Economic Support Scheme (TESS) to avoid restricting credit supply and economic growth.
UAE is looking at potential replacements for EIBOR - the Emirates Interbank Offered Rate, as it tries to catch up with global regulators who have called time on such benchmarks after banks' attempts to rig them.
Saudi Arabia has revised its forecast for FY 2021 budget deficit to 2.7% of GDP from 4.9% and is aiming for a further cut next year.
Unemployment rate among Saudi nationals fell to 11.3%, the lowest in a decade, in Q2 2021 from 11.7% in Q1 2021.
Among the GCC blue chip companies, the best performer was Industries Qatar, which gained 20.2% during the month, followed by UAE's First Abu Dhabi Bank, which gained 4.6%.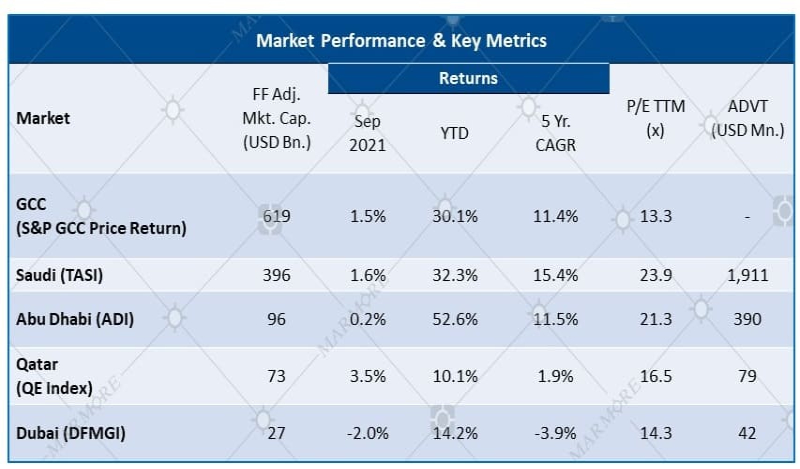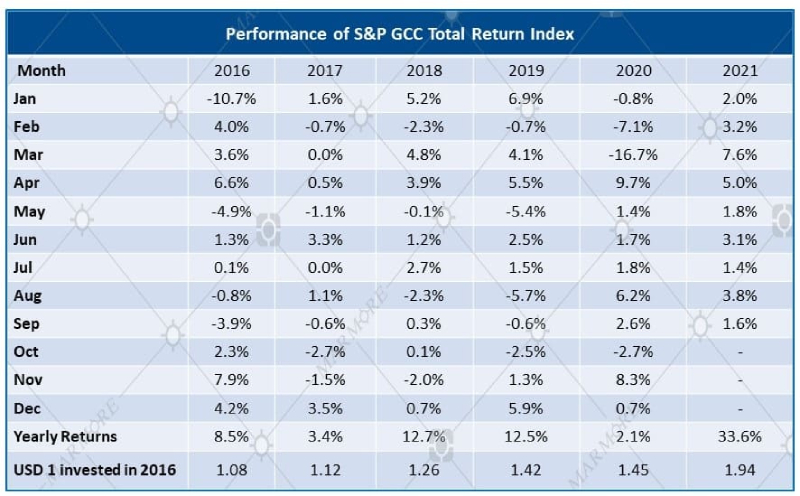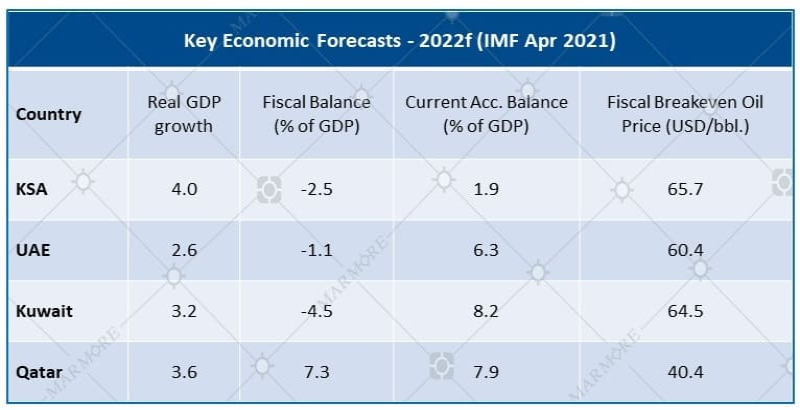 Source: Refinitiv, IMF; ADVT – Average Daily Value Traded, TTM – Trailing 12 months, FF Adj. Mkt. Cap. – Free Float Adjusted Market Capitalization
The article is an excerpt from our "Global & GCC Capital Markets Review: September 2021" report. Read more