August 2020
Pandemic Resistant GCC Stocks
Capital Market Research Report
Pages : 16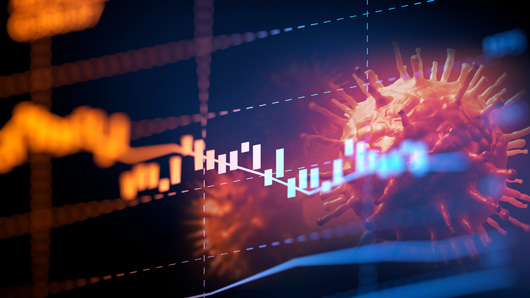 Executive Summary
GCC stocks that thrived despite the COVID-19 pandemic
2020 has been a difficult year for GCC Stock markets and companies
The benchmark index, S&P GCC Composite has lost 15% for the year till date1 despite a recovery in the past two months. In the midst of the pandemic, a minority of GCC Companies have outperformed the index.
They tend to be in sectors considered essential like consumer non-cyclicals (comprises of food and retail businesses), utilities, healthcare, telecom etc.
Many of the companies in these sectors have seen their revenues and net income increase in the first quarter of this year over last year.
How are commodities shaping up during this pandemic?
All of these sectors are driven by consumption and not dependent on the vagaries of the business cycle. In addition, sectors like consumer non-cyclicals cover consumer-oriented businesses like food and retail.
Companies in the utilities and telecom sector also benefited due to their essential nature and many GCC organizations instituting 'working from home' arrangements.
The lockdowns imposed in the GCC have not affected them and have instead resulted in increased revenue in the first half of 2020 for these Companies.
Table of Content
Executive Summary
Consumer non-cyclicals stocks have gained the most
Saudi Arabian companies dominate the list of top 20 companies by gains
Financials, Real estate, Energy companies amongst the biggest losers
Conclusion
Key Questions Addressed in this report
This report can add value to
Customize this report
Why Custom Research?

Research and intelligence to suit your business requirements
Informed decision making

What are Benefits of Customization?

To-the-point, long or short research reports could be requested
Reports are exclusively prepared for you



You Ask We Deliver
Over a decade Marmore has successfully navigated this space of customized research to serve its clients and cater to their unique requirements.
Our customized research support spans sector research, equity and credit investment notes, modelling, valuation, investment screening, periodical etc.
We offer clients with intelligence and insights on unexplored and under-researched areas that help stakeholders take well-informed business and investment decisions.
Our offerings marries the challenges of cost, time, scope & data availability to generate actionable outcomes that are specific to our clients' needs.
FAQ
Who prepared this report?
Experienced and qualified team of Marmore Mena Intelligence has prepared this report. Since its inception, Marmore has published over 1000 research reports and covered more than 25 varied industries and policy segments; all focused primarily on the GCC economies.
Do you have updates?
No. This is a one off report. However, if required, upon specific request we could provide you with an update.
Can I only download certain sections of the report?
No. The report can be downloaded in full length only
Can we ask questions?
Yes, by all means. You can write your queries to us at
enquiry@e-marmore.com
Executive Summary
تحليل أداء الأسهم التي صمدت أمام صدمة جائحة كوفيد - 19 في أسواق الأسهم الخليجية
Key Questions Addressed in this report
This report can add value to