August 2020
Saudi Arabia Banking: Caught in the COVID-19 Grip
Price : $500
Industry Research Report
Pages : 36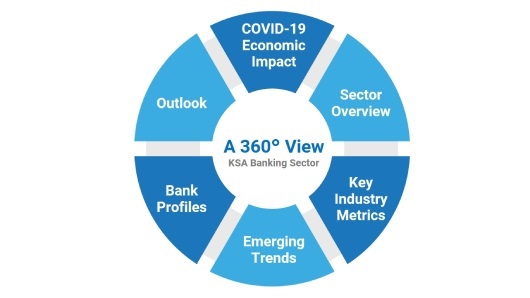 Executive Summary
Falling NIMs to pressurize profits
KSA banking sector report, provides an in-depth analysis of the industry and discusses about the challenges posed by the economic impact of COVID-19. The report discusses key parameters such as credit growth, asset quality, profitability and liquidity, and provides forecasts for 2020 considering the current economic conditions. The report also identifies emerging trends and profiles of listed domestic banks in addition to providing company-level forecasts for 2020 based on Marmore's proprietary research model.
Why purchase the report?
Incorporates COVID-19 Impact: The outlook of banking sector has drastically changed due to the aftermath of COVID-19 outbreak. Our forecasts incorporate the impact of COVID-19.
Extensive Coverage: The report examines the current state of the banking sector, analysis of key banking metrics, profiling of domestic banks and identified the emerging trends. The report also includes forecasts for credit growth, non-performing loans and bank earnings based on our proprietary research model.
Key Data Points: The report covers important aspects of the banking sector in Saudi Arabia, which includes the following:
State of the economy amidst COVID-19
Measures taken by the Government and Central Bank
Overview of Saudi Arabia's banking sector
Credit growth
Asset Quality
Profitability
Digitization trends
Mergers & acquisition trends
Regulatory support for Fintech
Profiles of domestic banks
Did you know?
Saudi Arabia has the second largest banking industry in the GCC region by total assets and accounts for roughly 29% of the GCC's total banking assets.
Credit to manufacturing, commerce and construction sectors have been trending downwards despite accounting for roughly 34% of the banking sector's total credit.
Despite the significant increase in retail lending portfolio, retail NPLs at the end of 2019 were lower than 2018 levels of 0.78%.
The ratio of POS transactions to ATM withdrawals has improved from 36% in March 2019 to 44% in March 2020. The trend is likely to accelerate further in the coming years.
Saudi Arabia's Capital Market Authority (CMA) launched the FinTech Lab initiative to support innovation in the financial market, as well as the development of new products in the FinTech sector.
With COVID-19 holding a firm grip over the global economy, how will Saudi Arabia's banking sector cope up with the new normal? To find out more, buy the full report.
Table of Content
State of the economy amidst COVID-19
Saudi Arabia Banking sector overview
Key Metrics
Emerging Trends in the Banking sector
Outlook
Bank Profiles
Key Questions Addressed in this report
This report can add value to
Customize this report
Why Custom Research?

Research and intelligence to suit your business requirements
Informed decision making

What are Benefits of Customization?

To-the-point, long or short research reports could be requested
Reports are exclusively prepared for you



You Ask We Deliver
Over a decade Marmore has successfully navigated this space of customized research to serve its clients and cater to their unique requirements.
Our customized research support spans sector research, equity and credit investment notes, modelling, valuation, investment screening, periodical etc.
We offer clients with intelligence and insights on unexplored and under-researched areas that help stakeholders take well-informed business and investment decisions.
Our offerings marries the challenges of cost, time, scope & data availability to generate actionable outcomes that are specific to our clients' needs.
FAQ
Who prepared this report?
Experienced and qualified team of Marmore MENA Intelligence has prepared this report. Since its inception, Marmore has published over 1000 research reports and covered more than 25 varied industries and policy segments; all focused primarily on the GCC economies.
How exhaustive is this report?
The report spans 36 pages
Do you have updates?
No. This is a one off report.
Can I only download certain sections of the report?
No. The report can be downloaded in full length only
Can we ask questions?
Yes, by all means. You can write your queries to us at
enquiry@e-marmore.com
Key Questions Addressed in this report
This report can add value to