Stock Market Commentary: As GCC stock markets continue their march, disconnect between economy and market becomes stark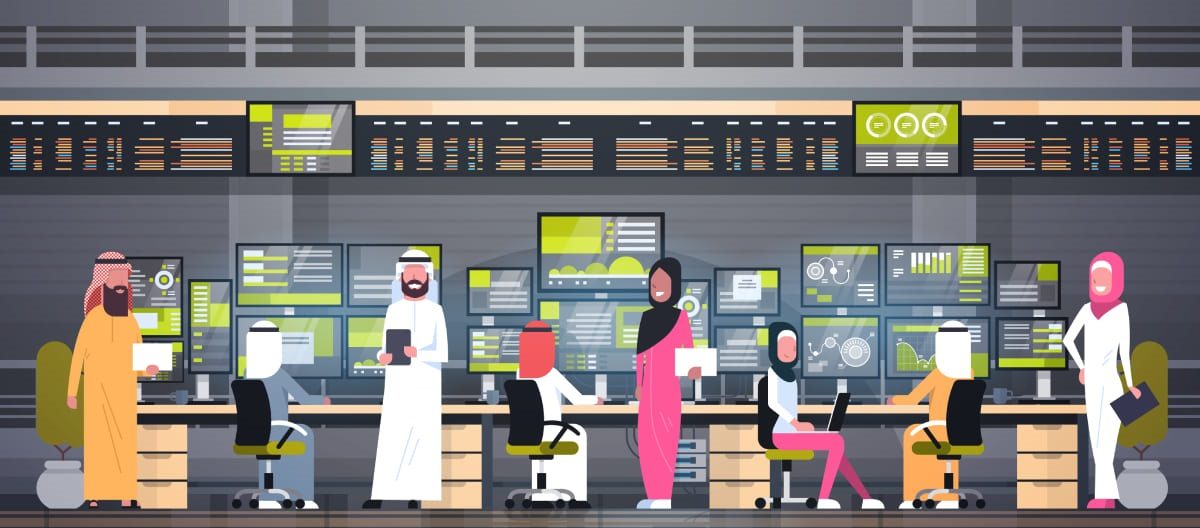 Most GCC equity markets were positive in September, despite concerns of economic recovery amid threat of second wave of COVID-19 and fall in oil prices.
Kuwait markets were positive, with the Kuwait All Share index registering a gain of 2.9% in September. On 29 September 2020, the Kuwait All Share index fell by as much as 3.4% during trading but trimmed the losses to 2.2% at trade close. The fall was due to concerns over the condition of the Emir's health, whose demise was confirmed later in the day. Among Kuwait sectors, insurance was the top gainer, rising 8.3%, while consumer goods index saw the biggest decline, down 3.6% for the month. Among blue chips, Kuwait Finance House (KFH) gained the most at 5.6%, followed by Agility Public Warehousing gaining 5.3%, while Mobile Telecommunications (Zain) lost 2.7% for the month. Kuwait All Share Index's PE ratio was at 13.1 by the end of the month. Market liquidity in September as indicated by the average daily traded value has increased by 44% over previous month to USD 165 million
Regionally, the S&P GCC composite index gained 2.5%, with all markets except Abu Dhabi and Oman ending the month in positive territory. Saudi Arabian equity market gained 4.5% in September followed by Bahrain, which gained 3.9%. Saudi Arabia has partially lifted travel bans since mid-September and plans to scrap all travel restrictions for citizens on January 1, 2021. The country's economy contracted by 7% in Q2 2020, with the non-oil sector contracting by 8.2% and oil sector contracting by 5.3%.
Among the GCC Blue Chip companies, Ezdan Holding (Qatar) increased by 38.4% in September. FTSE Russell has upgraded the company from its midcap index to large cap index. Abu Dhabi National Energy Company (UAE) decreased by 6.1% in September.
The performance of global equity markets was negative, with the MSCI World Index losing 3.6% in September, on the back of concerns over economic recovery due to threat of second wave of COVID-19 and fading stimulus measures. U.S. (S&P 500) declined by 3.9% in September, led by losses in tech stocks. The UK (FTSE 100) markets lost 1.6% for the month. Eurozone economies have renewed some lockdown restrictions due to spike in COVID-19 cases. Emerging markets decreased by 1.8% for the month.
Oil prices closed at USD 41.0 per barrel at the end of September 2020, posting a monthly loss of 9.6%. Persisting COVID-19 fears, renewal of some lockdown restrictions in the Eurozone and expectation of lower oil imports by China have led to fall in prices.
The above Market Commentary featured in our latest report – GCC Capital Markets Monthly Review: September 2020. A monthly publication that covers the performance of GCC and global stock markets, provides economic commentary and captures the happenings in GCC. Click the link below to download the full report.
The month that was: August 2020 Chart bank: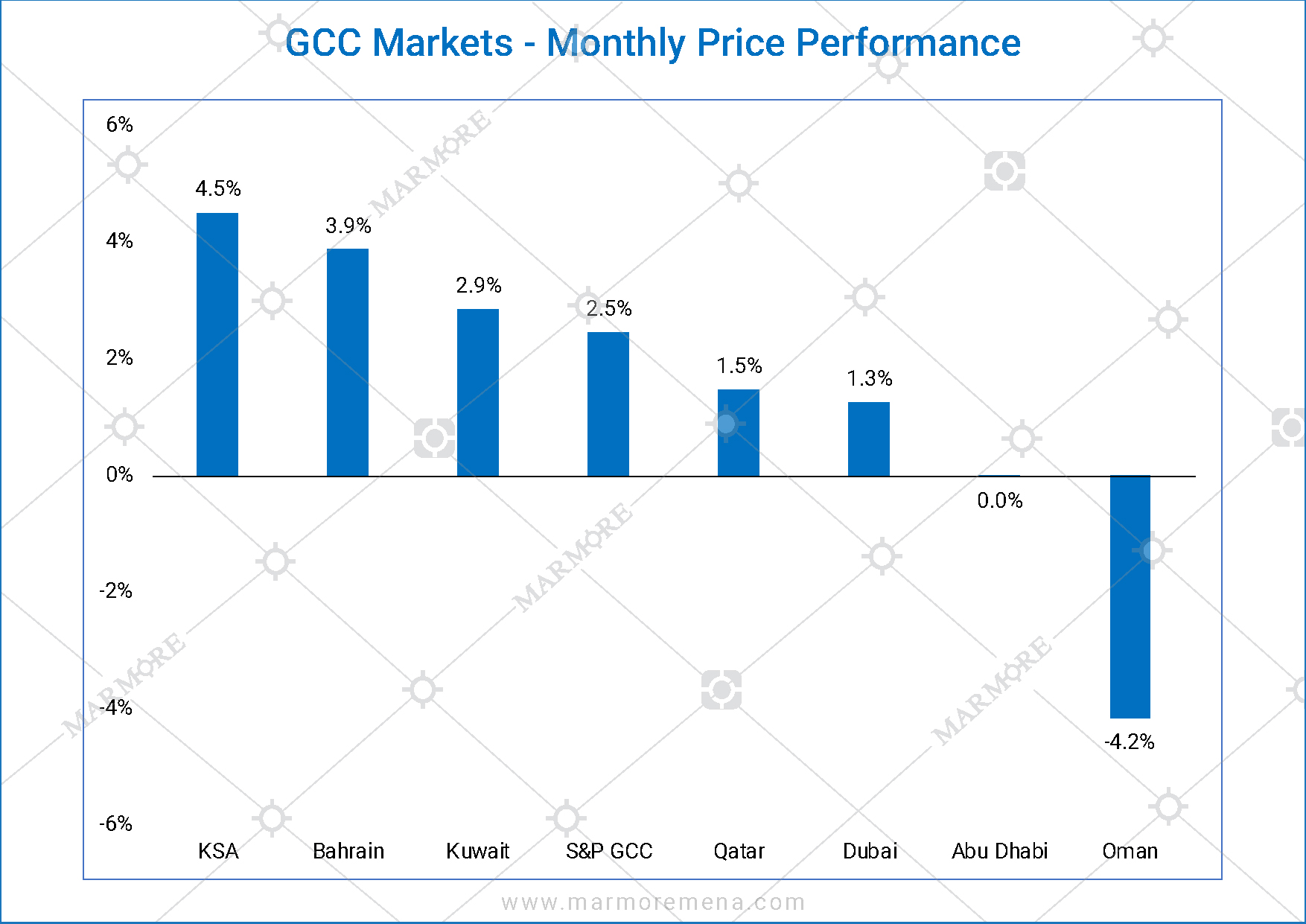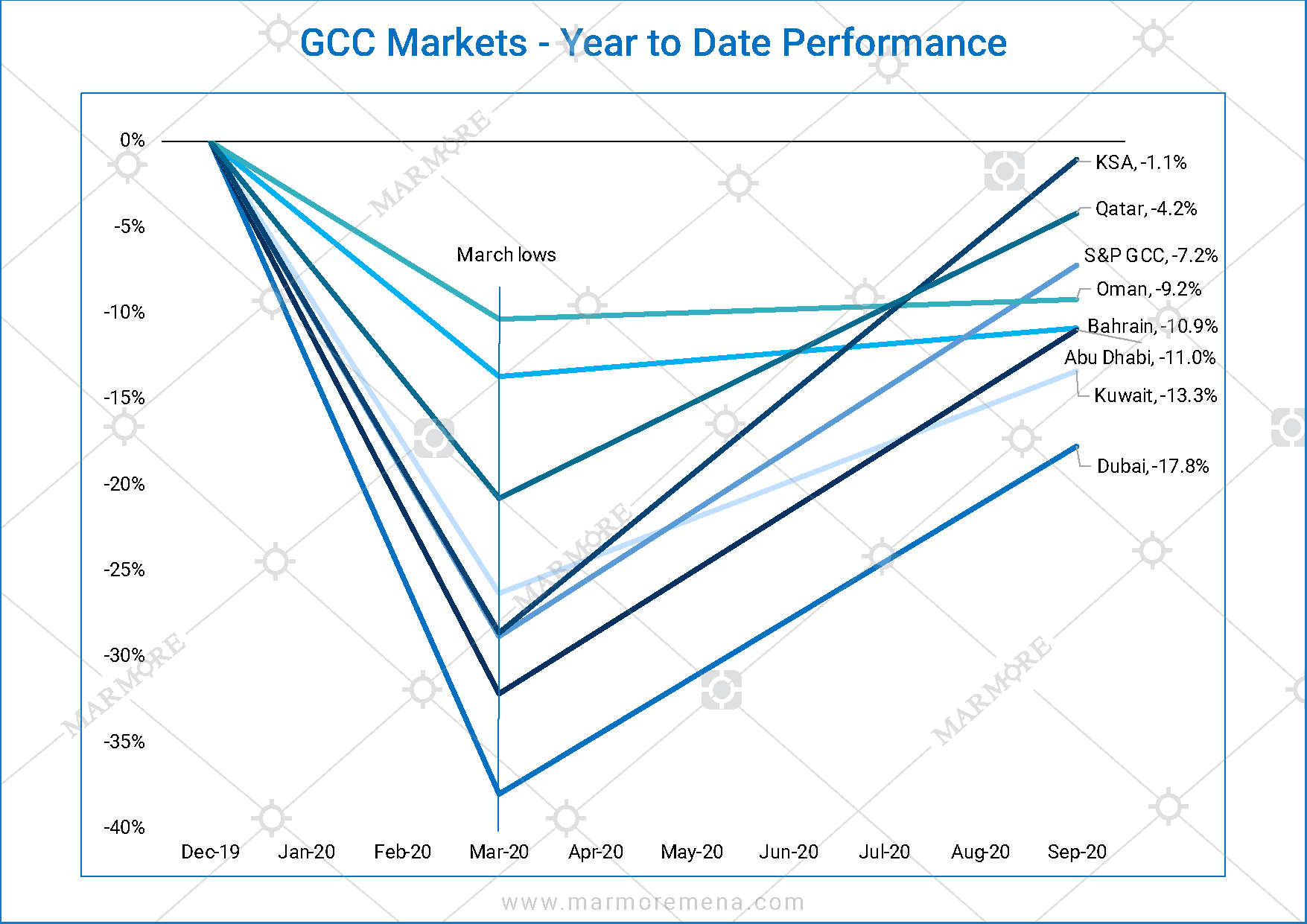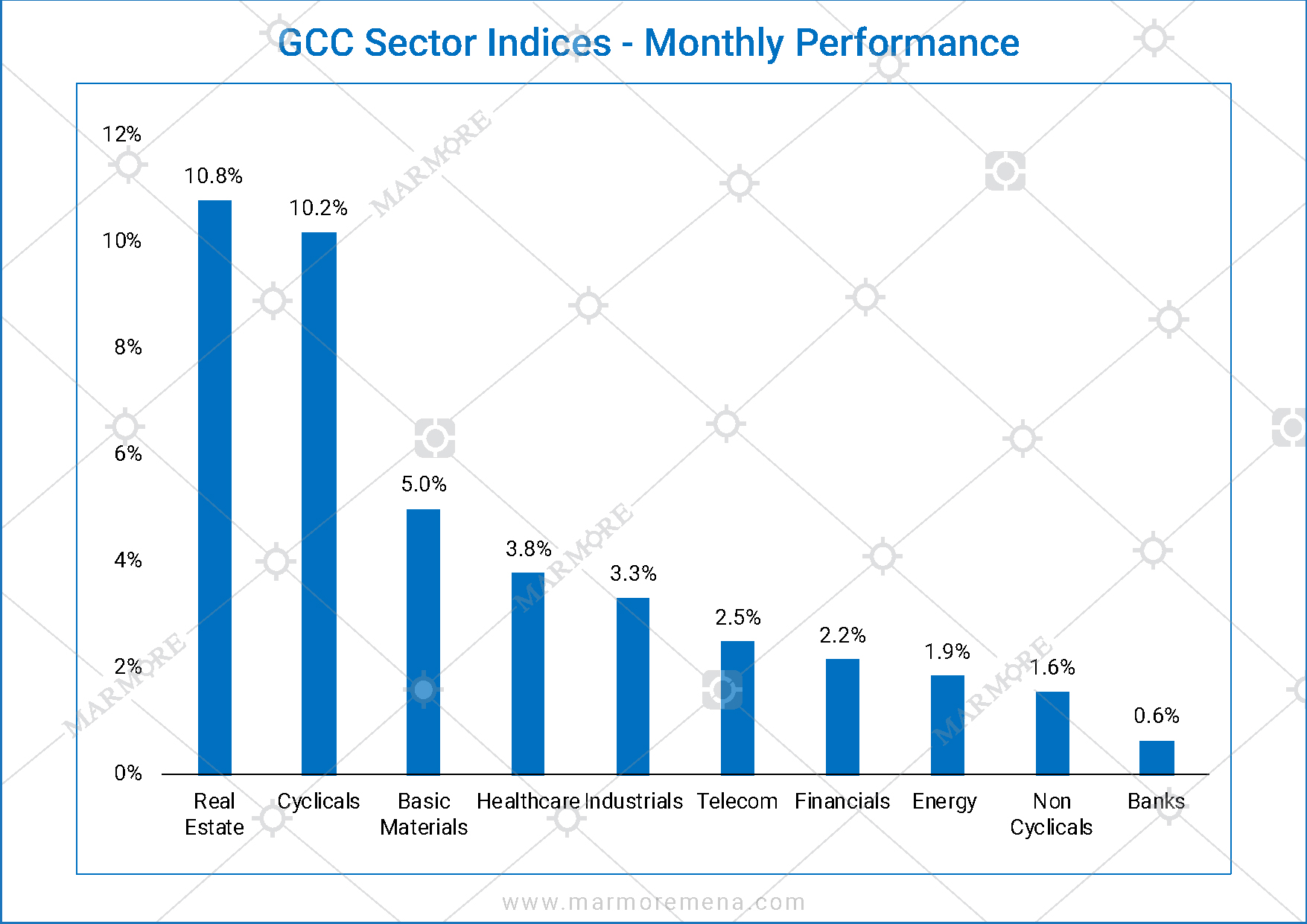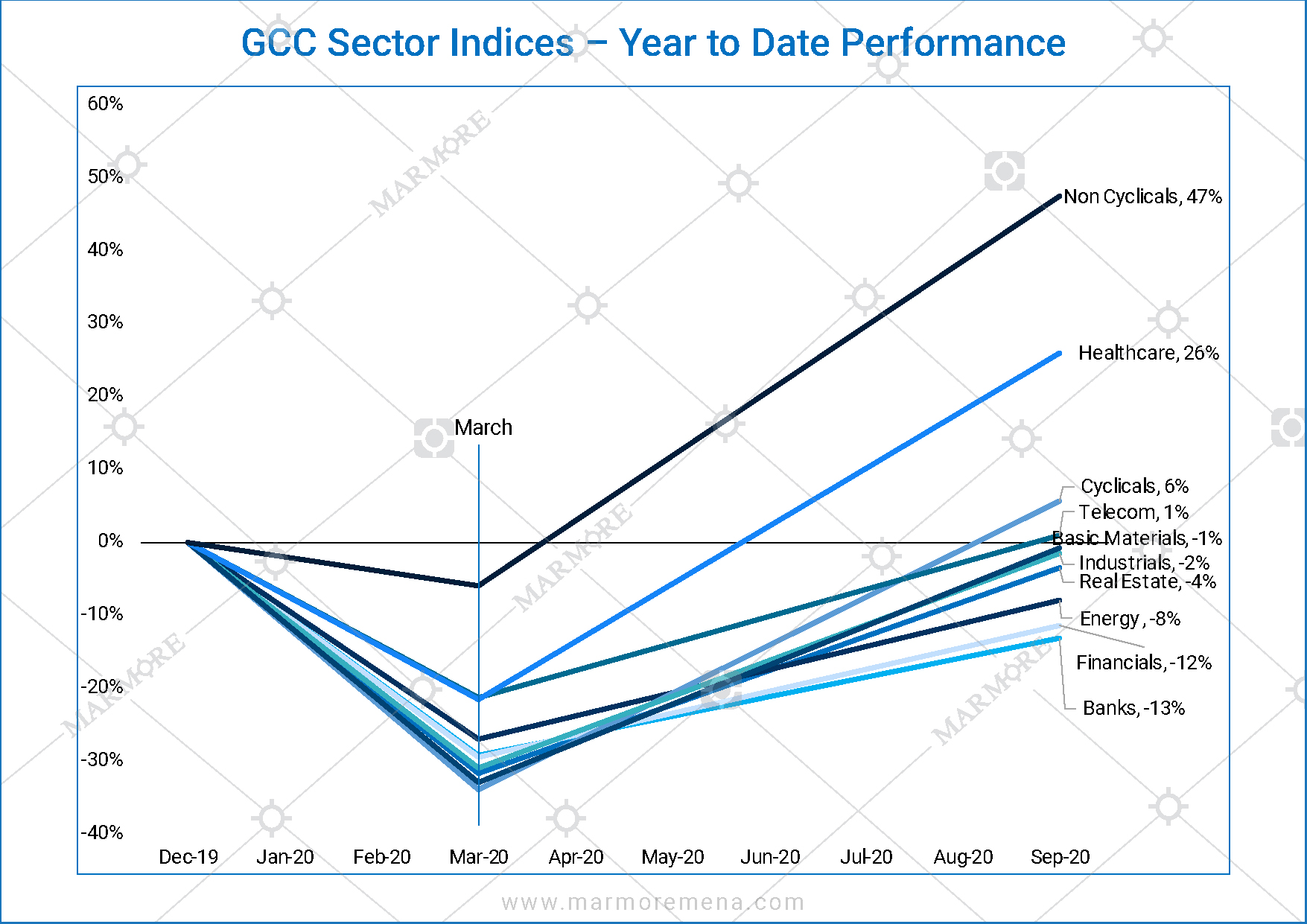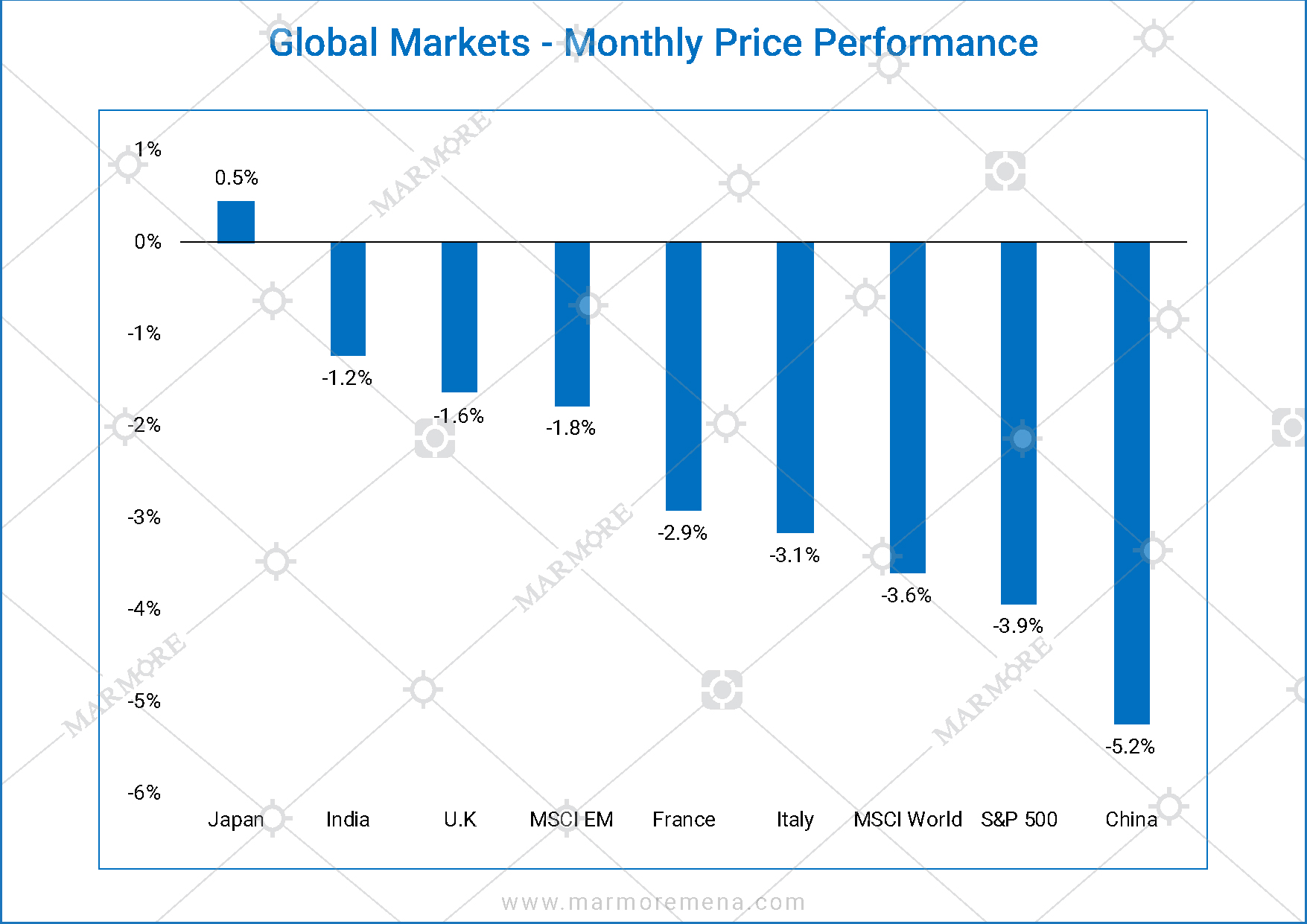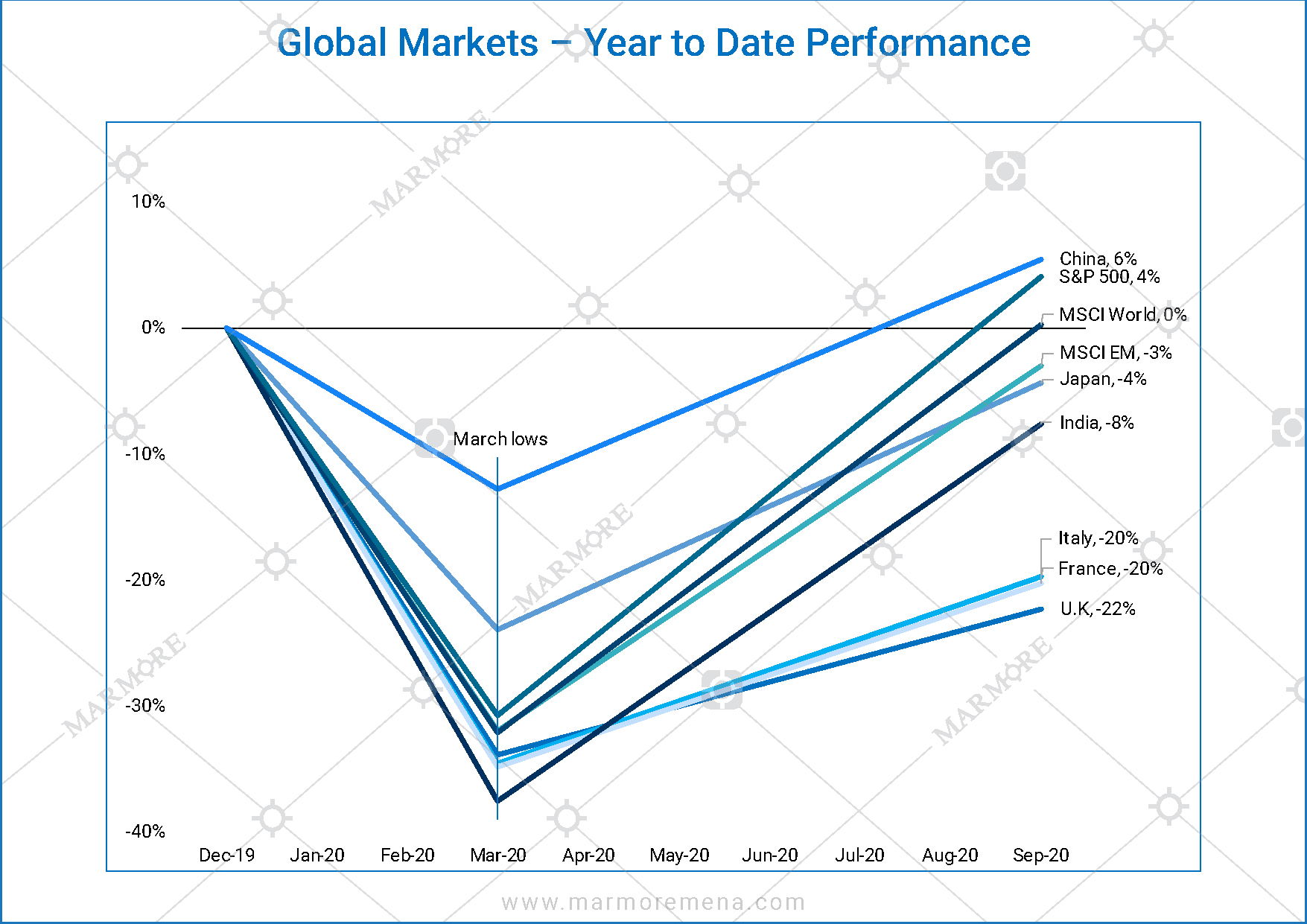 Kuwait has the highest reserves among GCC countries, relative to its GDP at 542%.
Saudi Arabia is expected to enjoy the highest credit growth at 5.3% in 2020.
UAE could continue to enjoy surplus trade position in 2020.