Central Bank of Kuwait (CBK) has been at the forefront and took various measures to limit the impact of COVID-19 pandemic on Kuwait economy and the banking sector. Some of the key measures taken by the central bank include reduction in discount rate to a historically low level of 1.50% from 2.75% and maximization of lending capacity of banks to provide financing by allowing use of capital conservation buffers (2.5% of capital) for capital adequacy ratio.
In 2020, some countries had imposed restrictions on dividend distributions by banks, citing the need capital preservation by banks. CBK had stated that while global accounting rules require dividend payouts to be stopped as regulators ease capital requirements to boost liquidity, the banks could distribute dividends if they did not benefit from the eased capital adequacy requirements. The central bank had added that it would be a breach international banking rules if bank pay out dividends even as they benefit from the lower requirements.
Recent financial data of banking institutions following the publication of quarterly results has revealed that the banks did not utilize their capital conservations buffers in 2020. This has enabled CBK to announce that Kuwaiti banks may distribute cash dividends for 2020, based on their 2020 financial performance and operations. However, the decision on dividend payouts have differed among banks.
Dividend Distribution of Kuwait Banks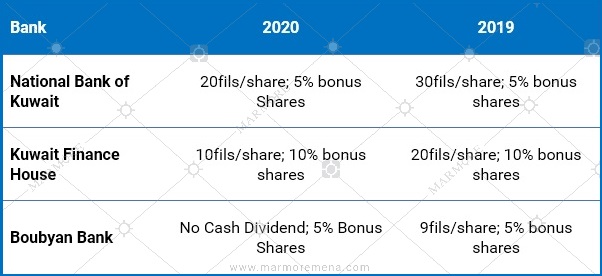 Source: Marmore Research

Ad: Marmore Research Report
CBK's decision to allow banks to distribute dividends indicates that banks are resilient and have adequate capital and necessary liquidity to recover from the COVID-19 impact. This has been viewed positively by the markets, and due to the high weightage of banking stocks in Kuwait's All Share Index, the banking index and the Kuwait All Share Index reacted favourably. For the month ending January, the banking index gained 3.4%. Kuwait Finance House and NBK increased by 6.6% and 3.9% for the month.
The article is an excerpt from our "GCC Capital Markets Monthly Review: January 2021" report. Read more