Bank branches operating in Saudi Arabia have reduced by 4.6% y/y in Q2 2021 to 1,969 branches (SAMA). The number of branches had been on a year-on-year declining trend since Q3 2020, with the current quarter posting the highest decline. The number of ATMs has also decreased by 9% y/y in Q2 2021. Operational considerations and uptake of digital banking, accelerated by COVID-19, seem to have contributed to the trend.
Total Bank Branches in Saudi Arabia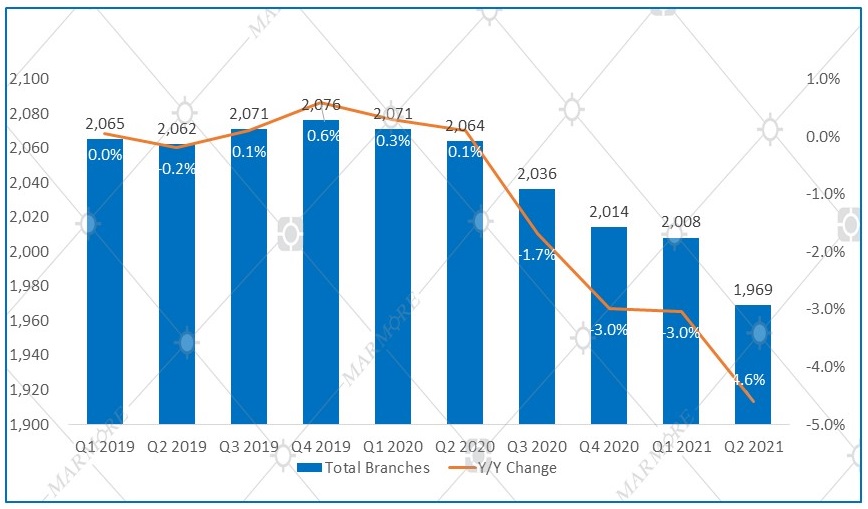 Source: SAMA
According to SAMA's bulletin, Saudi British Bank (SABB) branches had seen the most year-on-year reduction at 18.9% y/y as of Q2 2021, followed by Riyad Bank at 17.5% in Q2 2021. In terms of number of branches, Riyad Bank has closed 54 branches while SABB has closed 23 branches. The merger of SABB with Alawwal Bank was carried out in June 2019. Co-location of staff of the two banks is likely to have contributed to closure of SABB branches. As a strategy, the bank aims to minimize office footprint and costs of the combined branches. Digital Account Opening and online KYC are some features provided by the bank to migrate transactions from branch banking to digital medium. Riyad Bank also offers features such as digital account opening and online application for personal finance etc. Closure of branches amid the digital shift could also help banks ease cost pressures.
In terms of regions, Eastern Province, Makkah and Riyadh accounted for 87% of the bank closures. 29 branches were closed in Riyadh and 27 branches each in Eastern Province and Makkah were closed.
However, contrary to the broader trend, Saudi National Bank, the merged entity National Commercial Bank and Samba Financial Group has seen a 16.7% increase in branches, following the merger in April 2021. The bank plans to relocate 21 branches that are in proximity to each other and also plans to add 9 branches by the year end.
Credit growth has remained healthy with banks' claims on private sector increasing by 15.7% y/y and consumer loans increasing by 17.4% y/y. Digital banking avenues have witnessed significant growth due to COVID-19 driven change in consumer habits. Value of point-of-sale transactions and e-commerce transactions by MADA cards have increased by 54% and 64% y/y respectively. Value of transactions in online bill payment system (SADAD) and interbank payment and settlement system (SARIE) have increased by 128% and 23% y/y respectively in Q2 2021. Saudi Arabia has also launched an instant payments system in April 2021, which recorded transactions worth SAR 69.6 bn. Usage of banking apps also seem to be rising. Finance app downloads in Saudi Arabia led by payments, banking and investment apps have increased by 73% y/y in Q1 2021.
Decline in number of branches, rise in adoption of digital avenues for banking, SAMA's approval of digital banking license to STC Pay and real estate firm Abdulrahman Saad Al Rashid & Son seem to indicate the increase in pace of digitalization in Saudi banking sector.