In today's food and beverage market, technology plays a significant role, and with an ever-expanding menu of tech items, firms must integrate and adapt to meet the needs of their customers. To be competitive in the food and beverage industry in the current day, market forces drive food and beverage businesses to seek efficiency, attain agility in their processes, and incorporate new technologies. Consumers are expecting healthier, less-processed, natural, and local goods, therefore product safety and quality are key priorities. More technology advancements are developing to help define the future of the F&B industry as we progress further into the digital era. The sector has transitioned progressively from imitation to invention because of the considerable shake-ups seen in recent years. Technology will continue to affect the industry, as well as how they engage with clients and guests.
The food and beverages industry in Saudi Arabia has come under the spotlight after the unveiling of Vision 2030. The Kingdom has set aside SAR 240 billion (USD 64 billion) as part of its Vision 2030 programme to invest in leisure, entertainment, and culture to stimulate tourism and encourage spending in the local economy. Food security has also been an important aspect that Saudi Arabia has looked to address, as majority of food consumed in Saudi Arabia is imported. One of the pitfalls of this dependence was exposed during the aftermath of COVID-19 and the Russia-Ukraine conflict, when food prices inflated to very high levels and the government had to step in to regulate food prices. Therefore, investments are expected into the F&B sector to improve self-sufficiency, which would in turn have a knock-on effect on other segments within the F&B sector.
Several reforms initiated by the Saudi government to open up their economy to the rest of the world are expected to drive growth in the country's food and beverages sector. For instance, travel to Saudi Arabia was entirely restricted to expatriate workers and people with business visas, and to the religious pilgrims, who are visiting the holy cities of Saudi Arabia - Mecca and Medina until September 2019. Saudi Arabia introduced a new visa regime in September 2019, where it would provide e-visas and visas-on-arrival to visitors from 49 countries. Saudi Arabia relaxed the entry with a view to attracting more visitors to achieve its target of welcoming 100 million visitors by 2030. In addition, reforms such lifting the ban of movie theatres, hosting international sporting events etc. will have a knock on effect on the culinary industry.
Several FoodTech companies have emerged in the country, with a focus on innovating different aspects of the F&B production and consumption value chains with the help of technology.
Emerging FoodTech start-ups in Saudi Arabia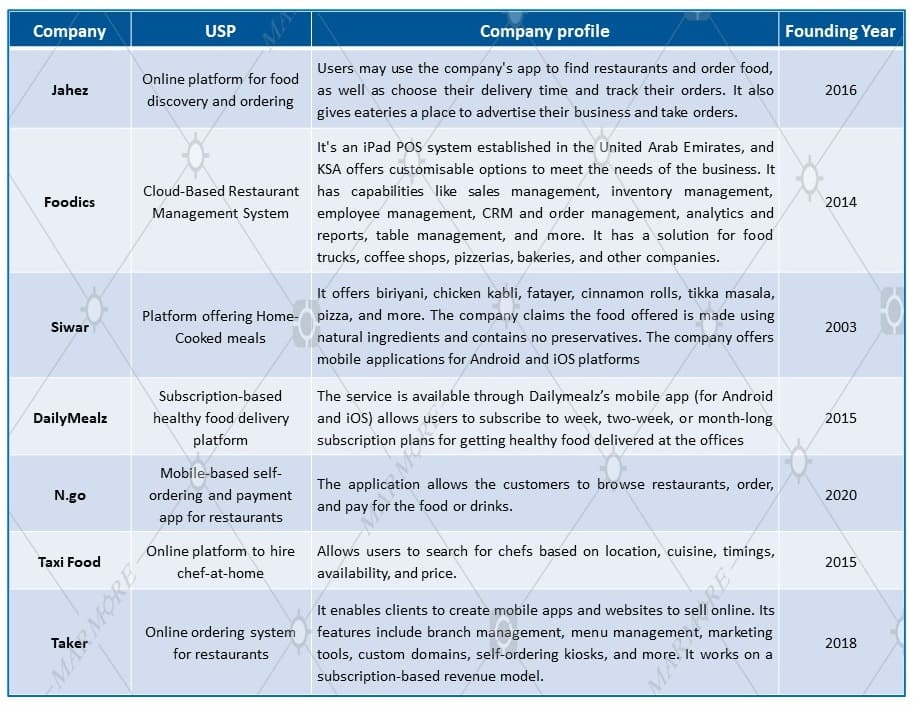 Source: Food Tech Startups in Saudi Arabia, Tracxn
The Kingdom of Saudi Arabia has come a long way in incorporating technology into its food and beverage operations. However, there is still a long road to travel. New advancements are developing at a rapid pace, and it has become a necessity for businesses to be updated with the latest technology to stay ahead of competitors. Investments in food technologies will surely help restaurants in the longer run and operate profitably in challenging circumstances. There have been several innovations in the FoodTech sector across the globe, which could be adopted in a market like Saudi Arabia due to its demographics. Several promising FoodTech start-ups have been propping up across the country to bring forth innovation in the food and beverages sector. With the support from the government to open up the economy for tourism, there is sizeable headroom for the growth of F&B players across the country. In order to capitalize on the emerging opportunities, investing and adopting technology would be the way to go.
To learn more about Saudi Food & Beverage Industry, download our full report: What Innovations are Propelling the Saudi Food & Beverage Industry?