GCC: Print media still running strong…
The whiff of the early morning coffee has always romanced the fresh crispy fragrance of the newspaper. The winds of change are perhaps beginning to blow.
The surprising fact is that while the preference and demand for print media has steadily been declining over the years in America and Europe, it has been on the rise in the GCC. According to a Marmore report on GCC Media, the circulation of newspaper in the Middle East grew at a CAGR of 3.5 per cent (2007-11).
The reason for bucking the trend is simple. Print media has been hugely trusted because every bit of information and new that goes into it is edited and tested for authenticity. This is not the case with social media like Facebook and Twitter, where anyone can post anything they want. It therefore comes as no surprise that a survey by Ketchum Global Research and Analytics has indicated that 48% of Middle East respondents give a thumbs up to the print media!
Figure 1: People's trust on various media platforms in Middle East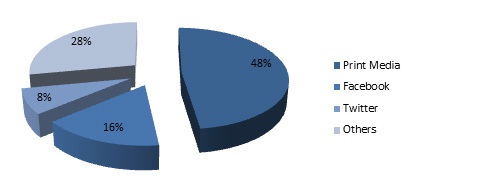 Source: Khaleej Times
Why digital media?
Lately, however, digital media has begun eating into the share of print media. The main reason for the increasing preference in digital media is instant news, ease of availability, customization, search options and the ability to retrieve archives instantly. Instant updates of news feeds, downloadable e-magazines and social media apps are already a rage among the younger generation.
There is a huge potential for growth of digital media, but there are hurdles.
The first hurdle is the low penetration of Arabic content on the Internet. That is where bulk of the action is likely to lie. Revenue is important. Subscriptions alone do not sustain printing houses. Advertisements are the key. Ads constitute close to 75% of revenue of print media. But it is only a matter of time until content providers tap the virtual space to publish ads and take advantage of high-speed videos and pictures and full screen images to increase their ad revenues. A shift of revenues from subscriptions to online ads is vital in the growth of digital media.
Figure 2: Future Model of Media Industry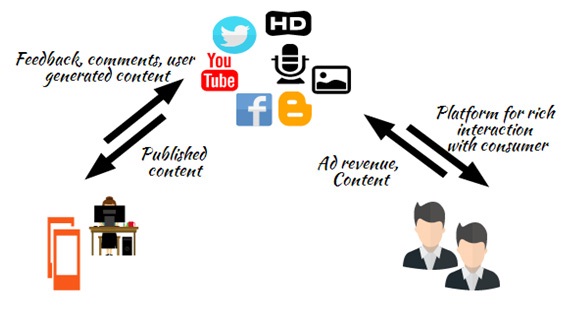 Source: Marmore Research
A second hurdle is that high-speed connectivity is fragmented in the GCC. There is a huge disparity in the connection speed within the GCC countries. Speed ranges from 9.8kb/s in Kuwait to 81.1kb/s in Saudi Arabia. To increase reach and speed, GCC countries have spent huge sums on ICT infrastructure development. This has propelled growth. Penetration has gone up by 15.3% CAGR (2008-2012). The number of users per 100 people has risen from 57 in 2010 to 78 in 2013. By the way, Bahrain, Oman, Lebanon and UAE are the most dynamic countries in the IDI (ICT Development Index) 2012. It is forecasted that ICT spending in the GCC will reach USD 244 Billion over the period 2012-15.
Another option, a boon to smartphone users, are 3G and 4G connection with high-speed connectivity and seamless reach. 4G networks are 3 to 6 times faster than 3G. A high mobile penetration in the GCC at 152% is the perfect setting to push 3G and 4G mobile broadband services into the market. Mobile internet traffic is increasing rapidly. The region's mobile internet access to total internet traffic is expected to grow from 8% in 2012 to 27% in 2017, while consumer traffic through mobile devices is expected to grow from 10%
in 2012 to 31% in 2017. Kuwait's mobile broadband segment grew rapidly with 15.9% LTE penetration at the end of 3Q 2013.
In recent developments, Qatar received its 4G network in Feb 2014 from Ooredoo, which was free of cost to its customers. You-too is a US based software company, which plans to introduce social TV in MENA region, with its first base in Dubai. Social TV is a concept in which users can use pictures, video, voting and social media in real time to interact with TV programming through Mobile devices in HD quality and real time. They can also record videos on their phones and broadcast it on TV within seconds. The videos can be sent to the producers or uploaded on the host website to be broadcasted real time. Imagine, if people can see what is happening through someone else's eyes, it means that the news has now become trusted, and it will automatically reduce demand for print media for trusted news.
However, such a major shift will take time. As the younger generation takes over in the next few years and technology moves to 3G and 4G mobile internet connections, only then will preference shift to digital media. Until then, the print media is bound to rule.