As a part of its broader economic diversification plans, Saudi Arabia took an unprecedented policy move by framing a new entertainment policy. In line with the Kingdom's Vision of 2030 of creating a vibrant society, General Entertainment Authority (GEA) has been established and an investment of US$ 64 Bn has been planned (BBC News 2018). GEA is part of the subprogram, Quality of Life under the Vision 2030 which aims for improving lifestyle by increasing entertainment and cultural avenues.
Entertainment policy area witnessed sudden jerk in recent times in Saudi Arabia, because a formal institution (GEA) overlooking entertainment industry with broad and clear objectives took shape. It signifies role of entrainment and culture in economic diversification and how it can impact auxiliary sectors such as tourism, construction, entertainment, parks and establishments in the economy.
Entertainment Policy Key Pillars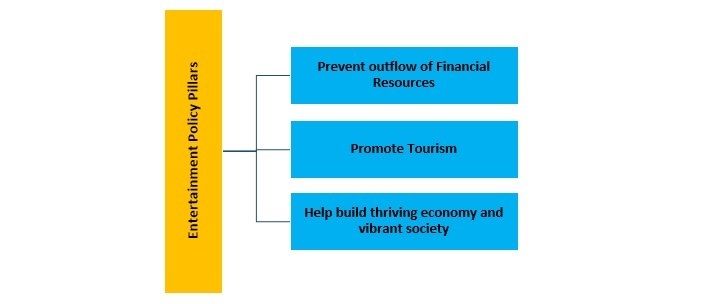 Source: Gulf State Analysis, 2018
Saudi Arabia Entertainment Industry Fast Facts
Approximately 50% of the population is under age of 30
Annually US$ 26 Bn spent aboard for entertainment
Licensed Cinemas: 1
US$ 2 Bn is expected to invest in developing entertainment projects
Source: Invest Saudi Website
Quality of Life Program
It's a gigantic plan targeted towards revolutionizing the entire lifestyle equation in the country, which anchors both private and public investments. It operates on 2 basic indices, Liveability and Lifestyle.
Funding By Source for Quality of Life Program in SAR Bn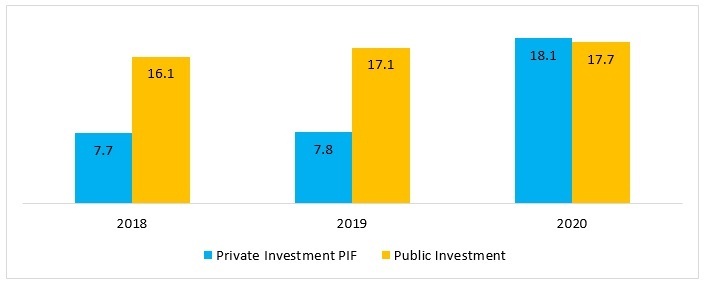 Source: Quality of Life Document, 2018
Factors backing for Formalization of Policy
Firstly role of private sector in Saudi Arabian entertainment industry is small (mostly non-existent) thus huge initial public investment worth US$ 64 bn is being offered by the Government for development of entertainment sector. Secondly, nationals currently spend billions of dollars annually for entertainment purposes in neighbouring countries which causes massive outflows of money from the country (New York Times, 2018), authorities think can be prevented. Finally, Vision 2030 aspires to grow household spending on entertainment from current 2.9% to 6% which is expected to develop a SAR 30 Bn market (Ibid). (US$ 8 Bn) Vision 2030 has three thematic flavours, a vibrant society, a thriving economy, and an ambitious nation where policymakers (for Vibrant Society theme) are focused for the promotion of physical, psychological social well-being of every citizen (General Entertainment Authority Website).
Also Read:"Legacy Carriers vs. Low Cost Carriers (LCCs)"
Challenges Matrix: Quality of Life and Varied Doldrums
Source: Marmore Research
Myriad economic and social issues are associated with Vision 2030 and its sub-programs like Quality of Life. These programs are initially driven by huge public investment (essentially construction led) and aspires to attract private capital in the later stage, (as sector develops) but policy as a whole misses certain critical issues (which might act as an impediment) such as availability of adequate labour, technical expertise, ability of domestic private sector to take off as expected under the plan and what would be the socio-cultural response to such herculean modernization programs.
Potential Socio-Economic Impact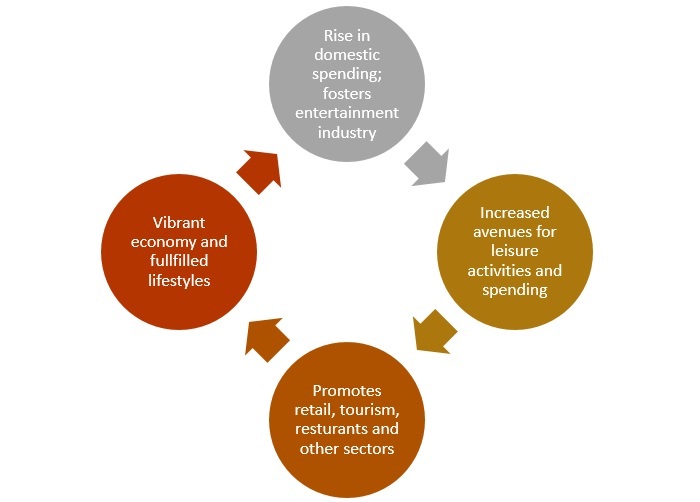 Source: Marmore
The Policy aims to perfectly address the problems that were associated with cultural and social life in Saudi Arabia; which naturally stretches beyond economic diversification and employment creation. Earlier there was an apparent lack of a platform for cinema and theatre for utilizing talent, an absence of avenues for cultural, entertainment and leisure activities. Moreover, there was an absence of institutions and bodies promoting arts, cultural and sporting activities.
Check Our Report:"Kuwait Online Food Delivery Sector"
Cinemas, theatre and arts are social and economic necessities; primarily because of their consumption value and additionally because employment it creates, the technology it utilizes and thereby accelerator effect that it sets in.
On this account, the GEA is entrusted with host duties for expansion of the entertainment sector. GEA acts as the licencing authority and designated authority for setting standards and implementing plans. This helps in augmenting investments and talent in desired channels for the development of the sector. Additionally, GEA is mandated to encourage investments and promote collaboration and deliberations between different government and private agencies (General Entertainment Authority Website, 2018). These two are the critical functions of the agency, because it provides the unified and independent platform for cooperation across organizations and firms.
Big Push to Private Sector
The crux of this mega policy is the intertwined benefits of promoting entertainment, sports, leisure, health sectors and strengthening the private sector thus create more sustainable job opportunities. In the current backdrop of crawling private sector; as business conditions improved at the slowest pace for nearly last nine years as Saudi Arabia Purchasing Managers Index (PMI) rounded off to weakest quarter recorded since March 2009 (Arabian Business News Website 2018), entertainment policy acts as a big boon in a sense that it attracts huge private investment.
Growth Rate of Private Non-Oil GDP, Saudi Arabia 2014-2017



Source: Jadwa Investment 2017
Public Investment Fund (PIF) is actively involved in the Qiddiya project with a commitment of SA 10 Bn (Quality of Life Document) and at the broader level the fund is at the forefront of diversification plans in line with Vision 2035. The Private sector is expecting a strong return on investments based on business-friendly environment and strong social demand (for entertainment) in the country. Liberal stand by the government on private (domestic and international) investments in the sector is creating a host of lucrative avenues.
Private investments are set to thrive and policy aims seem fairly achievable given that fact that delivery mechanism (for the policy) tends to be more private oriented. On the other hand, entertainment had been a long societal preference given the fact that Saudi nationals used to enthusiastically travel to neighbouring countries for the purpose of entertainment and leisure activities.
Potential Investment Opportunities
Construction has already began for the new Entertainment City near capital Riyadh (Qiddiya Project-an entertainment, sports and cultural destination). GEA expects that during the next two years, Quality of Life generates 300,000 jobs and most of in the private sector. (First Abu Dhabi Bank Markets Insights 2018)
Saudi Arabian Public Investment Fund and Six Flags (US based entertainment corporation) agreed to build a new city focusing on theme parks, wheels and wings, scenic and animal encounters, water and snow sports, education, culture and host of other events (Gulf State Analytics website 2018). With respect to the development of Cinemas in the country, the construction industry is expected to see a robust growth in the years ahead because the Saudi Government plans to build approximately 2,000 cinemas in 13 regions of Saudi Arabia.
| | | |
| --- | --- | --- |
| Cities and Regions | Proposed No of Screens | |
| Riyadh | 490 screens | |
| Riyadh | 490 screens | |
| Riyadh | 490 screens | |
| Madinah and Tabuk | 190 screens (130 and 60 respectively) | |
Source: Invest Saudi Website
Furthermore, according to latest statistics around 500 entertainment companies established during 2017 created as much as 22,000 job opportunities (Invest Saudi 2018). Moreover, the retail sector (especially malls) are likely to be buoyed by the new entertainment policy, as more and more cinemas will most probably be constructed in large malls. For example, Saudi Arabia's biggest mall operator, Arabian Centre, has allocated space for cinemas in 10 of its upcoming malls (Arabian Business 2018). Development of theme parks, opera houses, concert places, resorts, museums, art galleries, and theatres could be a catapult for the economy leading to growth in sectors such as tourism, hospitality, associated public transportation, etc.
Finally, the biggest impact is expected to be in the technology sector. For example, Artificial Intelligence (AI) is helping in writing scripts with complete stage instructions for a science fiction movie. Moreover, Immersive technologies (virtual reality, augmented reality) are becoming cheaper and it could herald a new era into content (World Economic Forum Creative Disruption 2018), media, film industry, entertainment, amusement parks in Saudi Arabia with its wide applications. These hold promise of allowing a creative industries ecosystem to develop and thrive in the Kingdom as a long-term consequence of the current policy posture.
Development of proposed parks and entertainment zones will be able to utilize current and upcoming technological developments and can deliver more robust growth. In summary, it can be said that entertainment policy and its objectives of creating a vibrant society in Saudi Arabia, is a step that will push entertainment, technological sector, cultural tourism and other sectors to greater levels of advancement in the years ahead.

Also Read:"Gaming Market Trends"