Impact of social media on GCC businesses
KEY QUESTION 1: How far have the GCC countries ventured into social media?
The social media has offered the population in GCC countries an opportunity to express themselves and access more information. According to the Arab Social Media Report, 2012, the Gulf States are now more tolerant of different points of view and are more aware of events happening globally because of their growing presence in social media.
They are taking to the new medium as a duck would take to the water. Saudi Arabia, for instance, has 82% of its population on social media. Its use of Twitter per capita is the highest in the world. Mobile penetration in the Middle East is 110%. Age distribution of Facebook users for GCC states is also quite interesting. Marmore's GCC Social Media Report suggests that most users fall in the age group of 25-34 years (48 per cent) followed by 18-24 (22 per cent) & 35-44 (17 per cent).
YouTube has given the Saudi youth a platform to access different forms of entertainment. It also fosters cultural integration as most of the videos that Saudi youth watch are provided by the region's entertainment hub, Egypt.
Social media has impacted the GCC countries politically too. 'Bahrain online' has been hosting lively debates on domestic politics and discrimination since 1999. 'We are all Khalid Said,' a Facebook page created by a Google executive, kindled the Egyptian Revolution of 2011.
Business houses are also finding it useful in product promotions. When required to communicate to a multilingual audience, efficient use of infographics and other visual elements help overcome language barriers. 88% of tweets in UAE, 87% in Qatar and 78% of tweets in Kuwait are in English. The social media has clearly impacted the GCC countries economically, politically, and culturally.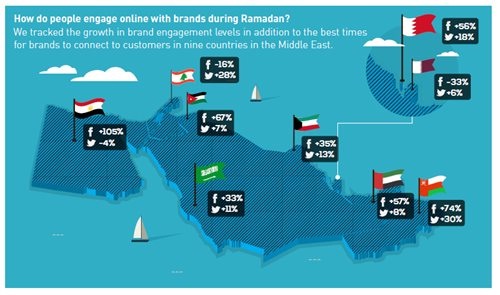 Source: Northwestern University in Qatar, 2013
KEY QUESTION 2: Do business houses in GCC succeed in creating business value through social media?
More than 35% (YouGov report) of the company houses in the GCC region use social media. Last year, about 10% of the total advertising cost for the MENA region was on digital advertising. It is expected to reach USD 2.8 billion by 2016. As more than 94% (Gartner report) of the users' access social media through smartphones, companies are now tailoring their ads to enhance the mobile experience. Recently, Pepsi Arabia promoted their "Live for Now" identity through social media and people now associate #YallaNow (campaign slogan) with Pepsi in the region.
In February 2015, the UAE government, through Dubai Media Office, launched a highly successful social media campaign to recognize the contribution of armed forces in strengthening national interests. Further, companies tap on the increased Internet activity during festival seasons to pitch their products. Cincinnati-based household products manufacturer, Proctor & Gamble, advertises its entire product range during Ramadan, the season, which sees YouTube viewership increase by 20 to 30%. As P&G's media head Ali Faruqi said, "It wants to be where the consumer is." Also, marketing personnel are cleverly crafting social media campaigns by helping users with their general queries and then tailoring their product offering to suit the customer's needs. #EtihadSuggests, a campaign launched by Etihad Airways is attempting to personalize its social media offering by giving users general tips on travel and stay. After showing its restaurants, hotels, etc., it shows a special offer to book through Etihad Holidays. It was only after the Arab Spring that companies realized the power of social media in engaging with consumers, especially with Twitter, which has seen a far more rapid growth than Facebook.
Social media is also now being used a primary source of recruitment in MENA regions. Research done by Adecco showed that 47% of job seekers utilize social media for job search purposes. As per a recent survey, the top four reasons for using social media for job-related activities were:
Researching potential employers' page,
Searching for suitable jobs,
Professional networking, and
Getting to know what others have to say about potential employers.
KEY QUESTION 3: Have there been instances of misuse of social media?
Yes. Companies, politicians, governments and media have been made the victim to such cyber-attacks, worldwide. According to Nexgate's report, two out of every five Facebook accounts, claiming to represent a Fortune-100 brand are unauthorized. Cumulatively, Fortune-100 companies experience at least one compromise on their social media account every day. Such instances of misuse not only hurt the brand image of such companies, but the cost emanating from social media abuse is also very high. Recently, an American restaurant chain, Chipotle, became a victim of hackers' attack on its Twitter account. The hackers not only changed their profile picture to that of swastika avatar, they also posted offensive content on their Twitter handle. Although it was not responsible for such tweets, the Company had to issue an apology in embarrassment. On 10th May 2015, 'Flight 650' which had 128 passengers on board, was diverted to a military air base in Dubai following threat posts on Etihad Airways' Twitter account. Later, on inspection, no suspicion or danger was established.
A threat of such misuse is here to stay since business houses have only recently begun to exploit the advantages of social media and as this channel of communication is still at its nascent stage. However, business houses can take pre-emptive steps to protect themselves from such malicious phishing attacks and other cyber crimes.
KEY QUESTION 4: What are the precautions that can be taken by business houses to minimize the misuse of social media?
Here's a quick list of six.
Choose a better password combination.
Restrict access to employees to official social media accounts.
Familiarity with the medium can lead to employees, including those accustomed to handling confidential information, letting their guards down. Companies must regularly train their employees on the prudent use of social media and update them on the privacy and confidentiality clauses.
Undertake risk assessment procedures to identify vulnerabilities and periodic evaluation of the effectiveness of the system to prevent such attacks is a good starting point.
Companies must tread carefully while posting online content or conducting social media campaigns keeping in mind the religious sensitivities and conservative lifestyle of the GCC region.
Social media, Twitter and Facebook, in particular, is being used as a tool for political resistance in the region. Although GCC has been immune to it due to better economic growth, business houses need to be careful that their social media accounts are not used as a tool for political propaganda and that their online content remains neutral.
KEY QUESTION 5: Do benefits of Social media outweigh its threats?
Social media is increasingly becoming a tool for companies to engage with its customers in a better way. It provides a wealth of information about a consumer: his likes, dislikes, tastes, clothing, lifestyle and other preferences, thereby giving the companies better opportunities to engage with him and introduce new products that satisfy his wants. Although the threat of the misuse of social media activity is here to stay if carefully used, entrepreneurs and businesses in MENA region can reap the benefits of social media and generate more revenue for their businesses.